VW/Audi 07K (2.5L 20V I5) Swap Thread

03-05-2014, 12:48 PM

---
I've always been a fan of the idea for swapping an inline 5 cylinder into a 944. I believe there is a video on YouTube of a 944 with an Audi 20v Turbo motor, and it is a beast. Good luck on this project, I look forward to seeing how it turns out

Cheers,

03-05-2014, 01:51 PM
Slayer of Economic Optimism

Rennlist Member
Join Date: Oct 2009
Location: one thousand, five hundred miles north of Ft. Lauderdale for the summer.
Posts: 27,194

---
I'd like to see a BIGGGG GM 3.7 liter H3 I-5 with a 380 hp bolt on turbo kit in one of these ancient 944s.
or rebuilt and tuned for big power....
but the costs to complete the project might be a concern.

.
---
Last edited by odurandina; 03-05-2014 at

02:10 PM

.

03-05-2014, 03:02 PM

---
These VW motors should be WAY easier to find in the US than the old Audi blocks.
In all my time spent scouring the junkyards, I could count on one hand how many Audi I-5s I've seen.

03-05-2014, 04:32 PM

---

03-05-2014, 05:34 PM

---

03-05-2014, 05:53 PM

---

03-05-2014, 06:58 PM

03-05-2014, 07:08 PM

---
Originally Posted by
V2Rocket_aka944
All the C2 stuff is for transverse mounting, I'm not sure if it would clear the strut towers. I'll find out this weekend when I mockup the engine in the 968 bay.

03-05-2014, 07:46 PM

---

03-05-2014, 09:56 PM

03-05-2014, 10:02 PM

---
Is the engine taller than stock? Maybe you'll have to tilt it like the original engine

03-06-2014, 12:26 AM

---
You could fit a 1.8 in front of that 2.5....

join them, 4.3 I-9 engine.

03-06-2014, 09:25 AM

---
i wonder what the size difference is between the audi Audi 07K vs volvo B5254 Engine?
In sweden it is alot easier to find a volvo B5254 Engine


03-06-2014, 11:40 AM

---
Had some free time after work yesterday so I threw the engine on a hoist and set it in the bay. It's just the engine sitting on top of the crossmember/steering rack with the stock oil pan. So yes, it is sitting a little tall and it's sitting straight up. Audi tilted there engines something like 10-12* so I might do that, we'll see. The Iroz Audi mounts do this.
Sitting on top of the rack, plenty of clearance for the steering shaft on the side:
Lots of room for manifolds! The C2 manifold still probably wouldn't work, or at least you wouldn't have much room for a downpipe. I'll probably have the manifold come forward and place the turbo in front of the strut tower. Depends on the how much room I have for the downpipe which will probably be 3-3.5"
The crossmember/steering rack sit quite a bit more forward than the Audi application so the Iroz oil pan might not work, or might need modified. I'm afraid the sump might be right where the steering rack is. The engine might end up coming a little further forward though, I won't be sure until I get the torque tube and bellhousing back in the car.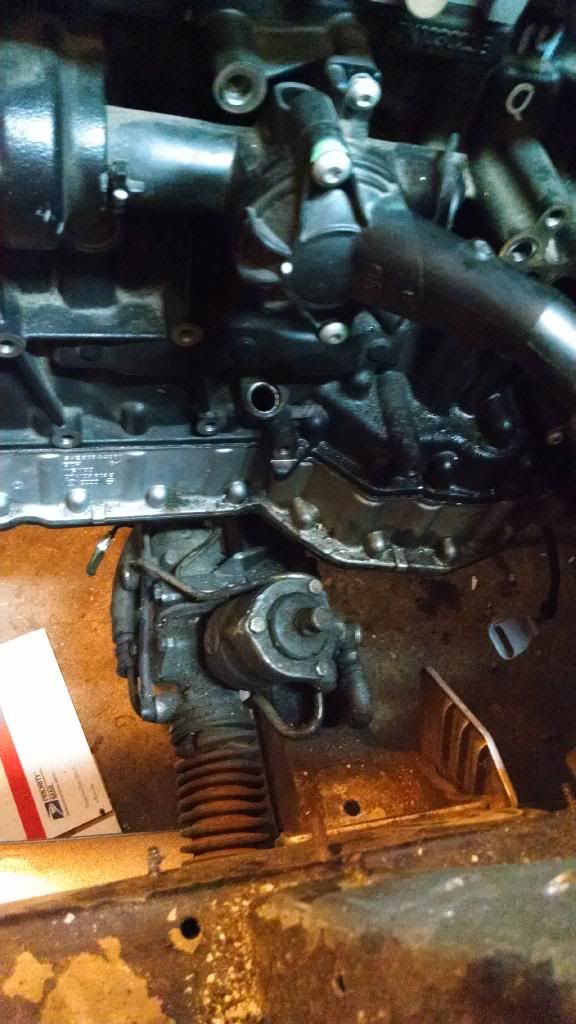 As you can see, you drop the engine a lot with the modified pan:
Stock:
Iroz Pan: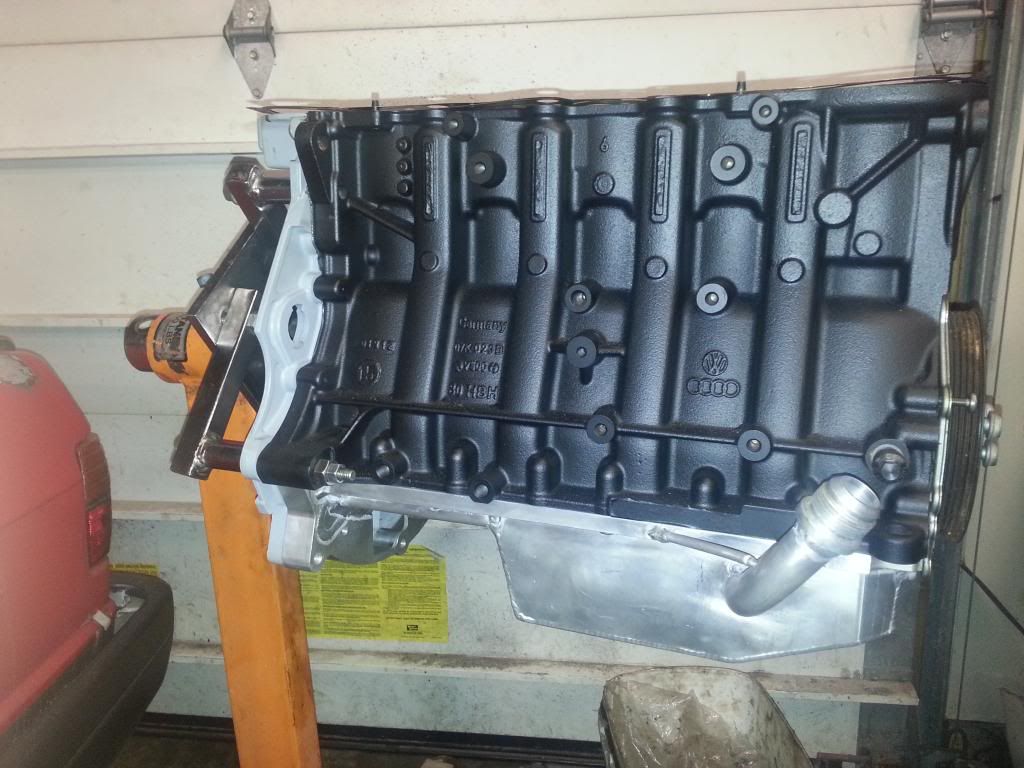 Depending on the sump clearance, it might be an option to modify the pan and drop the subframe a bit (and line-bore new control arm mounts). Hopefully it doesn't come to that option. A manual steering rack will gain me a little bit of room too.
Some other good new, the chain housing clears the brake booster with no problems. Even more clearance when you til the engine and drop it lower.
And lastly, TONS of room up front! Enought for a nice thick radiator with fan/cowling and FMIC with even more room in the nose for oil cooler/etc.