VW/Audi 07K (2.5L 20V I5) Swap Thread

03-19-2014, 04:39 PM

---

04-02-2014, 02:50 PM

---

04-02-2014, 07:59 PM

---
Originally Posted by
alxdgr8
It's possible and an option I might explore. The top portion of the 944 bellhousing has to be chopped off for sure. A 924 bellhousing looks like it's an option too and it places the starter forward like on longitudinal Audi engines. It just requires the hydraulic TOB since it's cable. If I can't find a 931 soon, I'm definitely thinking the 924 is the next route to explore. It would also require a spacer, but Audi made those OEM so that's not a problem. It actually would probably help line up a few more holes and could be welded to the bellhousing for extra strength.
http://www.motorgeek.com/viewtopic.php?f=6&t=46809

04-02-2014, 08:08 PM

---
Originally Posted by
alxdgr8
I've already got an Audi with a swapped engine (32V 4.2L V8 which will eventually get replaced with an S8 40V 4.2L V8 + a turbo).

I want a better engine in my 968 and feel this is a way to do it and at a cheaper cost than building the 951 engine. Not to mention the aural pleasure of an I5 exhaust note.
A turbo-S8 engine in your 90 is going to be a monster! That is crazy. But, it's probably a monster already. So, I guess it should just be insane with a turbo V8.
Great plan with the I5. Porsche SHOULD have taken the I5T they massaged for Audi in the RS2 and put it in a few 968s. That would have been cool. So I'm looking forward to see your project progress, and good luck to you!

Take care,

04-02-2014, 09:12 PM

---
Non-turbo power of the V8 is pretty fun and the sound is amazing, but it doesn't quite keep up with my friends with 400+whp I5's

Stock V8 is pretty comparable to a mildly modded I5 without turbo lag.

04-03-2014, 07:04 PM

---
So, another idea I've had. If I go the route of an adapter plate with the 951 bellhousing, I can change the engine mounting angle as desired. VW/Audi generally do 15* in both longitudinal and transverse. There was a vanagon diesel that mounted an I4 at 50* and I've seen someone use that bellhousing to mount a 1.8T at 50* with no problems. The 944 is 30* and the 924 (2.0L Audi engine) was 40*. If I mounted the 07K at somewhere between 15* and 30*, I might be able to use the stock pan or at least be able to mod the steel lower portion and not touch the upper aluminum part. The pickup would need to be modified, but that's easy.

04-06-2014, 01:14 PM
New User
Join Date: Dec 2012
Posts: 1

---
I am currently installing the older 2.3 T5,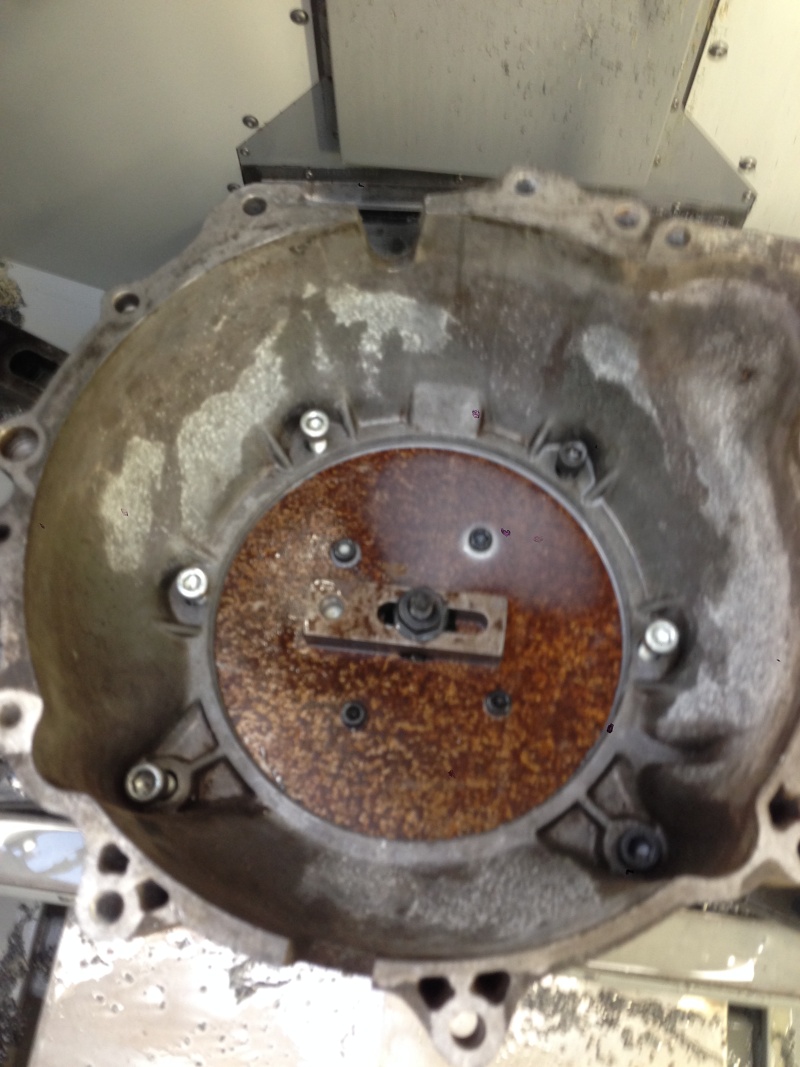 Steel adaptor with a 960 auto bellhousing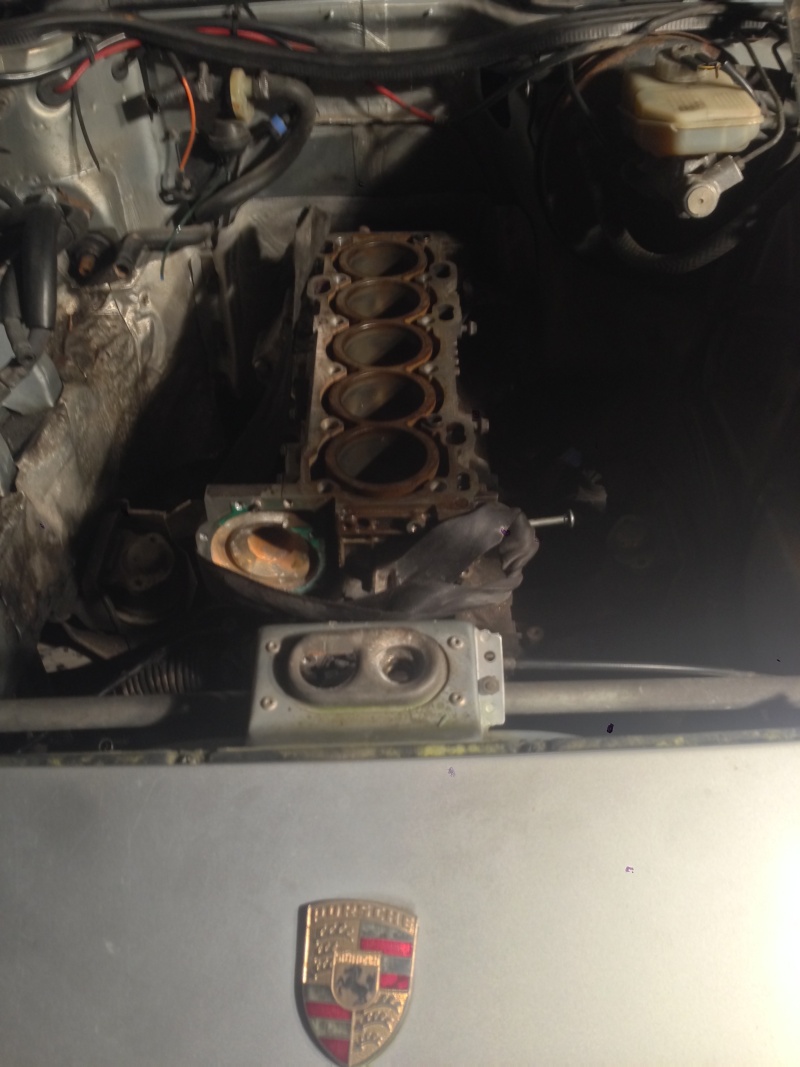 Block bolted to torque tube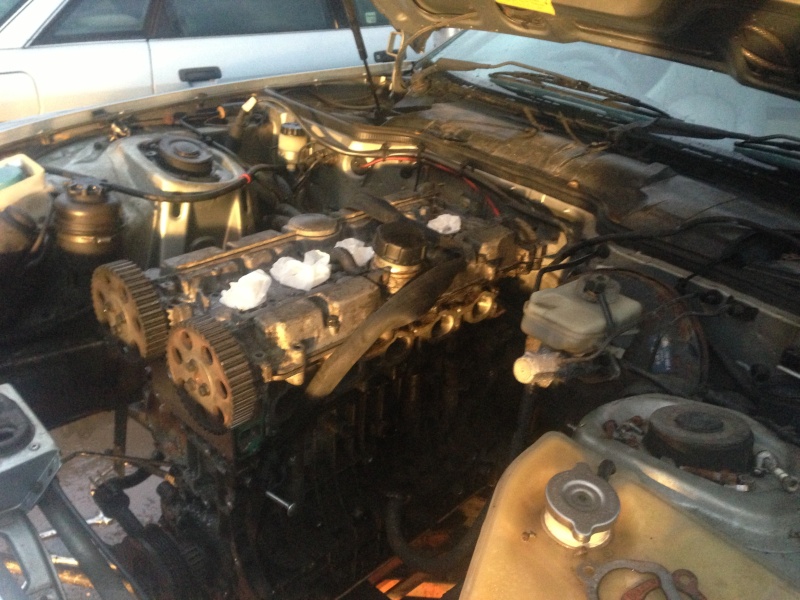 Engine in with the 944 parked beside my 90 20v in same colour...

05-12-2014, 03:00 PM

---
No new progress, I've been working on getting the wiring harness for my Audi built so I can finish installing VEMS standalone. I did score a set of 18x8, 18x10 Speedline Alessios for $100 on craigslist

They're chrome and need some work, but it'll be worth it to refinish them for sure. Will use them as street wheels since they aren't as wide as I'd like for the track. I've got a square 18x10 setup for that.

05-24-2014, 09:07 AM
User
Join Date: Jul 2013
Location: Atlanta, GA
Posts: 314

---
Slightly off topic. European Car magazine has an article on someone swapping the modern I5 into an original ur Quattro coupe. I think they claimed 480 hp. Engine choice validated.

Article also said they started with a Golf block and built it up to handle turbo power.