951 V8 with Boxter 986/911 996 ABS ----- DONE :-)

02-23-2012, 04:16 AM

---
looks like Boxster pump uses bigger piping (with bigger fittings) between brake master cylinder and ABS pump. How did you solve smaller diameter pipe master cylinder to bigger diametr ABS pump brake line issue (i suppose adapters are available) ?
This was an easy one to solve. Found suitable fittings from my local parts store. A bigger fitting for a small diameter pipe. Cost was 50 cents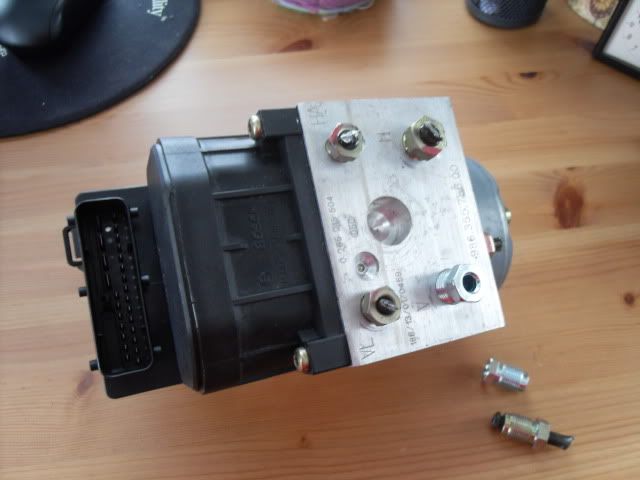 Now have to find suitable "Porsche style" dark green (PVC coated ? ) universal brake line. Since ABS pump will be placed to current battery location, plain copper or cunifer won't do.

03-03-2012, 06:43 AM

---
It's a '87 non ABS version. We have all 951 ABS pieces together but we are going to move to Boxster system. Pump will be located where battery used to be. Now just have to fabricate bracket for the pump. Few possibilities, stainless steel, aluminium or CF.

03-03-2012, 07:58 AM

---
keep us updated, have you got pics of your battery relocation? did you put cables through coupe or under by TT? it really is an amazing mod there initiated by tony, abs will bring the cars up to "another level"

03-03-2012, 11:30 AM
Rennlist Junkie Forever

---
Looks like a good place. There still enough room to fit the small Harley Odyssey battery :-)

I was going to put mine there except I already had a battery, kill switch, and some other electrical stuff there.

TonyG

03-04-2012, 11:48 AM

---
Tony,
you're right. Bosch 5.3 pump is so small, that you can place it in the way it will be almost invisible and still have room for a battery.

Andres,
we have not done anything for battery re-location. All battery trays available from UK have been more or less very rusted. If we put battery rear, we will fabricate a new tray for it.

05-23-2012, 02:45 AM
Rennlist Junkie Forever

---


My ABS is in.

It's not 100%. I think I have a fauly unit.

The ABS works the first time you hit the brakes hard enough to trigger the pump, but not the second time.

It's reset when the power is cycled.

I keep getting a code that indicates a wheel sensor not present, but in testing the system sees each wheel, and can see the proper wheel movement of each wheel.

Go figure.

I'm going to swap in another pump and see if that resoves the issue.

Other than that, the functionality and operation of the
Boxter/996 Bosch ABS pump FAR out performs the 951 ABS pump.


One note is that I did plumb in a rear brake circuit proportioning valve... so that if the ABS shuts down.... the brakes and the front/rear brake proportioning works exactly as if the car simply did not have ABS.

TonyG

01-02-2013, 01:49 AM
Addict
Rennlist Member
Join Date: Mar 2004
Location: calgary
Posts: 77
Likes: 0
Received 0 Likes on 0 Posts

---
Thanks

I had the wrecker include a length of the harness to the unit as well as the original mounting bracket. Only minor trimming and drilling was required to mount it to the stock ABS location. The wiring was done by myself - I actually grabbed an OBD plug from another car and ran it into the glovebox. I can connect to the ABS system through durametric now for full diagnostics and booster pump bleeding.

01-02-2013, 01:55 AM
Rennlist Junkie Forever

---
MY abs pump diagnostic wiring is connected to the GM OBDll port under the dash. And yeah... I can bleed and run the same diagnostics as you.
Just plug in the laptop and test the ABS pump and sensors.
TonyG

01-02-2013, 11:54 AM
Rennlist Junkie Forever