wheel studs.. which ones?

03-05-2013, 10:28 PM
Addict
Rennlist Member
Join Date: May 2008
Location: Somewhere in a galaxy far, far away....
Posts: 16,295

---


having studs allows one to not only play with multiple wheel choices and offsets but also makes it easier to hang the wheel in place when installing them.

03-06-2013, 04:18 AM
GT3 player par excellence
Lifetime Rennlist
Member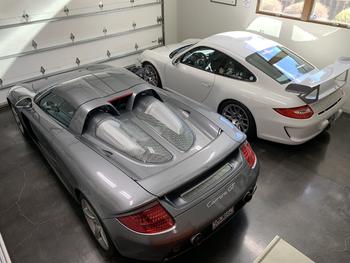 ---
Originally Posted by
PJS996GT3
I keep a couple extra in the glove box
Mine are apex from
www.track-studs.com
I have had them on 2 cars with no issues (knock on wood)
a couple?
you ppl need to understand spares.
i bought 200 studs, 200 nuts for spare in addition to the 20 on the corners and 2 extra in the spare box.
not from apex, but some very secret stuff. i can resell them, but they will cost you a LOT more than apex. i do mean a LOT more.
they are consumables, i replace them every year.
i do use impact gun on them. that's the whole point of using studs. to be fast.
if your studs can't deal with impact guns, u got some wrong studs, buddy!

03-06-2013, 08:51 PM

---
Thank you all for the advice. As far as the actual nuts, I've seen a couple different ones. Do certain nuts work with specific wheels? I'm referring to ball seated vs. Conical. Thanks again

03-07-2013, 03:15 AM

---

03-07-2013, 09:11 AM

---

03-07-2013, 10:37 AM

Selecting the Proper Porsche Track Studs and Nuts
---
Wow guys, thanks for the kind words!

Absolutely! This is critical to understand.
Caveat Emptor! Not all "ball seat" nuts are correct, including some I've seen mentioned on this forum.
Porsche wheels use a specific radius to the nut (R14) that is not found in other make's wheels. Make sure you buy nuts that use this specific radius. The depth of the engagement is also specific.
Buying generic "Ball seat" nuts will usually get you a VW/Audi or Mercedes style nut which will seat only in a small area and can ruin your wheels... worse, it may ruin your life.
Example: The white area is the only portion that was touching the wheel when this incorrect M14 "ball seat" nut was used.
Non OEM style wheels that have conical seats MUST obviously use a conical seat nut. These are almost universally made with a 60° taper.
Regarding the questions to why, installation & sizing...
Why? If you race then the answer is obvious. If you are just doing track days then you may have the same reasons for switching over. The big 18, 19 & 20" wheel on our cars are HEAVY! And since many of you don't have crews to change our tires, this can be a time consuming effort. Not to mention it saves your back.
See video: Mount your race wheels in 30 seconds!
ACS Track-Studs installation & removal video:
Also see this installation info on our website:
Installing ACS Track-Studs
For sizing....
we used to give advice about lengths. However we were always "wrong".

Spacers, mounting pad width, socket depth, aesthetics, personal preferences etc all play a role in the decision. You will need to take the initiative to measure & determine what length is right for you. An easy way to determine this is to look at your existing bolts and imagine the bolt head is the nut.... add to this length what you need to accomplish your objective.

03-09-2013, 05:44 PM

---
I used the 81mm apex studs. They were really good. Only issue I had was the nuts constantly getting stuck in the socket. Not sure what that was about. Turned what should have been an easy project into a time consuming PITA trying to get the nuts out of the socket.

Went back to the regular porsche stuff. Now I'm considering going to back to studs. The convenience is awesome. Just need to figure out why the damn nuts kept sticking.