Various new 968 products, Turbo RS type II wing, 993 headlight conversion

10-12-2009, 01:34 PM
New User
Join Date: Oct 2009
Location: starkville, ms
Posts: 2
Likes: 0
Received 0 Likes on 0 Posts

---
Will this be a fairly simple bolt on kit, or will the fenders need to be permanently bonded ? Also, if you decide to go into production, what would be the turnaround time? I'm looking to get bodywork/ paint done on my car by within the next few months, I would be very tempted to use a kit like this if it was bolt on.

12-02-2010, 02:54 PM
Slayer of Economic Optimism

Rennlist Member

---
pricing out xenon litronic oem 993 complete headlamp assemblies. only $2,500 per side at Pelican...

and this: don't know if it's per side or complete set.
http://cgi.ebay.com/ebaymotors/ws/eB...2473&viewitem=

01-11-2011, 06:02 PM
Banned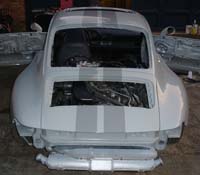 Join Date: Apr 2005
Location: Cheshire, England & Trosa, Sweden
Posts: 1,838
Likes: 0
Received 0 Likes on 0 Posts

---
Hi Gents
Sorry for the slow updates on this thread but I can now report that the project 993 front fenders are now in full production.
I've been off work for several weeks when I was struck down with the H1N1 Swine Flu and to be honest still recovering and trying to find my energy hence my lack of contribution of late

Since the last pictures posted by Beni, we have actually pretty much redeveloped again nearly from scratch.
The reason for this was because we originally purchased a set of FRP 968 front fenders to develop the conversion kit from after I'd taken moulds from a set of OEM 993 front fenders for the light apertures from a third party source in Europe. Unfortunately what the original pictures did not show was that the wings did not meet the doors very well so the following was done ...
We were sent a set of OEM 968 wings from a European customer's 968 CS whom wanted our new conversion kit ASAP so that we could use to take new moulds from. For a reason unknown to myself the customer did not want his OEM fenders back and said we could do as we pleased with them:
Below – Beni cut out the forward section from the OEM steel front fender:
Below – We then took a partial mould from the modifications I'd made to adapt the fit of the 993 headlights, then reversed the mould and "cut and shut" these into the OEM steel fenders. This ensured that the fenders would now fit perfectly so that we could then take a complete mould:
Below – Here is a picture of the "cut and shut" development finished ready for adding flanges for the moulds:
Below – Beni starts to Flanges the fenders ready to produce the "female" moulds:
Below – After the moulds were finished this is the first set of our new fenders pulled out of the moulds and then given a guide coat primer:
Below – this pictures shows the female moulds which are blue in the foreground and then replications for the start of the first batch ready for current customer orders:
Below – a set painted up ready to go on our project car:
We have also made new light units which consist of OEM 993 headlight lens covers and we have manufactured new super light weight internal lighting units which I'll picture later. Our new light units are less than 1/6th the weight of the 993 OEM units and look identical when fitted to the car from the outside. This was also necessary as to use OEM 993 units part of the front of the 968's chassis has to be cut and modified <-- This is not the case now thankfully

I will post some more pictures shortly including the complete conversion kit prices for anybody interested.
Moving on and another quick update ... I have been in direct contact since last November with the previous owner of "Bubbles" (the Black Factory #3 968 Turbo RS). He is the previous owner whom lived and still resides in the UK about 30 miles from myself. Even though he has sold the car previously to Springbok in Germany he does still have quite a lot of factory spares. He is now in the process of building 2 replica 968 Turbo RS cars and has offered to lend me a new and unused factory OEM front bumper for use to take a mould from and replicate.
I've spent some time speaking with the previous owner now which has been very interesting to learn about this #3 car which has been shrouded in mystery.
He has put us in direct contact with the current owner of "Bubbles" whom Springbok sold the car to and it transpires that the current owner actually lives close to our factory in Switzerland.
The current owner is a huge Porsche fan and Porsche collector and has unbelievably granted us full access to the car to replicate any products from the car we wish.
Beni will be chatting with the owner tomorrow in detail and once we have more information I will start a new thread, take loads of pics and try and find out the fully history of this mystery 968 Turbo RS.
Best regards,
Mark and Beni


01-11-2011, 06:37 PM
Super User
Join Date: Nov 2001
Location: $F Bay Area
Posts: 4,090
Likes: 0
Received 0 Likes on 0 Posts

---
WOW, nice work!!!

Can you compare weight of stock 968 front fenders + head lamps and repro 968 fenders for 993 head lamps + the factory 993 head lamps? Can Litronic 993 head lamps be used?

01-11-2011, 06:42 PM

---
awesome work. Best 993 headlight kit i've sen so far in regards to the fit & quality of work. The only other kit that was as good or close to being as good is Arktechs nla kit. However, their kit was built using fiberglass if i'm not mistaken...so even if the craftsmanship was as good, the material used wasnt.

01-11-2011, 07:55 PM
Slayer of Economic Optimism

Rennlist Member

---
holy f_cking crap !! thank you !!!!
i have a rather serious question.... if i put these fenders on.... will they come off the car at or before 190~195 mph ?
otherwise i wish to be one of the first to order a set. so, please pm...... i also wan't to know what we can do about adding HID lights to your masterpiece work !!..... seriously, wow !!..... by the way, just wanted to mention to the guys the rear seat delete is another "must have," great product that creates tons of space for travel. my car is like a mini station wagon.
now, if i could just find a new rear carpet (in grey as it helps keep the car cool).....
/
---
Last edited by odurandina; 01-11-2011 at

10:37 PM

.

01-11-2011, 08:10 PM
Bannana Shine
Rennlist Member
Join Date: Jul 2009
Location: Rochester Hills, MI
Posts: 19,759
Likes: 0

---
WOW! Great work guys, I'm very impressed. Just hearing that you're offering this together with headlights at
1/6th the weight
of stock is tempting me to ditch my "beloved" pop-up!

Also, I don't mean to nag, but this
IS
the thread for the TRSII wing...are you guys making any progress at all on the active-airbrake version? I'm itching to hear more about it...