Official V8 Registry.

12-25-2012, 06:47 PM

---
One of my all time favor car is 993 GT2
Can't really afford it

so aleast I can own the style right

Get the kit from A.I.R , don't think they are the original designer !!
The 968 turbo that once build by Kelly Mose racing
Is first one with the flare . Every one took the idea
But I don't see that many 968 with this flare !?
I wonder why ....

12-26-2012, 12:29 PM

12-27-2012, 03:47 PM
Slayer of Economic Optimism

Rennlist Member

---
just an update.... car is now at a new temporary home [Eric's shop]....


seller of the above LS3 turned out to be a scammer.

first, the photos of the engine didn't look right. the ad didn't exactly impress me either. then it was Miami Gardens... so i go to his home page [better late than never, right?] surprise; his sales references [totaling 2 and totaling under 5 dollars] are obvious fakes... things just got more funny from there. first, he gives me a magic jack number, but, it receives no calls. but he calls me back promptly... the voice is that of a kid but with a thick, arab accent. i tell him the item looks suspicious, but i'd be happy to come pick it up and haul it away for cash once he comes up with a sound explanation of how the engine came to be for sale, etc.... he talks with me for a few minutes and sounds like he knows nothing about Vettes or LS engines, but he agrees and says he'll call back in an hour and tell me he'll have more information about the car and engine then.... and how we can arrange a time for pickup....

once hanging up, i called Scoggin Dickey and gave them the first payment for my 6.4 litre LS7/LS3 hybrid engine.

the LS3 scammer guy never called back and quietly withdrew the sale.


the original engine with 172 k miles [still running good] is being removed.


it did a fine job and will be missed.


please add my name to the in process list...




,
---
Last edited by odurandina; 01-02-2013 at

12:30 AM

.

12-27-2012, 06:12 PM

---
I have the same ki body kit on my 944... Where did you get your screw rivets for the side panels?
Originally Posted by
Diyman25
Here are my 968 LS1 Project
94 968 with 2002 C5 LS1
TR224 cam Comp 918 and TSP push rod
Most of swap kit were source from RH
Custom True dual with high flow cat
Work none stop even at Xmas even GT2 style Fender flare and new Wheels
hope to finish every thing before new year

Almost finish the exterior... Still need to put rear bumper back
pic was taking 3 am Xmas even
next will be suspension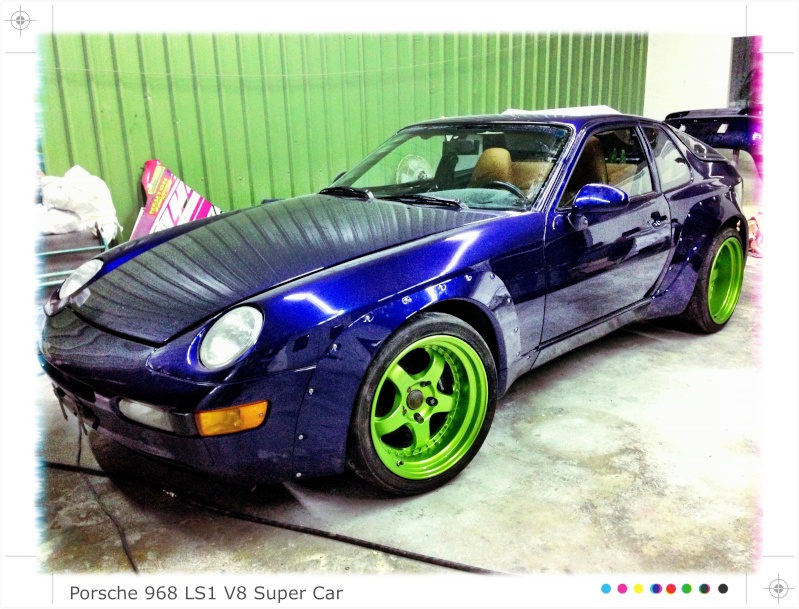 12-28-2012, 09:17 AM

04-06-2013, 05:42 PM
Addict
Rennlist Member

Rennlist
Site Sponsor
Join Date: Sep 2003
Location: Under Your Car
Posts: 8,028
Likes: 0
Received 0 Likes on 0 Posts

---
You can change mine to: Finished. Well, a project is never finished, but has done an initial 100 miles of road testing. Off to the track at the end of the month.

04-09-2013, 10:35 PM
Slayer of Economic Optimism

Rennlist Member