I want a 2013 C2S I have a 2009 C2S for trade along with 11 X5 M

10-05-2012, 11:38 AM
User
Join Date: Mar 2005
Location: Shorewood, MN
Posts: 118
Likes: 0
Received 0 Likes on 0 Posts

---
Almost finished with my Dave Ramsey plan! Best thing I've done! Last house payment is next month. (got mortgage in 2007, started Ramsey in 2008, and started heavy duty on the house in 2009. Paid off big med school loans and small credit cards)
Currently have 3 '07 vehicles in the garage: A4, 335i and Carrera S.
Can't wait for next month! FREEDOM!

Lots of flexibility going forward.
Kevin
Originally Posted by
OldGuy

I just dont think its worth making any move. My wife is on this Dave Ramsey Kick and she wants to get out of debt completely. So we only owe a small amount on the X5M and thats it. So we will just pay off the house then I will pay cash for the car. I dont want GIVE away my 565 Hp V8 Twin Turbo. Probably the nicest combination of performance and Luxury I have ever had. And I can just use my Mazda for all my running around.

10-06-2012, 05:35 PM
Addict
Lifetime Rennlist
Member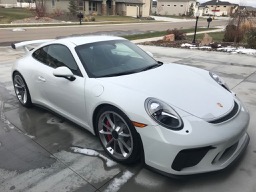 Join Date: Jun 2003
Location: Southwest Idaho
Posts: 10,456
Likes: 0
Received 0 Likes on 0 Posts

---
thats what we are going to do.

The mazda is Brand new, and Its is my company truck, tax implications. The truck is for the dump only goes out for emergencies. The 928 is son #2 he pays the gas, 2006 is Son #1 he pays for that, so I only use the X5M, 911 and mazda for work.
I was blown away by the Mazda it has alot of the things like bluetooth for music and calls full nav back up camera, blind spot detector and full leather interior Great car for the bucks.