Group Purchase on Atlas Scissor Lift

01-23-2013, 03:03 PM
Addict
Rennlist Member

Group Purchase on Atlas Scissor Lift
---
I will be purchasing one of these in the next month or two regardless, but I figured I would approach Greg Smith Equipment anyway to see what type of discounts are available. Here is the link to the lift:
http://www.gregsmithequipment.com/At...e-Scissor-Lift
Regular Price is $1495
Group of 3 orders will be $1395 per
Group of 10 or more orders will be $1345 per
Please check out this link regarding shipping costs / restraints:
http://www.gregsmithequipment.com/Shipping
Buyer will have to either pay for shipping or go to the closest Greg Smith Equipment location (Indianapolis, IN / Newark, DE / Atlanta, GA / Phoenix, AZ / Hudson, NH / Miami, FL / Austin, TX) and pick up. If you do indeed pick up you will have to pay sales tax which could likely wash out much of the savings you think you would get from not paying shipping. Real savings on shipping could be achieved if multiple lifts are sent to one location, then the buyers could transport them home from there splitting the freight bill.
Please refer to the Greg Smith website regarding information on the lifts, it's capabilities, shipping and or any other questions regarding it, I am by no means an expert on it.
I will be purchasing mine sometime in Mid February or early March, email me directly (not always on these boards regularly) at
[email protected]
if you would like to order one. Thanks.......Mark.

01-23-2013, 09:41 PM
Addict
Rennlist Member
Join Date: Jan 2010
Location: Oneida, New York
Posts: 4,011
Likes: 0
Received 0 Likes on 0 Posts

---
got mine in the fall of 2010...can't imagine living without it now. Makes oil changes extremely easy...but, think about detailing. No more do you have to kneel down, or lay on your belly to pre-clean, or polish. You want the car at "stool" height...just push the button.

Really, makes maintenance, and general TLC soooo much easier.

Nice quality, very reasonable price.

Only down side...when every body panel can be made at eyeball level, you'll see imperfections you never noticed before.

Good luck Mark

01-23-2013, 09:56 PM
Addict
Rennlist Member

---
Thank YOU Joe, for all the advice on recessing it. A few pictures of my project thus far:
Laying it out and measuring where to place the hole
Cutting the hole
Jack Hammering out the old concrete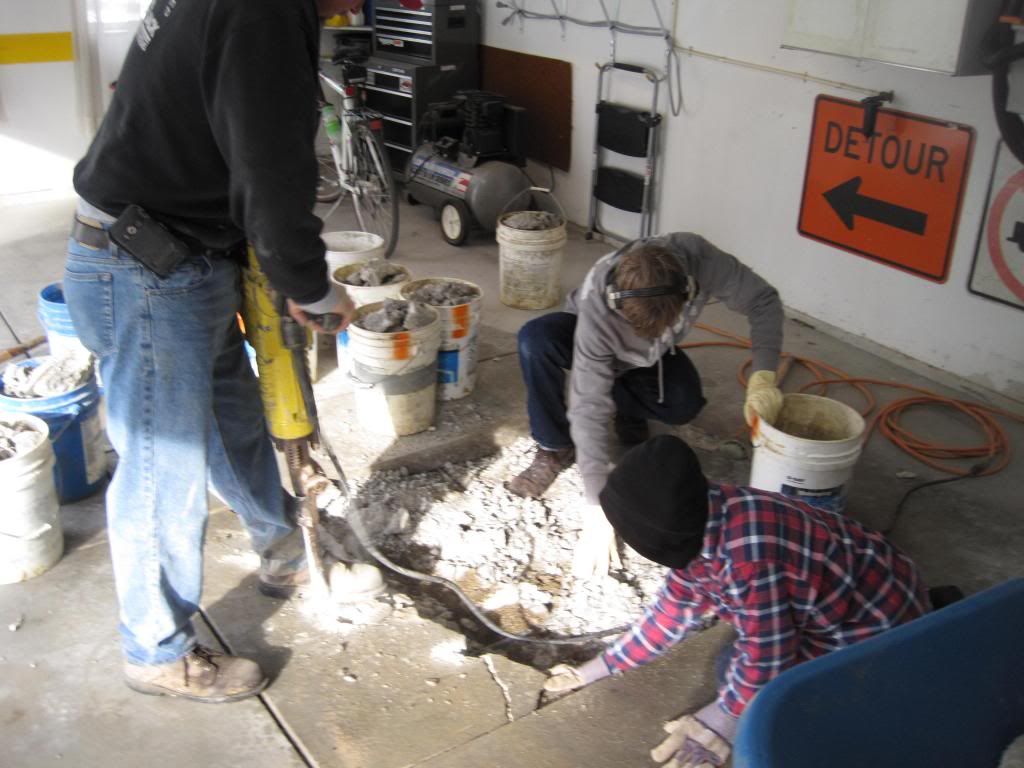 Digging down to accommodate pad and desired depth
Digging 5 piers 12" by 36" and running / drilling floor for PVC to hold hydraulic lines
Pouring / screeding concrete for appropriate depth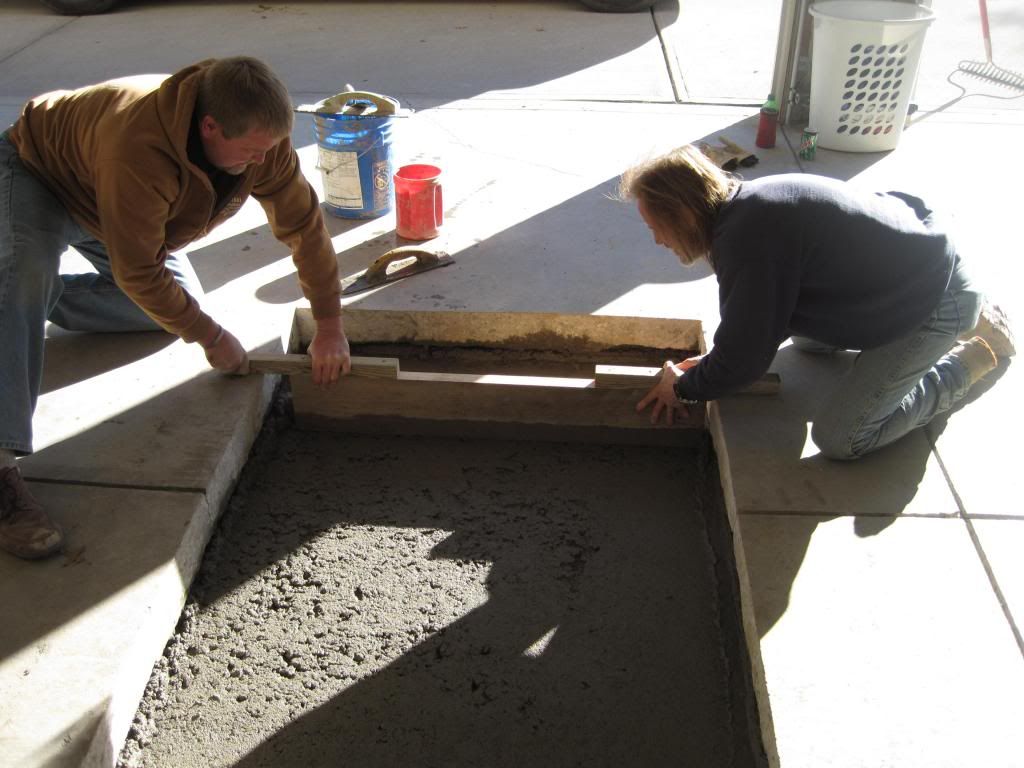 Finishing concrete, this is where I am now
I will finish out the edges then trim the hole out and let it sit for 30 days to cure.

01-24-2013, 10:04 AM
Addict
Lifetime Rennlist
Member
Join Date: May 2005
Location: Dayton Ohio.....Americas Playground!!!
Posts: 2,821
Likes: 0
Received 0 Likes on 0 Posts

01-24-2013, 10:46 AM
Addict
Rennlist Member

---

01-25-2013, 01:37 PM
User
Join Date: Dec 2004
Posts: 80
Likes: 0
Received 0 Likes on 0 Posts

---
I'm tentatively interested in the group purchase, need to clear up a couple of doubts first.

Does this lift need a pit like Coreseller is doing? If that's the case, I'm out. I need plug-n-play <grin>. Looking at gregsmith website video, it does not seem to be a requirement, it's advertised as "portable". I have a 3 degree incline in my garage, I don't think that should be a problem (he heh, it will be fun to chase the lift with the car on top if it makes it to the ~25 deg garage driveway/ramp)

Measuring the dimensions in my garage, it will fit fine, but I can only use the lift with the overhead garage door closed. Is this how everyone else is doing it?

This midrise lift will lift the car to chest height if I did my numbers right. That's kinda awkward to work underneath, right? What's been the experience of those using these kind of lifts - do you sit on a stool and work? IF anyone around the Dallas, TX area has one, I'd greatly appreciate the opportunity to see it in person.

Thanks

01-25-2013, 02:23 PM
Addict
Rennlist Member


---
Nicely done!
Aren't those saws great; they cut through concrete like butter. Instead of using a jack hammer, I just cut my slab into smaller rectangular pieces and lifted them out.
How are you finishing the sides/edges of the slab? You might use some tile with a quarter-round edge at the top and cut it to fit along the base of the slab.
BTW, here is Joe's installation...same lift, same installation method...