Phase two of my project - turbo swap pictorial

01-23-2009, 06:00 PM
User
Join Date: Dec 2002
Location: formerly RI, then MO, now CA
Posts: 1,617
Likes: 0
Received 0 Likes on 0 Posts

---
Good work. You have me motivated to start my winter projects.
Also I'm not a fan of teflon tape either. I use the Loctite thread sealer sold at most automotive stores (the # escapes me). It comes in about a 0.2 oz tube and has been able to seal every threaded joint where multiple tries with teflon tape had failed.

01-23-2009, 07:24 PM
Super User
Join Date: Jun 2003
Location: San Diego, CA
Posts: 9,971
Likes: 0
Received 0 Likes on 0 Posts

---
Sid, i actually thought of that after i pulled the fuel rail off. Its a pain in the *** dumping all the fuel in the rail all over the block.
fortysixandtwo, i just picked up a tube of Permatex thread sealant with Teflon, though i am going to exchange it for this stuff which looks like it will resist oil and temperature better. I was actually comparing the two while at the store and for some reason was thinking the stuff i linked too below would make disassembly a pain in the butt...then i realized i am probably never going to remove that fitting off that flange ever again, not to mention it will actually make disassembly easier! I should have checked on the Permatex website before hand.
http://permatex.com/products/Automot...ad_Sealant.htm

01-24-2009, 02:22 AM
User
Join Date: Dec 2002
Location: formerly RI, then MO, now CA
Posts: 1,617
Likes: 0
Received 0 Likes on 0 Posts

---
The stuff in the link is it. Sorry about the Loctite reference, long work week. Though I did get the tube size correct.
I used it on a couple of 1/2" NPT fittings, at my fuel filter, that would not stop leaking when sealed with teflon tape. I also have it on a few 1/8 NPT plugs on the oil side of things. Eventually it will get used on every pipe thread I have on my vehicles.

02-01-2009, 07:31 PM
Super User
Join Date: Jun 2003
Location: San Diego, CA
Posts: 9,971
Likes: 0
Received 0 Likes on 0 Posts

---
Keith, there is a raised portion on the top of the duct where a grommet fits and the alternator power wire goes in. Basically i ground that entire section down and moved the entry point for the wire. If you look at the back of the shroud straight on, i drilled the hole roughly at the 3:00 position (looking at it from the back). Its still a tight fit, but was enough for me to squeeze the coupler on without too much trouble. It was a major pain the last time.
--
Attempt #3 was performed today. I was able to get everything apart and back together again in about two hours. I am not proud to say im getting good at taking it apart! I left the fuel rail attached as per Sid's advice. Other than a slightly hard to reach intake manifold bolt under the fuel pressure damper, (used a ball head allen key and vice grip for leverage) everything came apart very easily and no need to dump an entire fuel rails worth of gas over the block! I used the Permatex thread sealant and reaaallly hope it seals. I think it will do fine. But in the event it still leaks, attempt #4 is going to be using Silastic 730.. the same stuff for the oil pan. I put a custom big radiator in my friends 944 a few months ago and one of the plugs has been leaking ever since. Ive resealed it with teflon tape probably 3 times now. Last weekend i used some of that Silastic stuff (no tape at all) on the threads and it finally stopped leaking. Lets hope it dosent turn to that...

Anyhow i have not started it yet because i want to let this stuff cure completley (72 hrs). I also need to order some clamps, so it will probably be a week atleast before i do start it.
Check out my bitchin custom intake manifold prop.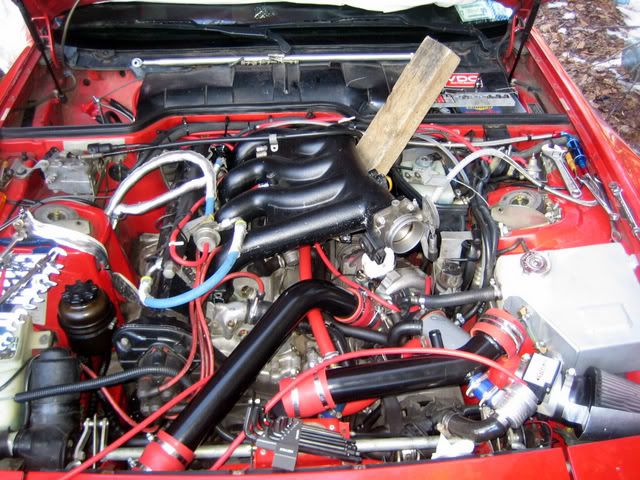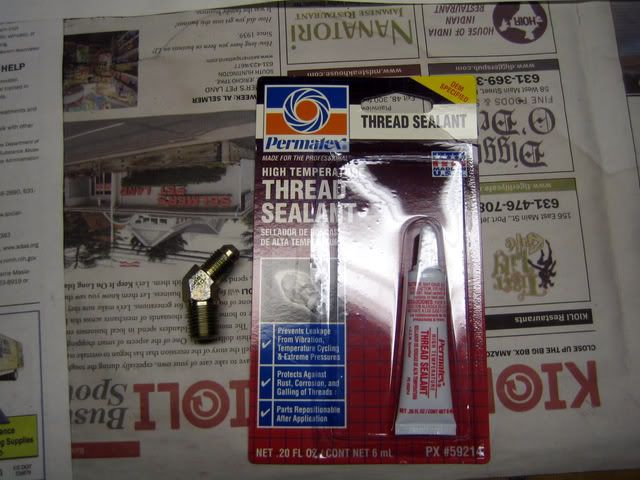 Please stop leaking...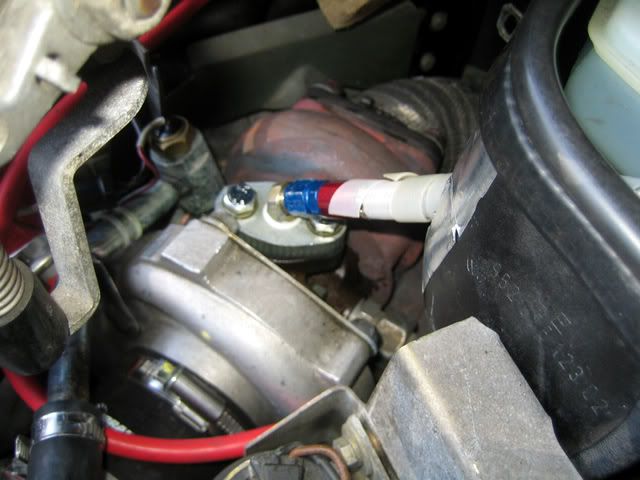 I bought these nice clamps from Aircraft Spruce also. They are Oetiker stepless screw clamps. They have a very narrow band so they fit very nicely around the throttlebody / IC pipe connection which is a very tight fit for a normal t-bolt clamp. Unfortunatley i bought one size too small..go figure. I was impressed enough with these clamps that i am going to use them on all of the couplings for the IC pipes. They are pretty cheap also, less than $4 each and Aircraft Spruce charges less than $2 for shipping first class mail. The problem with the sizing however is the maximum and minimum clamping ranges are literally right at the limits of what i need for the couplers. So it took alot of measurements and interpolating a little from the charts to figure out what sizes i think i need. I ordered two of the clamp sizes i think i need for the TB / IC pipe connection and rest of the IC pipe connections to test fit. If they are correct, ill order the rest. I will post up what the correct sizes are and part #'s when i figure it out so noone else needs to go through this trial and error nonsense.
http://www.aircraftspruce.com/catalo...es/oetiker.php
http://www.oetiker.com/content.asp?l=4&idNavig=88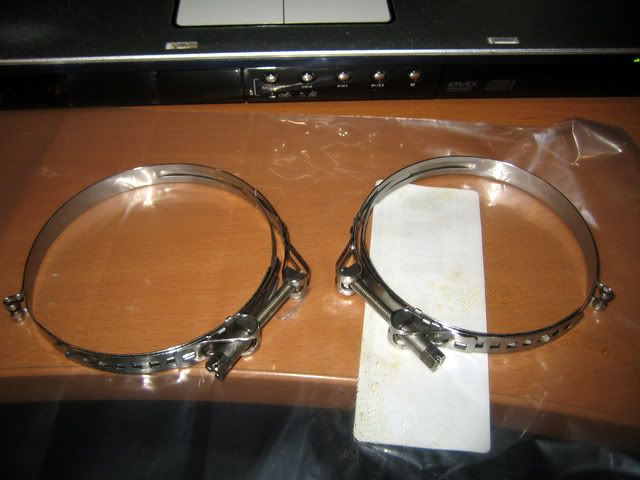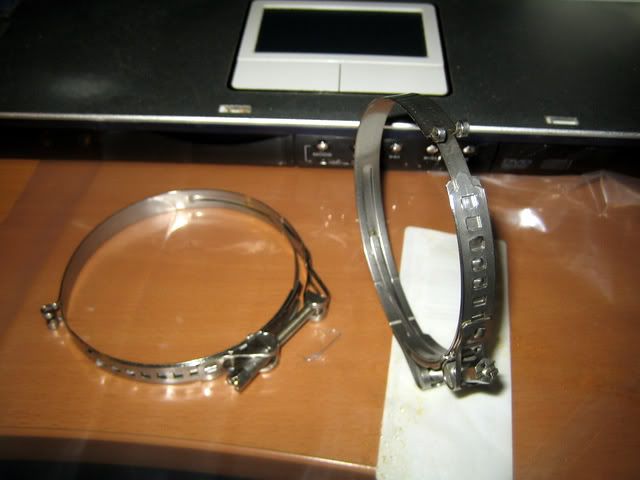 ---
Last edited by Techno Duck; 02-01-2009 at

07:52 PM

.

02-26-2009, 06:45 PM
Super User
Join Date: Jun 2003
Location: San Diego, CA
Posts: 9,971
Likes: 0
Received 0 Likes on 0 Posts

---
I finally reregistered the car today and took it for a 10 mile drive. Happily everything is running perfectly with no leaks (keeping my fingers crossed on this and knocking on wood!). My new tires came in today also, so its like all the starts aligned sorta..

. I am going to have them mounted tomorrow afternoon. They are the relativley new Kumho XS which is branded as the successor to the MX and direct competitor to the Falken RT615. I hope they can survive 20 minute sessions on the track without getting greasy.
Its so nice to finally be back behind the wheel of a 951, i couldnt help but have a smile on my face when i hit some of the twisties, even with my rock hard 8 year old bald Michelin Pilot Sports!
I am still only running off the wastegate spring pressure which is about 11psi. The car is pretty damn fast.. ill probably turn the boost up when it gets a little bit warmer out.
I just hope there are no freak snow storms now..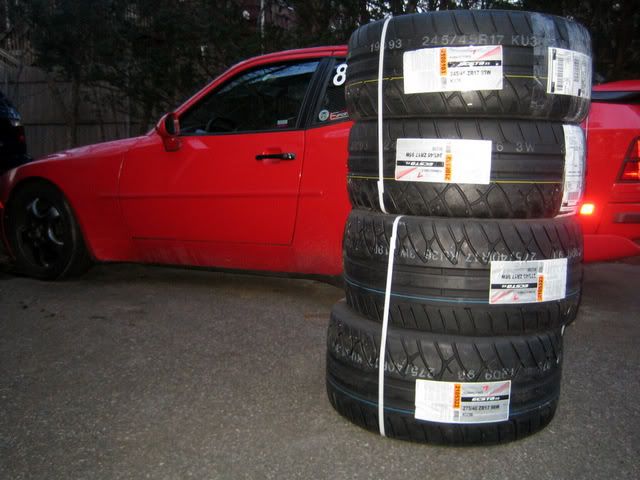 In the next few weeks i will do some real ghetto data logging with my camcorder and recording when i am getting 1-bar with the 60-1 HiFi in 4th gear. I am hoping to see in the sub 3300rpm range. Around April when i have some extra cash i will dyno the car, i am hoping to make around 325whp @ 15psi. I think that may be a bit optimistic, but i can hope..

.

02-27-2009, 07:38 PM
Addict
Rennlist Member
Join Date: Dec 2007
Location: Atlanta
Posts: 518
Likes: 0
Received 0 Likes on 0 Posts

---
GREAT THREAD. Nice work. Good luck. I have just recently removed my turbo, top end, etc. for TLC reasons and to find a few pesky oil leaks. Your thread allowed me to augment my notes and I thank you for the dilligent documentation of your work. Very helpful.

I am in a "must" situation on reducing the size of my alternator and have pinged "patrick" with a PM, but I wonder who has the poop on the Nissan unit and issues, wiring, etc. My Old School Garrett 28/76 still has some life and the 4" opening is partially hidden by the top of the ALT, so the pipe is a kluge. I want to replace it with a better solution.

I'll try to post photos, but I suck at the documentaiton part; hat's off to you!

BTW, one key to the long turbo mounting bolt; I just leave it dangling on the steering UV knuckle. No need to remove it completley unless it is bad. Saves a lot of other work.

After seeing the gunk in your intercooler I will be removing and cleaning mine for sure!

Thanks man.

02-27-2009, 08:34 PM
Super User
Join Date: Jun 2003
Location: San Diego, CA
Posts: 9,971
Likes: 0
Received 0 Likes on 0 Posts

---
This thread was pretty straightforward about the smaller Nissan alternator. I decided not to go with it because i would needed to have cut the lugs off my Iceshark battery harness aswell as make some modifications to the alternator mount. If i ever do a bigger turbo, surely put the smaller one on.
https://rennlist.com/forums/944-turb...eted-pics.html
There are a few reasons i like to document the stuff. I figure it will do good if i ever decide to sell the car, the potential buyer can see the obsession that went into this car. Also before undertaking new projects on the car i like to see what i am up against. So i figure these are helpful for anyone like me trying to size up a job. The other thing is it sorta forces me to not halfass any of the work on the job. Why would i want to document me halfassing something for all of Rennlist to criticize..

.
My impression of the 60-1 HiFi so far, i am very happy with it and have about 110 miles on the car now (had to do alot of driving today). Honestly i have not noticed too much of a difference in the turbo lag. So far i am still running off the wastegate spring (11 psi) and the car feels faster now than it did with the K26/6 at 14psi. The Vitesse MAF is basically perfect with the AFR's, no adjustment or anything needed going from stock to modified. I truly believe this is the best setup anyone can get for a 951 that plans on modifying the car, short of a standalone of course. I have only really got on the car once so far after being edged on by my friend next to me and said the car sounds great with the open dump and my exhaust is a healthy, horribly smelling 'somewhat grey / black' color

. The 60-1 isnt nearly as loud with induction noise as my bent blade K26 that was 'chopping' the air up, but once i come out of vacuum and get into the boost region it sounds fantastic with the MAF. I am getting my new tires mounted tomorrow and once it warms up a little in a few weeks i will bring up the boost to 14-15psi and get some decent videos showing acceleration in gear and boost / rpm.
Anyhow i cant enjoy the car much because of an expected 1/4'' of rain and some mega winds out right now. Tomorrow will be clear giving way into a 'wintry mix' sunday and monday.. hopefully nothing sticks

.

03-08-2009, 07:02 PM
Super User
Join Date: Jun 2003
Location: San Diego, CA
Posts: 9,971
Likes: 0
Received 0 Likes on 0 Posts

---
Well i have put about 550 miles on the car with the new turbo. I finally turned up the boost to 15psi yesterday and gave it a few good runs. I am pretty satisfied with the performance right now. The extra lag is not bad at all, as i figured i am getting 15psi right around 3200-3300rpm in 4th gear. With the 26/6 i was getting 15psi around 2700rpm. In 3rd gear the car really hauls *** once it comes on boost. The turbo is quiet up until 3k rpm about where you can really hear the induction sound, its pretty mean especially with the open dump

.
The turbo exactly is a Turbonetics 60-1 HiFi with a #8 Turbonetics replica hotside housing. The other mods are Vitesse MAF, LR stage 1 o-ringed head, full 3'' and no cat, wrapped stock downpipe, Tial 38mm, black **** controller and a few other not so performance critical things.
I took some video last night of boost / rpm in 4th gear and a quick 3rd gear pull to about 5500rpm. The quality is not the best because i had to use the nightshot mode, so the boost controller is a little washed out. In normal mode the camcorder was not picking up the tach very well due to the LED's which for some reason do not show up very bright at all on video. I will have some better footage this weekend if its dry out.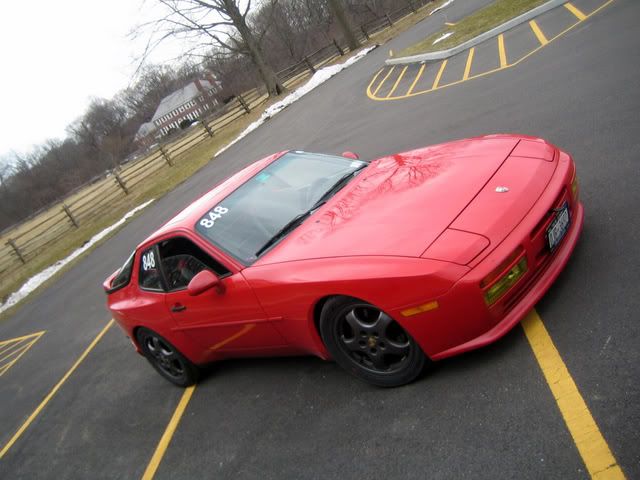 03-08-2009, 07:31 PM
Addict
Rennlist Member

Join Date: Apr 2002
Location: Atlanta, GA
Posts: 4,054
Likes: 0
Received 0 Likes on 0 Posts

---
Great thread - have really enjoyed following your progress. I am curious to see what your dyno numbers are as I have a similiar turbo. I think you are getting a bar of boost quicker than I am though.

03-08-2009, 08:00 PM
Super User
Join Date: Jun 2003
Location: San Diego, CA
Posts: 9,971
Likes: 0
Received 0 Likes on 0 Posts

---
Josh, when are you seeing 1-bar? Are you still using the LR intake or did you eventually go back with a stock one?

I am hoping to dyno the car sometime around April, money is a little tight right now.

03-08-2009, 08:05 PM
Addict
Rennlist Member

Join Date: Apr 2002
Location: Atlanta, GA
Posts: 4,054
Likes: 0
Received 0 Likes on 0 Posts

---
Not seeing a bar until 3650 and still on the LR intake. I've got some buddies that want to visit a dyno soon and I'll be swapping the intake out for stock one. I haven't changed anything else since the last dyno so it will be interesting to see the results. Do you have a zeitronix on your car?