Door panel plastic clips positions

06-10-2017, 12:52 PM

Door panel plastic clips positions
---
Hi guys, so I have ordered the three types of door panel clips for my '84 928S euro door. However, the manual does not show where each one goes. Does anyone know what goes where? Is it already correct how it shows it on the photograph below?
433 867 299 A - white and longest (left)
823 867 299 - black (middle)
999 591 559 40 - see-through white and tiniest (right)

06-10-2017, 01:24 PM
Addict
Rennlist Member

Rennlist
Site Sponsor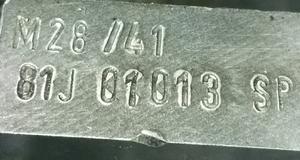 Join Date: Jan 2003
Location: Double Oak, TX
Posts: 15,553

---
PET is confusing on this subject ----
999 591 559 40 is for the door card in the center of the panel. It says 6 but you only use 4 per car
823 867 299 x 22 per car
433 867 299A x 4 per car.

I have cars that have all white clips. I have seen mixtures of black and white.

The white clip allows some space between the panel and metal maybe to allow for the material.
The black clip pulls up hard - panel to metal.

Thats my 2cents worth interested to know what other theory's are.
__________________
Does it have the "Do It Yourself" manual transmission, or the superior "Fully Equipped by Porsche" Automatic Transmission?
George Layton March 2014
928 Owners are ".....a secret sect of quietly assured Porsche pragmatists who in near anonymity appreciate the prodigious, easy going prowess of the 928."

01-28-2019, 12:12 PM
Addict
Rennlist Member
Join Date: Jul 2013
Posts: 13

---
Late to the thread but just pulling my door panels on my recently acquired 89 S4 to replace the door stop. My car has the 299A's all along the outer edge and bottom like the OP.
Seems to make sense to have the longest where the carpet folds over for the extra room mentioned. Mine are mangled beyond belief. I'm guessing either the
299a's or the black ones will work fine. Having been into a lot of these fiber board door cards from Porsche and Audis of the day, I have not seen one hold up as
well as on this 928. While more than half of the rivets are toast, each mounting hole in the fiber board is intact and not shredded. I thought I'd have to glass each over each
but they are fine even after extricating the crushed pins. Very impressed so far.

01-28-2019, 12:53 PM

01-28-2019, 07:29 PM
Chronic Tool Dropper
Lifetime Rennlist
Member
Join Date: Oct 2001
Location: Bend, Oregon
Posts: 17,492

---
The left clip in the above picture allows space for the carpet while maintaining alignment and support at the door card. Use them where there is carpet. The other two are functionally interchangeable. Except for the clip side length, once installed they do the same job.

01-31-2019, 05:13 PM

---