I am so bad at wrenching on this car.

04-11-2017, 08:26 AM

I am so bad at wrenching on this car.
---
I love this car. I really do. But it's going to kill me.

I get jammed up doing the simplest ****. I've been working for hours - HOURS - to figure out the right set of arcane circumstances that will allow me to get the daggone accessory belts off the pulleys. I mean, I have a well written guide that goes through it step-by-step with pictures, but that does not translate into success.

First was the struggle with the PS pump. Getting all the bolts loosened wasn't too bad, but then I found that the hard pipe coming off the top was at an angle that caused it to press against the fender and not allow the pump to rotate fully so the belt could come off easily. I struggled with that for a while, finally realizing that if I got some extra leverage with a bar, I could slip the belt off the main pulley.

Then to the air pump, which is being a complete pain in the ***. I've loosened every bolt, but the damn thing won't rotate more than a few degrees. No where near enough slack to get the belt off. I found another set of instructions that says to just take all the bolts out and rotate it up, so I'll try that.

I shouldn't be allowed to maintain a lawnmower-powered go-kart. I'm in simple awe of you guys and your skills. I feel like a little kid with his Dad's tool set: "Me fix car!"

04-11-2017, 08:39 AM

---
I share the 'in awe' sentiment. My '82 developed a fuel leak last week and a PM to MRMERLIN and a nearby rennlister without seeing it he had to perfectly narrowed down to the check valve off the the fuel pump. The only reason I still have this car is because of the 'awe'some support from this group. I am into this 928 thing for almost three years and it brings a smile to my face every time I open the garage (more so when it is running correctly).

04-11-2017, 08:50 AM
Petie3rd
Rennlist Member
This Post Sponsored by:
Dow Corning« & DeoxIT«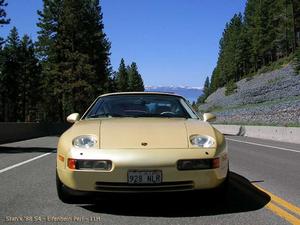 Join Date: May 2004
Location: Philly PA
Posts: 21,857

---
its easy cut the belts off and put on a new set.

loosen the mounting bolts first,
put the belt on the pulley,
then use a socket to turn the crank and the belt will run itself on

04-11-2017, 09:26 AM
Chronic Tool Dropper
Lifetime Rennlist
Member
Join Date: Oct 2001
Location: Bend, Oregon
Posts: 16,962

---
The cars were designed and assembled by mere mortals like us. Patience is a required virtue when working on anything, and it's a prominent requirement when it comes to 928 wrenching. That said, I'm regularly impressed with the amount of design thought that went into these cars starting 45 years ago now. I learn more each time the tools come out. And that's my thought process. I let the car teach me new things. It's an education, and it's therapy too. I'll confess that each time I think I'm smarter than the car, it "corrects" me. Think "education and therapy" at all times, enjoy the experience, and peace will come to you and the tools as it has to me. Don't be afraid to put the tools down, walk away and do something else if you forget.

Economic justification: The car has saved me countless hours and dollars in pee-sike-I-a-tryst expenses over the years. With a bad attitude, it could easily have doubled the costs instead of offsetting them. Really... the voices in my head tell me it's all OK.

04-11-2017, 10:40 AM

---
Shawn, I understand.
I like to think of myself as an accomplished mechanic. H*ll, I get paid to troubleshoot and repair heavy machinery at my day job.
And this car makes me feel like an idiot.

Only way I get through is diligence. By 'diligence' I mean beat my face against it then go to Rennlist for advice.

Keep on keepin' on...

04-11-2017, 11:22 AM

---
I feel the same way Shawn. But, like Dr Bob said be patient. Think about, look at each accessory, how it pivots and how the belt is tightened once it's in place. Sometimes a bolt has to come out farther that you think to allow it pivot enough or an adjustment bolt has to be loosened more than you expect. Take your time and just think it through. They will come off.
I went through this all while doing my TB/WP replacement this winter. I was able to do it, so you sure can. I was even able to get everything back together with only a few extra belts and bolts left over!


04-11-2017, 11:42 AM

04-11-2017, 11:44 AM

---
What everybody said Shawn.

Take your time, search and ask questions when needed and you'll be good.

Without Rennlist I would definately not own a 928. Or it would be fare from what it is right now.

If rolling at all...

Keep up the good work.
---
Last edited by Bertrand Daoust; 04-11-2017 at

08:56 PM

.

04-11-2017, 11:53 AM

---
#1 - Its just parts bolted to parts. Sometimes its a bit counterintuitive as to how the stuff goes together (or comes apart), but that's part of the experience.

#2 - Considering the "skill" level of some of the monkeys, goons and morons that work on these cars, it can't be all that hard. The FB group is a pretty good illustration of this.

#3 - The collective knowledge on here is complete. Someone will know the answer to any issue. And the willingness of some of the real experts to offer those answers is amazing.

#4 - For me, having it as a "summer car" helps a lot. Big projects are done during the winter storage. That means I can take my time. If I get stuck, or just tired and frustrated, I can walk away for a day or two. I can spend all the time I need doing research or asking for help. And I have yet to find that help lacking.

Is this the cam seal job you were asking about a little while back?

04-11-2017, 12:02 PM

---
These cars are bolted and screwed together for the most part...but they still need to go together in a particular way and in some cases that is to more of an extreme than in others...as is with life.

I'll be honest...I do an evaluation every time I undertake a new job and look at the risks of completely blowing it and if I don't want to live with that risk I will typically decide to farm out the job. I have access to several very well qualified mechanics that have familiarity with this model.

For work I do myself..guess what...most things I have to do more than once...why? I sometimes tend to get into something without reading enough on Rennlist ...totally my fault...then there's the unfamiliarity with the job and sometimes I get confused and miss a step...so I wind up going back in later...for me it's practice makes perfect...the first time I attempt something I often times struggle to get it right the first time.

The car is forgiving, however and it has always given me the 2nd and 3rd chances to go back in and do it right. If you care about it you'll eventually find the rhythm and then there is a dialogue...for me it takes more than once for sure.

04-11-2017, 12:15 PM

---
Hang in there Shawn. As others have stated, I would not own these cars if not for Rennlist. However, I tried to avoid the little annoying maintenance items that would discourage me and just took the whole damn engine out!

Needless to say, the original engine is stored and the re-Gasketed euro s cis engine is ready to be installed, but now due to the increased interests in original OBs, I'm wondering if I should restore the original engine back in!

Im here in Philly and very inexperienced with all these stuff, but I would be happy to help in anyway I can. Plenty of tools and stuff. Let me know!
hoi

04-11-2017, 12:31 PM

---
Shawn, I'm just smart enough to hire a knowledgable person for work I'm not comfortable doing and you might want to do the same. Guesstimating it would take me twenty hours to do a TB/WP and risk getting it wrong... this could be pricey. I'd rather pay someone that's been there several X's and brings there own specialty tools needed for the job.. A knowledgeable mechanic will also point out other things your car is in need of WIT. The twenty or so hours saved I could have been doing something else to pay for the work being done...correctly.02 T
---
Last edited by 77tony; 04-11-2017 at

12:57 PM

.

04-11-2017, 12:41 PM

---
Hey Shawn, I'm coming up on a year and I have yet to even get mine started! I share the sentiment of Dr. Bob. I enjoy learning about how stuff comes apart and goes together, but have been where you are at many times. I usually get home from work around 5:30 PM, kiss the wife, toss the boy in the air a few times, pet the dog and then change into my garage digs with the intention of making Mr. Merlin like progress before dinner. 2hrs go by and my wife will ask, "Did you get a lot done?". All to often the reply is, "I need to contact Roger. I need more parts now".

04-11-2017, 01:00 PM

---
Shawn, I truly feel your pain. I've been stuck on the intake refresh since November. It seems like things that should be tough are easy and easiest s*** suddenly turns into the most difficult task ever.

Take a deep breath, say "F*** it", go in the house and watch something funny.

Try again in an hour. Or the next day... who cares? Unless this is your daily driver, its not a race against time.

Stay strong!

PS: Yeah, that PS pump is a real b**** to take out and put back in. It's not just you...

04-11-2017, 06:39 PM
Addict
Rennlist Member
Join Date: Aug 2014
Location: Adirondack Mountains, New York (For NYC residents: "near Canada")
Posts: 1,807

---
Went to start up the Bugeye this morning for the first time since October. Reluctant to go, and then missing on one or more cylinders. Exhaust header temperatures suggest aft carb not providing gas. Removed float, reservoir empty. Cleared gunk from float valve with some starting fluid and lung power, put it back on. Started it up, drove to get some fresh gas, coffee and a doughnut.

Satisfying. Not so challenging as a 928, where success is correspondingly more satisfying. You're a 928 kinda guy, Shawn, but perhaps you need something easy occasionally.