New owner 1979 Manual 928

02-10-2016, 02:00 AM
Super Moderator - Cracklin' Rosie
Lifetime Rennlist
Member

---
Whoa!!!!

Didn't any of you notice the ejector seat button in the center console!!!!

In a non-sunroof car no less........someone didn't think that all the way through.

02-10-2016, 08:08 AM

---
Yes, normally you wouldn't see this option on a non-sunroof. Interesting.
Looks to be the original radio and the surround looks to be in great shape...nice!
Brian.

02-10-2016, 09:37 AM
Addict
Rennlist Member

Rennlist
Site Sponsor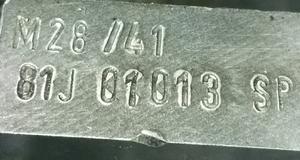 Join Date: Jan 2003
Location: Double Oak, TX
Posts: 15,655

---
Welcome Lord Sinclair - Posh accent you have 8>)
__________________
Does it have the "Do It Yourself" manual transmission, or the superior "Fully Equipped by Porsche" Automatic Transmission?
George Layton March 2014
928 Owners are ".....a secret sect of quietly assured Porsche pragmatists who in near anonymity appreciate the prodigious, easy going prowess of the 928."

02-10-2016, 10:14 AM

---
Very nice and welcome to the tank. I am fully with you - those BBS's are so period, and so dated. Yes it's a good wheel, but they look about as good on our cars in this day and age as side strakes do. Phone dials, or Cup1 wheels, or turbo twists all work well on the early cars. Hold off and spring for a custom set of 18" phone dials from Jim at 928 Classics.

02-10-2016, 08:57 PM

---
Fantastic looking car!

I have a set of 944 16" phone dials, which look much better on the car than the stock 928 wheels.
__________________
greg brown
714 879 9072
[email protected]
There's always different ways to do a particular job.
The trick, in life, is to know which of those ways are stupid....

02-12-2016, 10:42 PM

---
A little late , but welcome. Lovely car...and yes, the phone dials are the best! 16" were standard on manuals, 15" on the autos.

Please be sure to post your adventures...many of the early car fans here!