Rear shocks pins - SEIZED! PINS ARE OUT!

04-03-2011, 09:20 PM
Addict
Rennlist Member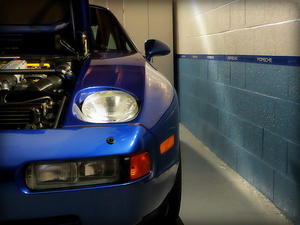 Join Date: Oct 2005
Location: Gatineau, QuÚbec, Canada
Posts: 4,162

Rear shocks pins - SEIZED! PINS ARE OUT!
---
I'm trying to remove both rear shocks pins and they don't want to move AT ALL.
I have removed both side nuts without any problem but both pins are seized.
On the driver side, I can see the front and back section of the suspension arm and the shock moving on the pin. So I think it is seized in the hub section. Not too bad!
On the passenger side, only the front section of the suspension arm is moving.

Here's what I have done until now:
1) I put a lot of PB Blaster everywhere around. Many days.
2) Tried to move them with a hammer. Nope.
3) Tried to turn them with double nuts using my impact gun. Stripped the tread on the back end of passenger side - nuts and pin. Broke the pin on the back side of driver side using the same technic. The pin didn't turn at all. When we say SEIZED!!!
3) Tried to move them with a sledgehammer. Nope. As the pins are not good anymore, I hit them quite hard!!!

4) Then I decide to cut the shock's (passenger side) eye section to be able to remove it and have more space to put some more PB. Tryied with the sledgehammer again. Nope.
Beside puting some more PB and hit it again, the only thing I can see left to do is use a jack and try to press the pin out. I would need to make a brace to hold everything together.
Thanks Jon for the tip.
https://rennlist.com/forums/928-foru...al-tool-2.html
I could also tried to put some heat but I don't have any torch so...
I think it is the most frustating problem I get since starting working on my car.
At least, I'll have 4 new shocks on my shark at the end of all this.

Do you guys think of something else I can do to remove those damn pins?
Once they'll be out - because they'll be out someday! - I think I'll have many beer to celebrate that!!
Thank you very mutch.
---
Last edited by Bertrand Daoust; 04-16-2011 at

04:24 PM

.

04-03-2011, 10:06 PM

04-03-2011, 11:54 PM
Super User
Join Date: Aug 2003
Location: Camarillo, CA, USA
Posts: 2,259

04-03-2011, 11:59 PM

---
I don't think it will go on if clocked wrong. I have seen several that were put in dry and the corrosion locks them in solid. When I did mine they got a heavy coat of wheel bearing grease so they should come out the next time. I imagine a good coat of anti-seize would also work on re-assembly.

04-04-2011, 12:03 AM

---
May be possible with serious deformation of the rubber bushing in the lower mount. You'd probably have to leave out that large washer that goes next to the shock mount. I can't see that fitting with the shock body rotated 180 degrees. Still, hard to believe someone would or could do this. However, it's also hard to see how the pin could be jammed that hard without something seriously misassembled or horribly rusted. Fortunately out here in California, all the ones I've dealt with have been rust-free.

04-04-2011, 12:10 AM
Super User
Join Date: Aug 2003
Location: Camarillo, CA, USA
Posts: 2,259

---
Porsche updated that section of the manual (Vol 4, section 42) in 1984 to include the photo. So I'd say they were probably finding a few field problems with them being installed wrong and added the photo.

04-04-2011, 12:26 AM

---
The pins can corrode making it very difficult to remove them. The shocks on my the '87 were original. So unless the factory installed them wrong, they were not 180 degrees out. There are multiple threads in the archives about this problem. Please correct me if I'm wrong, but I think I recall parts of the rear suspension are aluminum and the pins are steel. That makes for a bad combo when corrosion sets in.

Those of you out west and down south may not ever run into this issue.


---
Last edited by EspritS4s; 04-04-2011 at

11:43 AM

.

04-04-2011, 12:27 AM

---

04-04-2011, 12:42 AM