where is this hood liner from, and any drawbacks?

05-14-2018, 02:24 PM

where is this hood liner from, and any drawbacks?
---
Any drawback from original design?
Having just cleaned a mouse nest from my Mom's car over the weekend which was between liner and hood, just curious if similar could happen, or other issues?
What's the source for this liner? TIA.

05-14-2018, 02:44 PM
Super Moderator - Cracklin' Rosie
Lifetime Rennlist
Member

---

05-15-2018, 05:17 PM

---
Looks like the one from Jager. I did not have good luck with that one though, specifically the decal attached to it, which bubbled up from the heat. I used another of their decals on the reflective liner from 928 Motorsports and that has been perfect for a few years now. I'm thinking reflecting the heat is better than absorbing it.
Original installation
When the decal bubbled off, I tried a reverse effect, painting the whole thing with high-temp paint then peeling off the decal, but it kept dropping red dust
Then eventually just replaced it
The reflective silver material worked so well on the 928 that when I built my custom widebody Cayenne, I found the same material at Lowes in the HVAC isle and made a custom hood pad for the Cayenne (they don't usually have them).
---
Last edited by Petza914; 05-15-2018 at

07:34 PM

.

05-15-2018, 05:31 PM

---
Yep I think they are both Budd's, and just a note, the factory didn't cover the smaller front part where the higher Air pressure flow is for the Rad, usually has decal for the Vac/PCV/Emissions info.

Dave

05-15-2018, 07:24 PM

---
__________________
David Roberts
2010 Jaguar XKR Coupe - 510HP Stock - Liquid Silver Metallic
928 Owners Club Co-Founder
Rennlist 928 Forum Main Sponsor
www.928gt.com
928 Specialists on Facebook - 928GTcom
Sharks in the Mountains on Facebook - 928SITM

05-15-2018, 07:42 PM

---
Cost some pointage at concours too..OR at least if not a negative, the OEM one would be a distraction from something minor if another car had aftermarket..
Im at that point...expensive hobby..

05-15-2018, 08:11 PM
Addict
Rennlist Member
Join Date: May 2002
Location: Roswell, GA
Posts: 4,747

---
I went OEM on the black 91 this time - per Roger's recommendation it really sticks to the hood once you remove every bit of adhesive residue.
In the future I would make cuts in the adhesive backing to allow to place it and remove sections of the backing. That would be a lot easier and get better results.

05-15-2018, 08:30 PM

---
The stock waffle lasts only about 10 years or less before it becomes crisp and the least disruption knocks off chunks of it onto the top of your engine. The other choice lasts much longer in my estimation. YMMV.


05-15-2018, 09:08 PM
Addict
Rennlist Member

Rennlist
Site Sponsor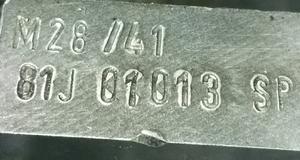 Join Date: Jan 2003
Location: Double Oak, TX
Posts: 15,445

---
Porsche greatly improved the material used in the stock waffle insulation and I am pretty sure it will last more than 10 years now. My 1993 GTS is still original and that is 25 years.
The great benefit of the stock insulation is that it comes with the adhesive backing already applied - peel and stick. You do not have to remove old adhesive at all just wipe it over with white spirits to get rid of dust particles.
In fact the old adhesive acts like a primer.
We sell the original OEM pad for $89.95.
We also stock the original smaller insulation pad.applied to the top front section of the hood - $39.
__________________
Does it have the "Do It Yourself" manual transmission, or the superior "Fully Equipped by Porsche" Automatic Transmission?
George Layton March 2014
928 Owners are ".....a secret sect of quietly assured Porsche pragmatists who in near anonymity appreciate the prodigious, easy going prowess of the 928."

05-16-2018, 01:54 PM

---
Hmmmm. I guess that I got a NOS hood liner when I replaced the Stepson's hood insulation 10 years ago because it's all crispy and hard and falling off now.


05-16-2018, 04:50 PM
Super Moderator - Cracklin' Rosie
Lifetime Rennlist
Member

---
Wow, didn't even know the original was still available.

I have Rob Budd's on two of my cars. Looks awesome and never had any issues using 3M 77 to glue it on.