How to video on changing valve springs 32V

03-09-2018, 01:37 AM
Super User
Join Date: Apr 2003
Location: Abbotsford B.C.
Posts: 9,509
Likes: 0
Received 0 Likes on 0 Posts

How to video on changing valve springs 32V
---
Put together this short video as im changing the valve springs on TerryGTs 91 GT.
I will be doing another video on setting the camshaft chains shortly as well.

03-09-2018, 04:19 AM
Addict
Rennlist Member
Join Date: May 2012
Location: Thousand Oaks California
Posts: 3,351
Likes: 0

---
An easier and more fool proof ( and heaven forbid your valves are leaking) way of making sure you don't drop a valve is to rotate the engine to the TDC of each individual cylinder as you work on it.
Otherwise this is fantastic info and it makes it very easy to follow. Good work


03-09-2018, 11:09 AM
Addict
Rennlist Member

---
Nice vid- you make it look so easy. I think I would be doing bricks should the air compressor fail or there was a power cut. I presume that for each cylinder you do in fact set it at TDC on the firing stroke to take the cam load off the valves.

Another technique I read about was to feed some rope into the cylinder via the plug hole so that the piston compresses the rope to hold the valves in place although how one decides how much rope is needed was not mentioned!

03-09-2018, 11:46 AM
Addict
Rennlist Member
Join Date: Jul 2006
Location: Bloomfield, MI
Posts: 4,538
Likes: 0

---
Fred the Cams are removed, so no Cam Load

I think, one would set the crank at 45 TDC, then remove all four cams, using a long rod in the plug hole (for the valve set you are working on), to determine piston TDC for that cyl by turning the crank.
Then add compressed air and proceed as shown.
When done place crank back to 45 TDC and reinstall the cams, adjusting the belt and cams using the 45 TDC mark, at least that is the way I'd do it.
Dave

03-09-2018, 12:20 PM
Captain Obvious
Super User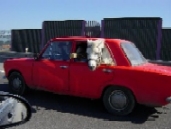 Join Date: Aug 2003
Location: Cambridge, Ontario, Canada
Posts: 21,222
Likes: 0

---
Good video and a nice modification to the factory too. I've shoved a rubber jumping rope down the cylinder and brought the piston up to compress it before doing the spring replacement. Was afraid that if something happens to the air supply the valve would drop into the cylinder.

03-09-2018, 12:29 PM
Addict
Rennlist Member

---


I was impressed by how easy Colin made it all look. I know it is possible to do this but have never seen it done in real time as it were. Positioning the crank at TDC on the cylinder being worked on would seem to make good sense/added security albeit I have no clue as to whether Colin sets each cylinder in turn to such position. I guess it all boils down as to what one is comfortable doing.

03-09-2018, 04:32 PM
Super User
Join Date: Apr 2003
Location: Abbotsford B.C.
Posts: 9,509
Likes: 0
Received 0 Likes on 0 Posts

---
Hey Guys, the crank is locked at 45 deg.
The valves cannot fall down and into the cylinder. The valves stem seals really prevent this.
And at 45deg it may slide down a little but not enough.
If I have to take the air off I put a strong neodymium magnet on the end of the valve stem and a screwdriver on it to hold it up.

As to making it look easy. Once you've done a few dozen it is easy!

I will do another video following this which shows the timing of the cam chains. Hopefully this helps a few more people.

05-08-2018, 06:53 AM
User
Join Date: May 2011
Location: Edinburgh, Scotland
Posts: 508
Likes: 0
Received 0 Likes on 0 Posts

---
I did this job recently before the video fitting a set of the tri flow cams.

The video is a good help for anyone tackling the job for the first time.

I would add that getting the correct tool for compressing the springs is key if you are going to leave the manifold on.

I did the job with a laser tool without the manifold on and struggled a little with clearances. I would strongly recommend using the tool Colin uses, makes life a little easier for a job that is tricky to begin with.