A few quick answers please --- LR Vacuum hose install

07-18-2009, 12:14 AM

A few quick answers please --- LR Vacuum hose install
---
I just finished installing the LR vacuum hose kit on my car. I ended up with about 10 ft of extra hose, and 1 extra metal "T".... I used 3.

Does this sound right, or did I miss a line with a "T" in it somewhere? I searched and couldn't find where someone said they had an extra "T", but I've replaced all the vacuum lines I can see under the hood. Even the hoses from the firewall to the heater control valve and the vacuum canister...

Thanks for the input,

07-18-2009, 12:50 AM

---
Yeah yeah, I did the TB to thermal valve to the evap can.

Then other TB to "T" to FPR and damper (use "T") and other side of "T" to other side of the evap can valve (with adjustment screw on it)

Then brake booster (Because the brake booster gets its vacuum from the large hose from the intake) hose (also add in the 1-way valve) to the firewall and "T" to the vacuum canister.

Then a short hose from the firewall to the heater control.

Leaves me with 10ft of hose, and 1 extra "T".......

07-18-2009, 01:45 AM

---
It's not for the wastegate, the "extra" line and T are for the recirculation valve on a 951... wastegate gets it's line in LR MBC kit... yes I have both, and another kit for the N/A but haven't gotten around to working on teh N/A yet... 951 is taking too much of my time to worry about the silly N/A...
From after I did the vacuum lines but before I installed the MBC..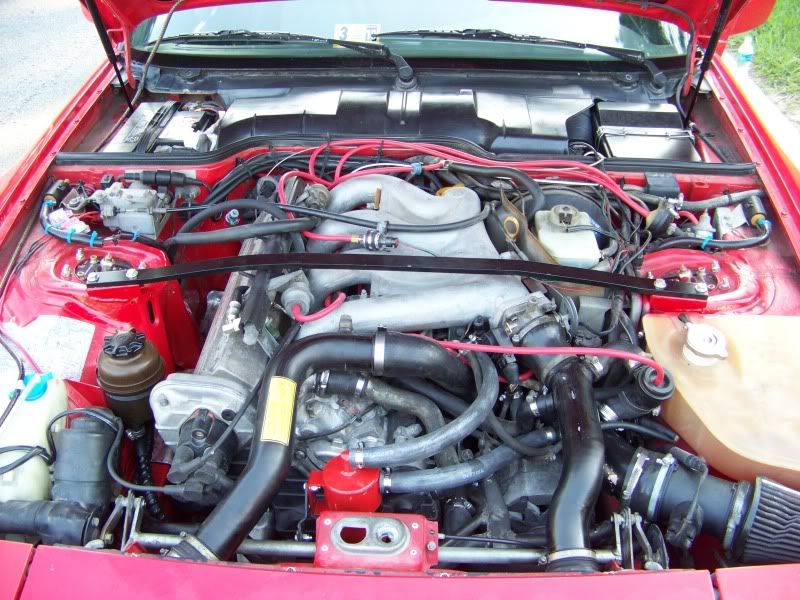 line from left to right is the recirc valve line... and as I remember I had about 4 feet extra, but I also installed a Laust special vacuum manifold (brass bit on the intake) so I only used 1 T for my mechanical boost gauge...

07-18-2009, 10:50 PM

---
I ran my MAP sensor directly off of one of the ports on the manifold.. that's it right on top of the intake...
I have pieces in transit from Australia to allow me to delete the mechanical boost gauge and replace it with LEDs driven by the MAP sensor... much more accurate, much more resolution... much more flexible...