Basement Clean Out! 996 Cup Parts

01-25-2018, 02:59 PM

Basement Clean Out! 996 Cup Parts
---
All prices + shipping (i.e.: amount doesn't include shipping)
Pictures available upon request
PM or christiancook43 at yahoo dot com

P/N, description, quantity, condition, price (excluding shipping), condition

Engine
996.111.101.95 exhaust manifold left 1 SOLD Good
996.111.102.95 exhaust manifold right 1 SOLD Damaged, but repairable
996.375.011.94 Engine blade 2 SOLD Fair 1x red, 1x black, both warped
996.106.057.03 water tank (includes ventilation valve / pressure cap) 1 SOLD Good
996.106.131.51 radiator left 1 SOLD Good
996.106.132.51 radiator right 1 SOLD Good
996.606.128.00 O2 Sensor 2 SOLD for both Good
Multiple Complete collection of coolant hoses & brackets SOLD Good
Custom straight exhaust pipes, right and left (removes muffler) $200 New
Walbro GSS307BX Fuel pump / pick up for fuel cell 2 $50 for both Good

Electrical
996.603.019.90 generator 90 Ampere (Bosch Motorsports Alternator) 1 SOLD Good
996.604.107.00 Starter 1 SOLD Fair; teeth are worn at tip
996.602.104.00 ignition coil 6 $60 for all 6 Good

Brakes
996.352.425.92 brake caliper left red 1 SOLDFair; cosmetically rough
996.352.426.92 brake caliper right red 1 SOLD Fair; cosmetically rough
AP Racing Ft rotors w/ hats, 350mm floating 2 SOLD for pair Excellent, <6 hours
AP Racing Ft rotors w/out hats, 350mm floating 2 SOLD for pair Good, some cracking
AP Racing Rear rotors w/ hats, 330mm floating 2 SOLD for pair Good

Transmission / Drivetrain
996.424.010.9A gearshift-lever bracket (shifter) 1 SOLD Fair; looks rough, OK tightness
996.424.040.75 control cable (shifter cables) 2 SOLD Good
996.423.229.92 rear throttle control cable 1 $100 Good
996.116.013.91 clutch disk 1 $50 Good thickness, can measure
996.116.027.75 pressure plate (Sachs P/N: 88-3082-999-752 ) 1 $300 New
996.116.237.90 clutch operating cylinder 1 $75 Good
950.116.813.30 guiding tube 1 $25 Good
950.116.086.06 release fork 1 $50 Good
944.116.080.01 release bearing 1 $25 Good
Tilton 3-plate clutch disk + plates, 5.5" dia 1 $100 Good thickness, can measure
Tilton Complete assembly, 3-plate, 5.5" dia (clutch plates, spacers, cage, flywheel, etc) SOLD

Suspension
996.341.131.90 tensioning bolt ABS 48 tooth (axle) 2 SOLD Good 1x <6hrs, 1x hours unknown
996.341.121.90 wishbone outside front left (lower control arm, adjustable) 2 SOLD
996.341.122.90 wishbone outside front right (lower control arm, adjustable) 2 SOLD
996.331.241.04 rubber bearing (inner bushing for lower control arm) 2 SOLD New
996.331.121.90 wishbone outside left+right (lower control arm, non-adjustable) 3 SOLD 2x <6 hours, 1x unknown hours
996.331.121.90 wishbone outside left+right (lower control arm, non-adjustable) 1 $200 ~24 hours
996.331.112.06 upright right (right rear carrier, full assembly) 1 $750 New
996.332.024.23 articul. shaft (rear axle, black) 3 $100ea Used; unknown hours
996.331.671.90 central bolt (stub axle) 8 $100 for set of 4 Used; unknown hours; 1 set PMNA, 1 set Demon Speed
964.361.113.70 pressure disk for BBS rim 8 $100 for set of 4 Used

Body
996.512.991.9B Rear cover without wing (decklid) w/ gurney flap 1 SOLD Repaired damage underneath
996.512.992.90 rear wing 1 $1,000 Carbon; Crawford mfg
996.512.981.92 wing support left 1 SOLD Good
996.512.982.92 wing support right 1 SOLD Good
996.631.485.00 tail lamp left 1 SOLD Fair, minor damage on bottom
996.631.486.00 tail lamp right 1 $25 Used, major damaged to lens

Interior
993.347.084.70 steering wheel + hub 1 SOLD Fair; hub assy new

Wheels
996.362.207.90 front outside-ring 1,0x18 (BBS wheel half) 2 SOLD Good
996.362.209.90 rear outside-ring 1,5x18 (BBS wheel half) 2 SOLD Good
996.362.203.91 front inner-ring 7.5x18 (BBS wheel half) 2 $100ea Good
996.362.205.91 rear inner-ring 9,5x18 (BBS wheel half) 2 SOLD Good
996.362.221.90 sealing ring (metal ring + seal) 3 $25ea Good
BBS 0229021 wheel center, early style 2 $150ea Fair; Cosmetically rough; some rub marks on inside
BBS 0229052 wheel center, late style 1 SOLD Poor; Inside face milled 1mm and rough from broke axle; used with spacer
BBS 0228152 wheel center, RSR, magnesium 1 SOLD Good, but could use refinish

Race Parts
Jack stands, single level (capital city motorsports) set SOLD Good
---
Last edited by chrcook; 03-27-2018 at

07:26 PM

.

01-25-2018, 10:37 PM

---
Pic of the steering wheel request:

01-26-2018, 06:25 PM

---
Got a request for a pic of the straight pipes. Here ya go...

01-27-2018, 11:38 AM

---
Got a request for pics of the uprights and the wing. Note the wing has a scratch on the top which needs / can be buffed out. It's a Crawford wing and will be sold with black side plates (yellow and the picture) and without the gurney flap (show in the picture).

01-27-2018, 02:47 PM

---
All PM's & e-mails responded.

01-28-2018, 08:25 PM

---
Here's pics of the jack stands.
​​​​​​​

01-30-2018, 08:21 PM
Addict
Rennlist Member
Join Date: May 2017
Posts: 187

---
Do you have pics of the decklid and the repaired damage? I'd be interested in the decklid, wing, and uprights.

01-31-2018, 01:52 PM

---
Here's some pics of the decklid. Shoot me a PM or email and we can work out a deal for all. I've got interested in the uprights, but no deal is yet done on those.

02-01-2018, 10:33 AM

---
could you please post pictures of the rotors? Are they the current offering form Essex or the older wrightwood design?

Thanks,

02-04-2018, 08:17 PM

---
Sent PM on the bbs wheel center for $50. Can you please get me a pic of it. I think it may work for a piece of garage art I'm making.

02-05-2018, 03:01 PM

---
Attached are pics of the rotors. The hats were purchased in 2013 from Wright Motorsports. Not sure if old or new design.

02-06-2018, 10:20 AM

---
Lots of pings on the LCAs. Below are pics.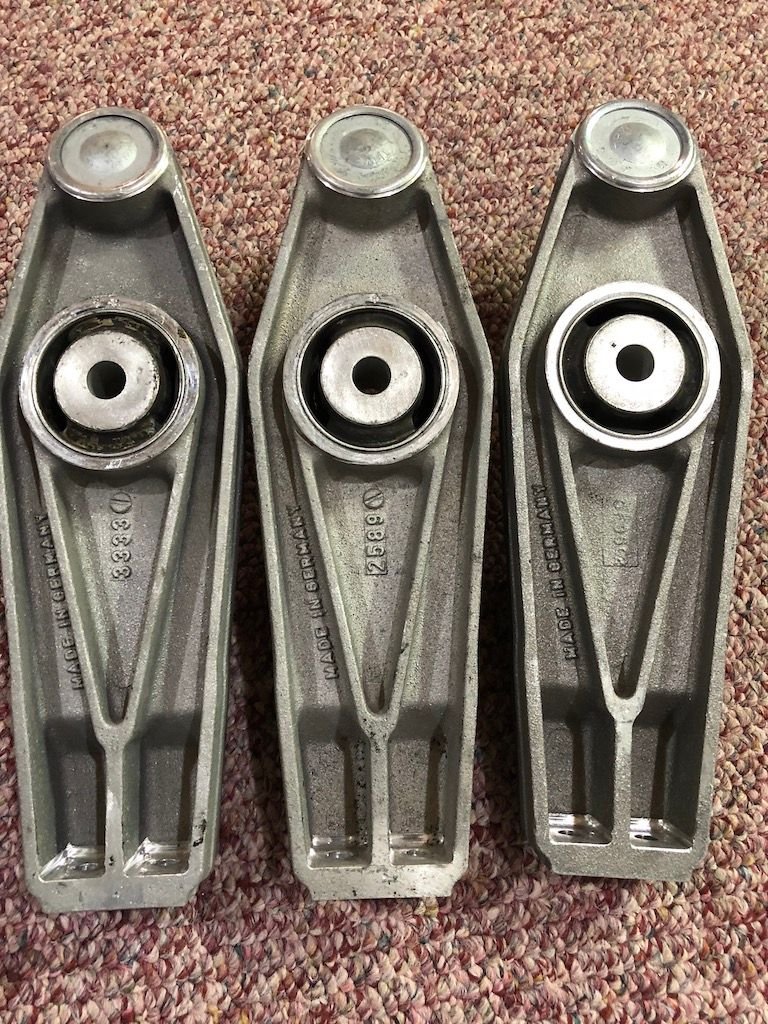 02-10-2018, 10:01 AM

---
Updated and all PMs answered.