Panoramic sunroof??

01-06-2017, 03:14 PM

---
As a follow up - after doing the recalibration, I started to get some slight creaking noises again as the weather got colder. This week I opened the sunroof, sprayed some of this WD-40 Silicone Gel on a microfiber towel, and rubbed the rear edge of the forward section and the front edge of the rear section, where the two panels meet when closed. I wiped it good, cleaned the area, and applied a coating of the gel, It has been 100% silent all week, even as temps continued to drop.
Hope this helps others - this is the product I used - picked it up at Lowe's for $8.
http://www.homedepot.com/catalog/pro...cd9b70_400.jpg

01-06-2017, 04:05 PM
Addict
Rennlist Member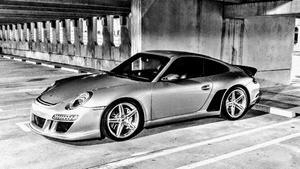 ---

01-07-2017, 12:20 AM

---
Mine is quiet and cool even with the sun beating down on it. I wonder, did Porsche use their Laminated Soundproof and Heat-Insulated glass on the panoramic roof for more efficient reflection of infrared radiation?

It's an Option for the side and rear glass, but maybe Porsche always uses it for the roof because of the potential heat (and noise) issue.