1.8t Boxster

06-28-2019, 12:01 PM
User
Join Date: Jun 2019
Posts: 7
Likes: 0
Received 0 Likes on 0 Posts

1.8t Boxster
---
I have a '99 Boxster that was a 2.5 now powered by 200hp 1.8t VW/Audi engine. I bought this car in beautiful shape with only 80K miles and a destroyed 2.5 because of IMS failure. Knowing that the 5 speed transmission in this car is identical to that of a 2wd VW Passat or Audi A4, I got looking into possibly using the engine from one of those cars. I got it all in place and now have a little over a thousand miles on it. The car is a blast to drive with the turbo 4cy and I get close to 30mpg while cruising. The 1.8t is about 160lbs lighter than the stock flat 6cyl and much easier to service also a lot cheaper to buy. The stock gauges are all tied in and work properly, ABS and cruise as well.
If anyone would like any more details, let me know
Andrew-

06-28-2019, 01:32 PM

---
Nice! I new someone who put a 1.8T in a 914 (built track car), and used the 986 shift linkage/cables, which bolted up perfectly. The 1.8T is easy to built up to 250+ HP and has tons of torque down low. Doesn't sound quite as nice as the flat six, though - oh well. I'd certainly like to get some details, see some pictures. Best of luck with it!

07-02-2019, 12:02 PM
User
Join Date: Jun 2019
Posts: 7
Likes: 0
Received 0 Likes on 0 Posts

---
I'll get some pictures together and post them. My original plan was to use a diesel engine from a TDi VW, I actually had the block and head in place for a little while but decided to go with the 1.8t in the end. It seems to be the perfect match for this car, the stock transmission gearing matches the power of the tuned 1.8t. What I really enjoy about this swap is that I can now enjoy the car without the fear of that very expensive flat 6 going bad, it comforting knowing that it's an inexpensive 4cy VW engine.
This engine fits under the stock upper cover but I did have to put a bubble in it to clear the highest point of the engine, the roof still folds itself over the top of it with no issues.

07-03-2019, 08:50 AM
Addict
Rennlist Member

---
I like what you guys are saying about that motor. My daughter has an Audi TT Roadster with the 1.8t. It only has 85k on the clock, and it's had zero problems so far. But, it's the only car in the family that I'm responsible for that isn't a Porsche, so I feel a little out of my element with it.

A used Boxster motor isn't all that expensive. What do these 1.8t motors cost?

07-04-2019, 02:10 PM
User
Join Date: Sep 2018
Posts: 62
Likes: 0
Received 0 Likes on 0 Posts

---
Right??!! I'll pick one up... put it on the deck... start pimpin it out for the big-fail day.
I, too, would be interested in the details.

07-04-2019, 06:01 PM
User
Join Date: Jun 2019
Posts: 7
Likes: 0
Received 0 Likes on 0 Posts

---
Here at my shop, I do plenty of engine conversions on the Vanagons, I put the 1.8t in them as well so doing the wiring was a task I already very familiar with. To tie it all in with the Boxster electronics, it was actually pretty easy. I ran the K-line from my ECM to the OBD plug so it can be scanned just like the stock engine. The ABS and cruise control were happy once I got the tach functioning properly, I had to use a MSD 8920 tach signal converter to let my ECM talk to a Dakota Digital SGI-8 tach interface to alter the output from my 4cy to make the 6cyl tach show proper engine speed. The stock Box temp gauge works fine with the 1.8t temp sensor. The alternator light also works fine with the VW alternator. It's just a matter of looking at the wire diagrams from this engine and that of the Boxster to determine what wires go where, a time consuming job but not terribly hard, I enjoy it. The 1.8t ECM in this car has a tune from APR that brings the HP to about 200, the stock 2.5 was 209hp I believe, this engine is about 160 lbs lighter, there is something that a turbo adds to the feel of a car that I just love.
I just use a stock Passat Flywheel and clutch and starter and then was able to just bolt the engine to the transmission, The Boxster only has one motor mount, I just fabricated an adapter piece that would allow my engine to bolt up to the stock Box mount once I had the engine in position. The exhaust uses the stock right Catalytic converter from the Boxster, I fabbed up a pipe to connect the turbo to the inlet side and just used a small resonator and tail pipe on the outlet side of it. The stock 1.8t oxygen sensors bolted right into the threaded bungs on the Boxster cat.
I did not yet connect the AC compressor from this engine to the car, here in the Northeast we can get away without AC, I prefer to just drop the top.
Andrew-
here's a 1.8t I put in a customer's 2wd Vanagon...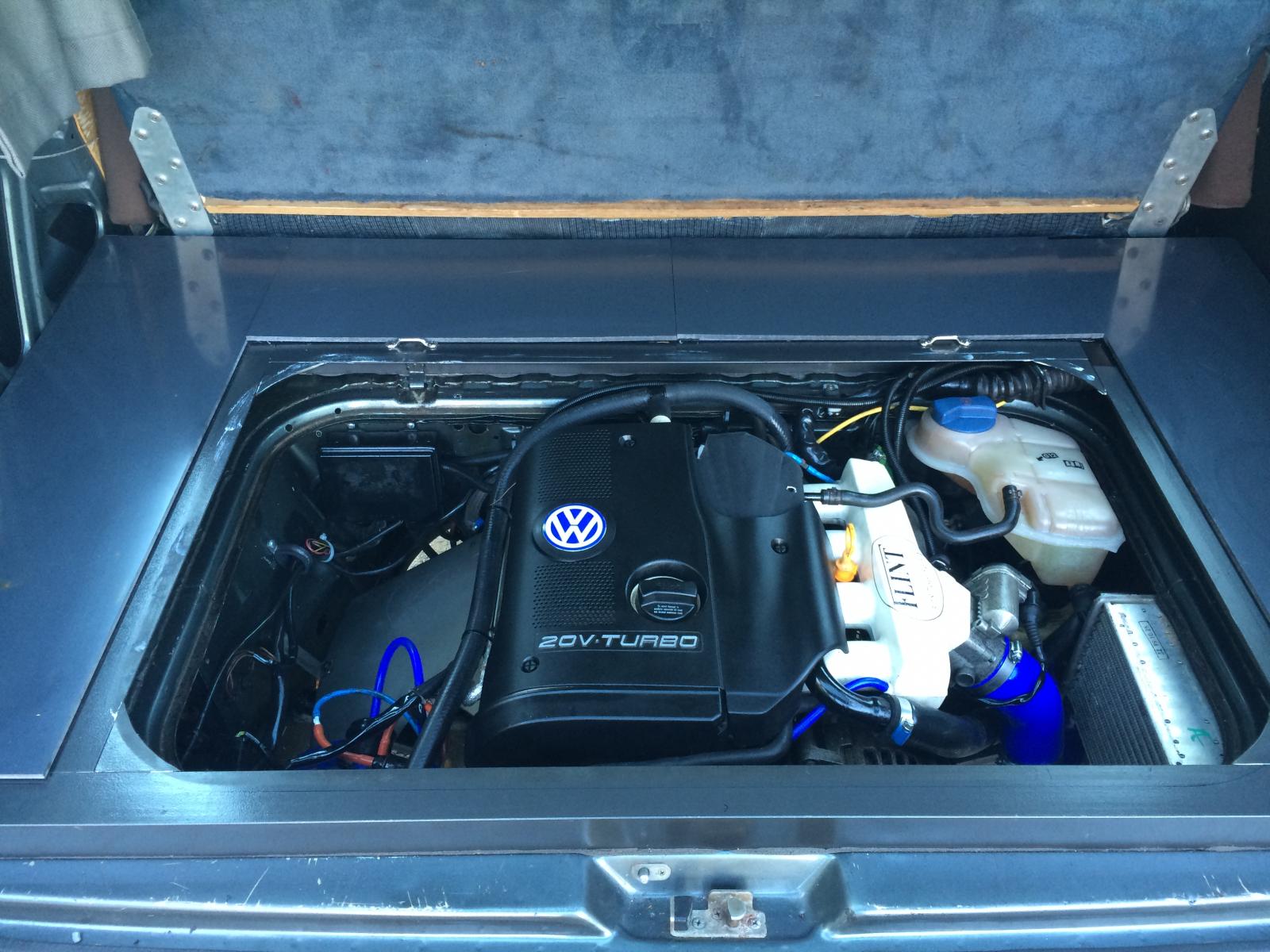 here's a 1.8t in my Syncro Vanagon, this one I modified the engine so it runs counterclockwise so it allows me to run the entire drivetrain from a Audi A4 Quattro. You can also see from comparing this and the Boxster job with the on shown above that my work is much neater when I'm doing it for someone else!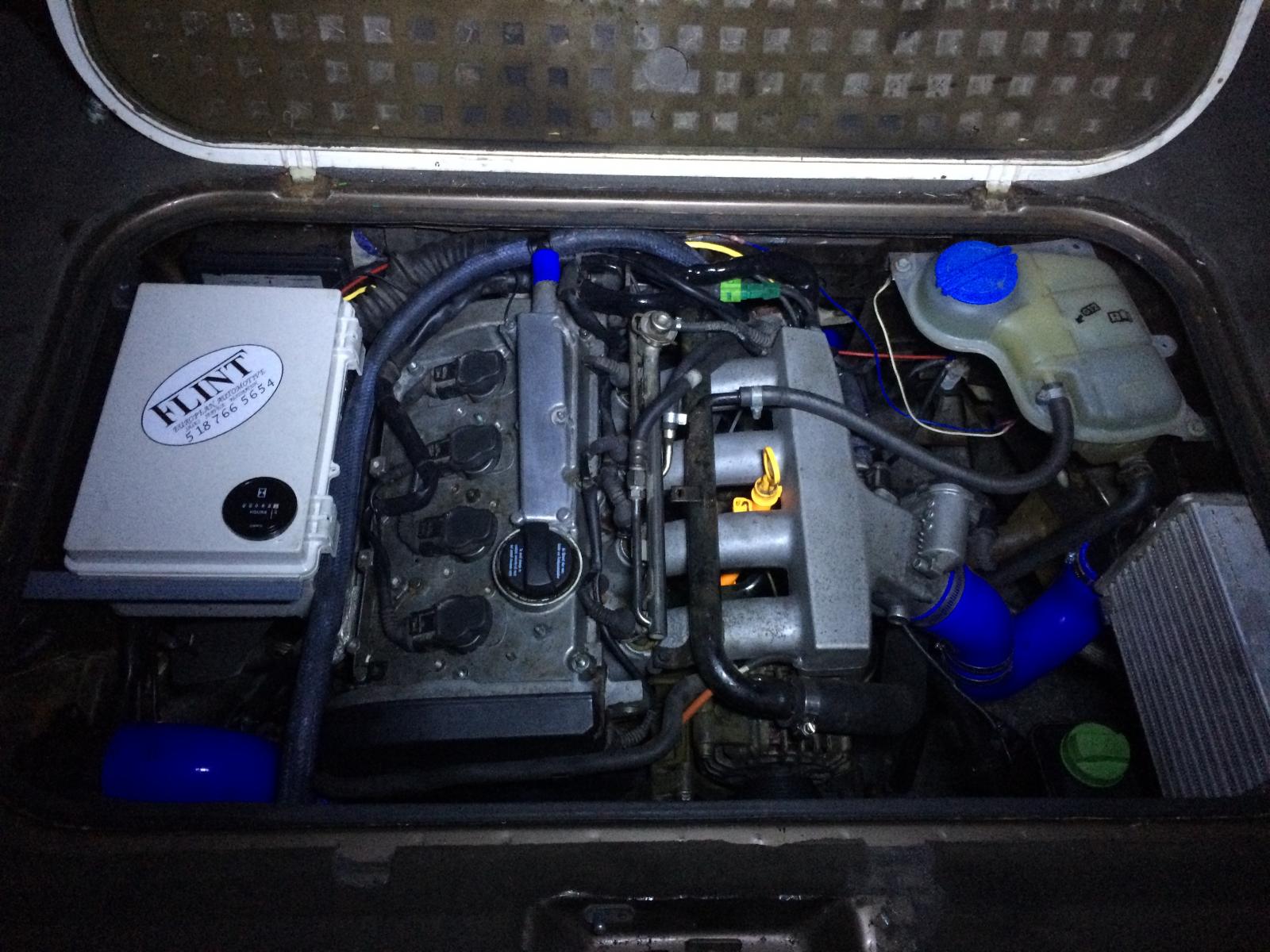 07-05-2019, 04:06 PM
Addict
Rennlist Member
Join Date: Jan 2016
Location: Schertz, TX
Posts: 338
Likes: 0
Received 0 Likes on 0 Posts

---
Curious as to how well the 1.8T tolerates the lack of cooling in a mid engine platform. Those engines run super hot in their normal setup (and I'm not talking about intake temps just overall heat production). What turbo are you running? What did you do for an intercooler? So many questions. Great swap idea as the "1.8Tneva loses!" I forget the actual vortex quote lol
Shawn

07-05-2019, 04:51 PM
User
Join Date: Jun 2019
Posts: 7
Likes: 0
Received 0 Likes on 0 Posts

---
Cooling doesn't seem to be an issue at all. The turbo is the stock one to this engine. You are right about the heat, these turbos will glow red when driven hard. I did make a stainless heat shield to go around the turbo in this car, so far so good. The intercooler is mounted just inside the left side scoop, I didn't measure the amount of air going through it, just put it there and monitoring things for now.
Here's a couple pictures showing the mount....

07-08-2019, 10:54 AM
Addict
Rennlist Member
Join Date: Nov 2015
Location: New Hampshire / MA
Posts: 136
Likes: 0
Received 0 Likes on 0 Posts

---
Love and hate it at the same time! Bravo, we need more working 986 swap stories. I have a 2001 TT so I'm used to that motor and servicing it. You are right that 1.8T motors are incredibly cheap due to their numbers and have a large parts support network.