911R Stripes on 996

12-22-2016, 09:17 PM
User
Join Date: Jul 2016
Location: Ellicott City, MD
Posts: 102
Likes: 0
Received 0 Likes on 0 Posts

911R Stripes on 996
---
I was thinking about putting blue 911R stripes on my Arctic Silver 996. Any one here done that or seen that. I asked a vendor about color samples and he said he didn't think they would look good on a 996, would have to be too close together, not sure I agree. Opinions?

12-22-2016, 10:55 PM
Addict
Rennlist Member
Join Date: Jul 2011
Posts: 57
Likes: 0
Received 0 Likes on 0 Posts

---
I think blue would be fine as long as it's dark enough. The only difference with the 996 might be where the stripes meet the nose might hit the lights, so you might want to mock that up and figure out exactly where they would end. I just added the PORSCHE side stripes to my C4S and I'm very happy with the look of those.

12-22-2016, 11:42 PM
User
Join Date: Jul 2016
Location: Ellicott City, MD
Posts: 102
Likes: 0
Received 0 Likes on 0 Posts

---
Thanks for all the comments. I plan to draw one up as suggested but have yet to find a good top view picture of a 996. A darker blue rather than a lighter would be better. I realize the stripes might have to be closer together than the picture above because of the lights but I think it still should be good. I originally planed to put on grey side stripes but recently I got this double blue strip in my head. Was hoping someone had already done it so I could see what it looks like. I have also considered the single strip.

12-23-2016, 12:53 AM
Super User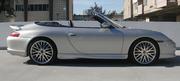 Join Date: Jan 2007
Location: SoCal
Posts: 2,203
Likes: 0

12-23-2016, 01:35 AM
Addict
Rennlist Member

---
Personally, I like the Viper double stripe, and the single wide center stripe with narrow side stripes in Woody's pic, but I don't like those narrow widely-spaced stripes at all. Looks like suspenders to me.