My version of a 993 front hub carrier...

09-05-2011, 08:16 PM

My version of a 993 front hub carrier...
---
As mentioned in this
thread
, I pulled my 993 into dry dock for something like 6 months earlier this year. While that thread showed my recipe for refreshing 993 brake calipers, this one visually proves just how much affection I have for the mechanical attributes of this timeless car.
In the crosshairs this time were the front bearings/hub carriers/etc. Since purchasing the car in late '05, I've known that the right front bearing had some roughness when the hub itself was spun by hand. So while the car was out of service, I decided to replace the bearings. This can be a relatively easy process with the SIR Tools bearing kit, or can turn into a multi-week sillyfest, as shown here....
In short, I removed the hub carriers, stripped and then bead blasted them (the bearing shell surface within the casting was masked). Once cleaned & washed, I heated the castings in the oven, and let the bearings sleep in the freezer overnight. With careful positioning, the new bearings slipped right into place. (Thanks Chris Walrod, for your guidance regarding this).
After this, I masked off various surfaces of the hub carriers and then sprayed 3 fine coats of
SprayMax
2K catalyzed urethane clear coat. This product yields a very durable finish, unlike any clear I've ever sprayed. Plus, it's made in Germany.

While taking the front suspension apart, I managed to tear both lower ball joint dust boots...
So I installed a new set. Additionally, I sent all removed hardware out for stripping and fresh yellow zinc dichromate plating. The actual hubs were bead blasted and then masked & painted. Lastly, I blasted the brake dust shields and had them powdercoated.
I'll let the pics show the end results.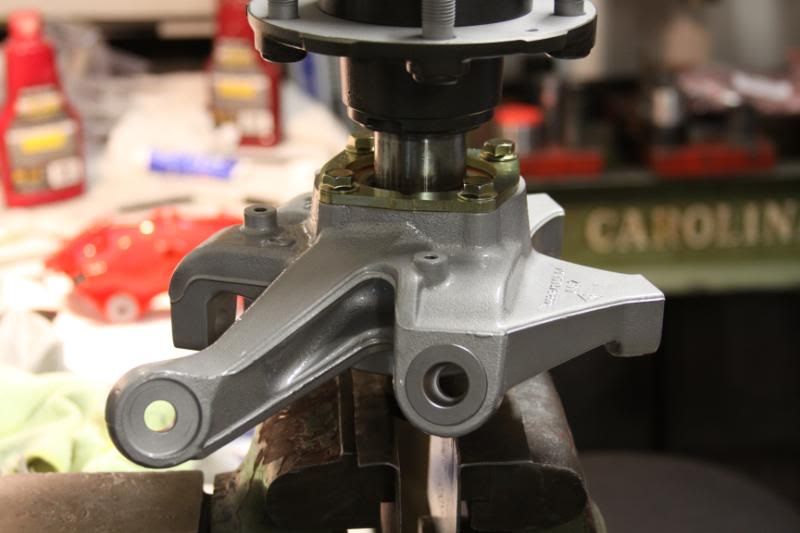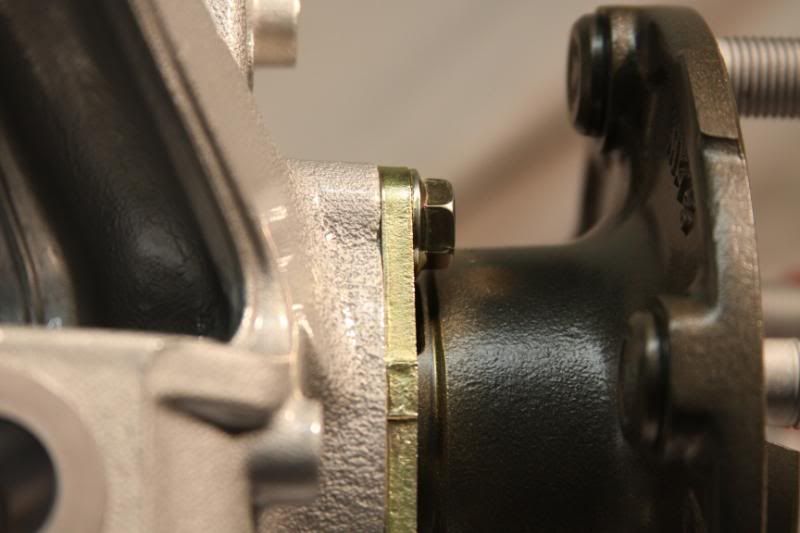 Andreas

09-05-2011, 08:31 PM
Super User
Join Date: May 2005
Location: Franklin, TN Where you can't swing a dead cat without hitting a Baptist church, they pay cops to be crossing guards, everything is closed on Sundays, can't buy beer in a liquor store and the Civil War is still being fought.
Posts: 4,857

---
I got nothin'


Because I'm at a total loss for words. Your attention to detail is amazing. What's up bra?

Mike

09-05-2011, 08:52 PM

---
Now you see Andreas, it you opened up a shop and were within an hours drive, I'd take my car to a shop...if I didn't enjoy getting into the same level of detail. Isn't this fun? 100%!!!!!!
Ein Augustiner Edelstoff...bitte.