Porsche Rauh Welt Or Sunburst?

12-24-2010, 05:02 AM

---
Yeah, I didn't even really watch all those vids until now,
but you're right! stock interiors? funny stickers? wtf...
at least take off all the stickers 1st... then give the interiors the RS treatment...

01-13-2011, 03:28 PM
Addict
Rennlist Member

Join Date: Jun 2001
Location: Arlington, VA
Posts: 883
Likes: 0
Received 0 Likes on 0 Posts

---
Cars appear almost the width of the lanes/streets! Besides the aerodynamic drag factor, I wonder if the extension/positioning of the wheels out to fill the fenders creates excessive or exaggerated loads on the axles and/or hubs? Maybe its a non-issue with the proper upgrades and mods.

01-13-2011, 04:27 PM

---
To respond to the OP the best way to contact sunburst is to call them from what I can tell. They never returned any of my emails. I only know this bc I want to back date a 964 to 73 rsr specs

These cars are right up my alley but probably not to most everyones tastes (thats what makes them cool imo)

01-13-2011, 04:31 PM

01-13-2011, 04:39 PM
Addict
Rennlist Member
Join Date: May 2009
Location: Paradise Valley, Arizona
Posts: 632
Likes: 0
Received 0 Likes on 0 Posts

---
Stickers, over the top exteriors and no special interior or great mechanical specs............modern Japanese culture would be how I would understand that. Have you seen Japanese baseball hats, t-shirts, sweatshirts with totally irrelevant and meaningless English words on them but made to look very fashionable? There's a lot of discretionary spending being displayed in these cars.

I've come to love the Rauh Welt cars. To me these are works of art. My wife who is an artist of note and paints in a very representational style that is wholly unlike this thinks they truly qualify as an art form and loves them as well. I think pretty much all that was intended with these was to express a vision.
---
Last edited by skywachr; 01-13-2011 at

05:18 PM

.

01-13-2011, 07:20 PM
Addict
Rennlist Member
Join Date: Sep 2005
Location: Still here...
Posts: 6,962
Likes: 0
Received 0 Likes on 0 Posts

01-14-2011, 01:10 AM
Addict
Rennlist Member
Join Date: Jan 2004
Location: Boston, MA
Posts: 8,386
Likes: 0

---
They certainly express a vision. The same vision that a neon-lit Civic expresses. Individuality, japanese style. Do anything to be different. End up being pretty much the same.

In my opinion these cars lack balance, big time. A work of art in the trust sense would never be that unbalanced. But that's such a subjective opinion, we can go in circles for years on this. The bottom line is that there are people willing to pay for them. As long as I don't have to look at them every day (unlike aforementioned neon Civics), it's all fine and good.

"Natty Dredd", indeed.

06-26-2011, 05:16 PM
User
Join Date: Oct 2009
Location: Canada
Posts: 447
Received 0 Likes on 0 Posts

---
I don't see why you all need to hate so much. I think they look awesome. Someone here wants to do it? Sweet! Do one even better...build the interior and engine and nobody can bash you for posing. Though they may bash you for something else. They'll find something.

06-26-2011, 10:02 PM
Addict
Rennlist Member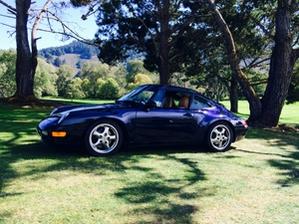 Join Date: Jul 2002
Location: Bend, OR
Posts: 16,368
Likes: 0

06-27-2011, 04:21 AM
User
Join Date: Jul 2009
Location: on the waterfront, Kobe, Japan
Posts: 1,434
Likes: 0
Received 0 Likes on 0 Posts

---
it looks fine ed (but like most mods a personal thing)....listen i know you are a huge critic of rauhwelt builds....& thats fair. his builds are on the extreme edge of rsr genre.
just to add some some balance here....nakai (owner) started drift racing & moved to racing porsche 20 yrs ago.
rauhwelt begriff....is a bodyshop & if its up to nakai san his builds will also turn the car into track ready whips.....but he is 1st & foremost a proshop that focuses on creating a much lighter/wider p-car for the owner with appropriate wheel sizing/tires.
most of the RWB builds are modified, tuned & much of that is handled by by this pro shop
http://www.promodet.co.jp/tuning.html
nakai likely has the best rep in japan as go to it guy for these widebody jobs & has done hundreds....& since his cars have been featured in mags from euro, america & the land of the strong $ australia....he has a global following.
while his own car (matte black 930) is more of a ratrod inside than most it his own personality (rwb = rough build concept)....& while its a 930 body, it runs a built out 3.8l 964 plant, ported/polished...race cams, custom headers, & for aspiration 6 carbs.....reported at 350hp.
rwb cars do turn very quick times at the circuits....& according to all the japanese blogs his bodywork is rugged (unlike some stateside stuff which does have a rep for sagging/cracking).
i am not arguing for his builds...its a personal thing....if you don't like it thats ok....but if you want to be a critic know that he is as much a porschguy (more so) through & through than you.
guarantee you his last race event at tsukuba circuit (in May bottom picture, all RWB, but not nearly all his builds) for his RWB idlers group.....was quick & not just bodywork, sloppy interior.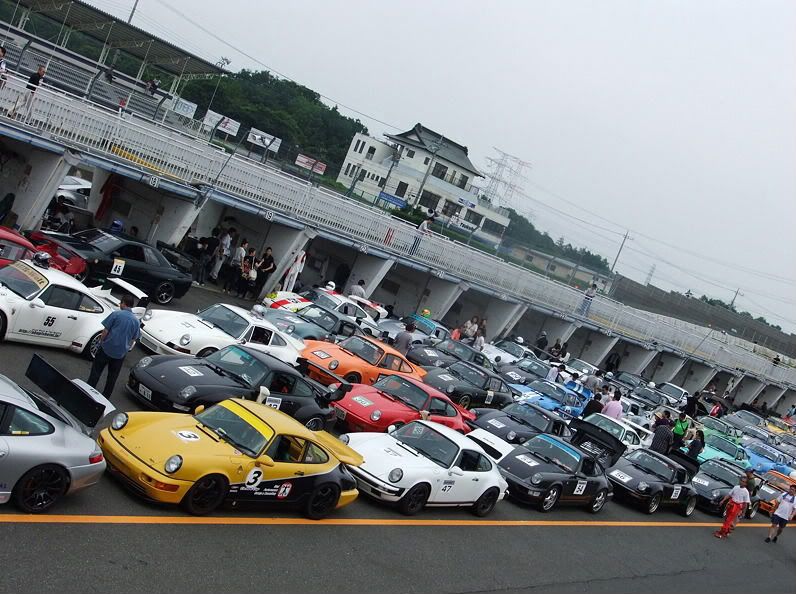 ---
Last edited by raspberryroadster; 06-27-2011 at

06:54 AM

.