Tire Rack Sent me Tires that are nearly 2 Year Old; RESOLVED

09-30-2010, 11:08 PM
Addict
Rennlist Member

Join Date: Jul 2003
Location: Agoura Hills (Los Angeles) California
Posts: 4,560
Likes: 0

Tire Rack Sent me Tires that are nearly 2 Year Old; RESOLVED
---
I need some advice here. I ordered tires from Tire Rack for my Boxster S. I switched to 18 inch rims and ordered Michelin Pilot Sport PS2 N3s; 225/40ZR18s for the front and 265/35ZR18s for the rear. This is the first time I have bought anything from Tire Rack.

The rear tires they shipped me were manufactured in the 19 week of 2010. The fronts were manufactured in the 45 week of 2008; almost two years old. I called the local tire place I usually buy from and they told me they will not sell tires that are over a year old.

I called Tire Rack customer service and the rep told me that there is nothing to worry about. Their tires are stored in a climate controlled warehouse. I told her I did not want the 2008 tires and I wanted to return them for 2010 ones. She said she would contact the warehouse and get back to me. That was a few hours ago and still no call from Tire Rack.

I have PMed Damon, our Rennlist Tire Rack site sponser, and I have not heard back from him yet.

I am I out of line on this?

---------------------------------------------------------------------
And the saga ends..... Tire Rack has agreed to send me two new tires that were manufactured in 2010. Thanks again for all the responses.
----------------------------------------------------------------------
---
Last edited by Chuck W.; 10-01-2010 at

02:20 PM

.

09-30-2010, 11:15 PM

---
I would push hard to get newer ones. If your like me and dont drive your car much the age is more important, because you will probably need to replace them due to age then due to them being worn down. that 2 years will make a difference.

09-30-2010, 11:16 PM
Addict
Rennlist Member
Join Date: May 2006
Location: Marietta, Ga
Posts: 4,921
Likes: 0
Received 0 Likes on 0 Posts

---
I would feel upset, too, about them pawning off old inventory on me. Even if they are technically fine. I always reach for the newest date stamp on the milk at the grocery store, because you just never know how long it's going to sit with you. Back to tires - you may have those on your car for another two years, and now they're four year old tires.

09-30-2010, 11:25 PM
Addict
Rennlist Member
Join Date: Apr 2006
Location: Rainforest (Vancouver, BC)
Posts: 6,755
Likes: 0
Received 0 Likes on 0 Posts

---
If you drive the car frequently enough to wear them out in the next 2-3 years I wouldn't worry about it. I don't think that answers your question however.

If you the customer are unhappy, and I would be in this case, Tirerack should make you happy. Tires do have a shelf life and 2 years is a sizeable percentage of that life. If you want new "mid-late 2010" tires, that's what you should get. If you feel you'll use them up before they get "old," maybe ask for a small refund or a credit towards your next purchase.

09-30-2010, 11:25 PM
Moderator
Rennlist Member

---
I would be really surprised if Tire Rack did not take the tires back and give you a full, 100% refund including return shipping costs. Be sure you line up another newer set of PS2's before you send TR's rubber back so that all of your options are open.

09-30-2010, 11:43 PM
Addict
Rennlist Member
Join Date: Apr 2004
Location: Dallas TX
Posts: 3,841
Likes: 0
Received 0 Likes on 0 Posts

---
I am with you on this Chuck. And I am a very loyal Tire Rack customer having purchased 3 - 4 sets of tires from them this year.

I would insist on replacements.

And don't bother with Damon - I have never gotten a response from him with previous requests. Just keep working the customer service folks.

Good luck.

09-30-2010, 11:48 PM
Addict
Rennlist Member
Join Date: Sep 2006
Location: Onterrible
Posts: 7,051
Likes: 0

---
My experience with Tire Rack has been excellent, but I wouldn't be happy with two year old tires for a p-car.
In general, performance tires have a shelf life of 5-6 years, regardless of "climate control" and the best years are the first 3-4. So, half of the useful life of your tires is already used up. On a non-high performance vehicle I personally wouldn't care, but on a 993.....



09-30-2010, 11:52 PM
Addict
Rennlist Member
Join Date: Jun 2007
Location: Cincinnati/N. KY
Posts: 965
Likes: 0
Received 0 Likes on 0 Posts

---
I'll second that. I bought 2 complete sets of tires last year from Tire Rack and called and left him a message both times. I figured if they get a commission I'd help a Rennlister out. Never heard from him...
If it was me, I'd want newer tires. Here's a cut and paste from Tire Racks web site itself.
The British Rubber Manufacturers Association (BRMA) recommended practice issued June, 2001, states "BRMA members strongly recommend that unused tyres should not be put into service if they are over six years old and that all tyres should be replaced ten years from the date of their manufacture."

The whole article is at
http://www.tirerack.com/tires/tirete...jsp?techid=138

09-30-2010, 11:56 PM
GT3 player par excellence
Lifetime Rennlist
Member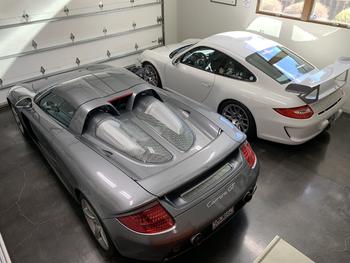 Join Date: Apr 2002
Location: san francisco
Posts: 38,780
Likes: 0

---
if they are 1/2 price, they are fine. i would use it.
if you paid full pop for them, i wont take them. tell them you want new stock. it's like buying two year old fashion or two year old cars, why would u do it if you paid full price?


strange comments about damon.
i bought some hoosiers from tire rack and one was wrong sized. i emailed damon, he told me how to return them for refund. i didn't buy form him, i bought through web site. he was pretty helpful to me. arranged return label and all.

10-01-2010, 12:04 AM
I Am The Sexual Pope
Rennlist Member

---
I have had nothing but a good experience with The Tire Rack and have dealt exclusively with Damon the past three years. I received a set of rims/tires for my Benz as well as a set of Snows for the same car to put on my old rims just yesterday. Last year I bought a set of tires/rims for my Saab in addition to five sets of tires and a set of Rims for my 993 and have been delighted and have never had any issues.

Call Damon or the sales rep you dealt with when purchasing them, I'm sure they'll try to make you happy.

10-01-2010, 12:21 AM
Super User
Join Date: Jan 2004
Location: NE Florida
Posts: 10,242
Likes: 0

---
I've bought a few sets of tires from TR/Damon and have never had a problem.

As for the 2 yr old tires, 2 yrs. in a warehouse is not the same as 2 yrs. of heat cycling on a car. If I were going to use those tires up in say 5 or 6 yrs. I wouldn't worry about it. If I expected to have these tires on in the next 7 yrs. due to it being a garage queen that would be a different issue.

When I first got my '88 911 the tires on it had better than 75% tread left, when I checked the date code I discovered the tires were 9 and 10 yrs old. I replaced those tires promptly.

10-01-2010, 12:46 AM

---
I personally wouldn't worry about them in respect to safety. But I'd probably want new tires just out of principle. However, is it worth the time and effort to get an exchange done? That's not as easy to answer. Dunno.

10-01-2010, 02:16 AM