RS spotted in Santa Monica *PICS*

05-22-2009, 03:38 AM
Addict
Rennlist Member
Join Date: Jul 2005
Location: Redondo Beach, CA
Posts: 3,755
Received 0 Likes on 0 Posts

RS spotted in Santa Monica *PICS*
---
On my way to work the other day I passed the corner of National and Centinella and what do I see? A Riviera Blue Carrera RS. It's got the Euro side markers, speedlines, the whole deal. The strange thing is that it's sitting in the parking lot of a 76 station/Circle K. I decide to double back and check it out. Sure enough, it's the real deal. Right seats, roll bar, wheels, brakes, all the bits and pieces. And only a hair over 3000 miles. It looked brand new. They have two mechanic's bays at this gas station so I go over to see who owns it. I ask the guy who's changing the oil in the 88 Taurus and he tells me "Steinfield". I ask "Jerry Seinfeld"? He confirms. I then ask what it's doing there. He tells me it's there for "repairs". I walk away in a state of utter confusion. Why would Seinfeld get his 3000 mile RS serviced at the Circle K. Well, whatever. Anyway, here's the requisite horrible cell phone pics (you can even see my car in the last one!). Enjoy...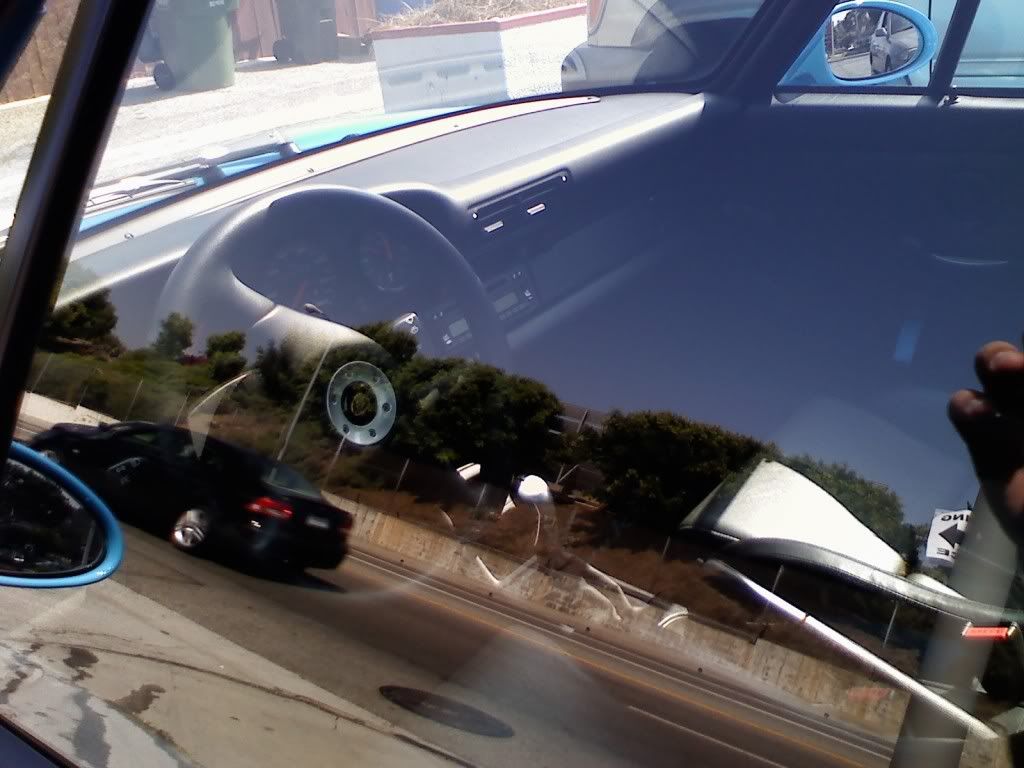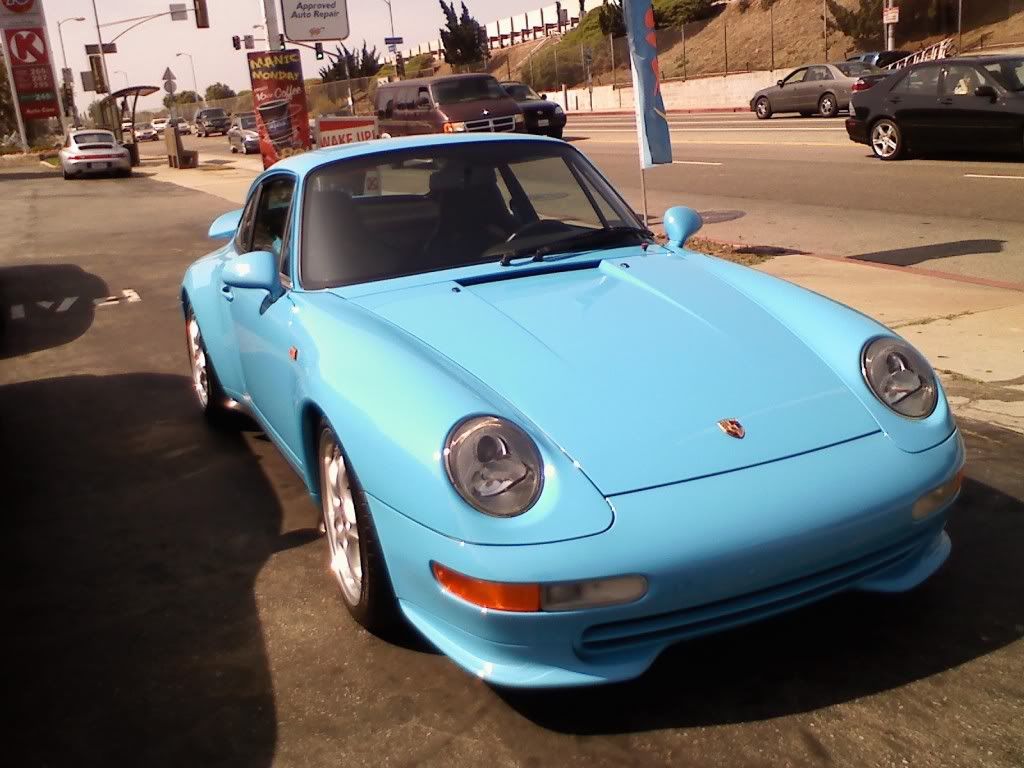 05-22-2009, 03:55 AM

---
hmmm....no headlight washers, no sunroof....looks like the real deal. It may just be the angle but the front splitters don't look like RS splitters...looks more like the splitters from the Aero kit??

05-22-2009, 05:39 AM
Addict
Rennlist Member
Join Date: Apr 2006
Location: Rainforest (Vancouver, BC)
Posts: 6,755
Likes: 0
Received 0 Likes on 0 Posts

---
AWESOME!!!!!! Sure looks like the real McCoy. Was it 3000miles or KMs, looks like it still has the euro/metric speedo? Lastly, SOMEONE PLEASE go back to this location and take more pics!
---
Last edited by timothymoffat; 05-22-2009 at

07:31 AM

.

05-22-2009, 07:33 AM
User
Join Date: Jun 2002
Location: Mid-Atlantic
Posts: 619
Likes: 0
Received 0 Likes on 0 Posts

---
The following is a post from Pelicanparts.com referencing Jerry Seinfeld's Riviera Blue Carrera RS.

This was emailed to me from a friend who owns one of the four 993RS's that are street-legal in the U.S.

1996 Porsche 993 Carrera RS

The Porsche 993 RS was developed by Porsche to fulfill two roles, the
first was to provide Porsche customers with a
lightweight heavily track focused machine legal for road use. The
second role was to provide a platform for the full
race 993 RSR. The international competition vehicle governing body
known as the FIA requires that 1000 road going so
called "homolagation" cars must be build that feature many of the
advanced features of the full race car
(in this case the 993 RSR) in order to allow the full race version to
compete in racing events. Due to high price and the
fact that Porsche only needed to build 1,000 units to qualify the RSR
for racing the The 993 RS was
produced form late 1994 as a 1995 model and in 1995 as a 1996 model.
The 993 RS was offered in two versions
the one featured here is known as a M002 or commonly called the "basic
version". The other version is know as the
M003 or known as the "clubsport version". The Clubsport version is
essentially the same mechanically as the Basic
version except the Clubsport featured no interior carpets, a full weld
in roll cage, and larger front and rear spoilers.
A total 1,014 993 RS cars were ever produced of which 227 are
Clubsport versions. The 993 RS was never
offered for sale in North America, the example here is 1 of only 4 USA
road legal 993 RS cars. In addition to this
speed yellow example one polar silver, one guards red, and one Riviera
blue example exist for road use in the USA.
The Riviera blue example is owned by comedian Jerry Seinfeld in his
private collection in California, he has owned since
new.

The 993 RS is based on the standard narrow body road going 993 however
is heavily modified for track use, thus all
comfort and convenience components have been sacrificed in order to save
weight. Listed below are the body and
mechanical differences found the the 993 RS that vary for the standard
993 road car.

The engine is a M64/20 type 3.8 liter producing 300hp at 6,100rpm and
243 ft lb of torque at 5,000rpm.
-modified crankcase for larger 109mm bore in type cylinders (standard
993 utilized 107mm slip fit)
-modified camshafts with greater lift on intake and exhaust sides
-increase cylinder head ports and larger valves
-lightweight single mass flywheel (standard 993 utilized dual mass)
-single alternator belt drive with lightweight crank pulley
-solid rubber engine mounts (standard 993 utilized hydraulic version)
-magnesium Varioram intake plenum with larger tube diameter(standard 993
is aluminum)
-modified mufflers and catalyst for less back pressure
-no belt driven air injection for emission control
-larger injectors
-revised fuel and ignition mapping
-higher engine rev limit
-92 liter endurance type fuel tank

The transmission is based on the standard G50/21 of the standard 993 but
modified for motor sport purpose. The 993 RS
features the G50/31 the Clubsport featured the G50/32. Gearbox
modifications from standard 993 G50/21 are listed below.
-1st and 2nd gears removable from the main shaft to allow for different
gear sets to be installed(standard car has fixed
gears) gear ratios are taller in first and second than road car but
shorter in third through 6th gears.
-Clubsport version has same gear ratios however with smaller gear tooth
count (large teeth) to allow for extra strength
-Limited slip differential with different locking values based on
deceleration and load. Locking value under load 40%
locking value under deceleration 65%.
-Steel synchronizing rings in first through sixth gears (standard 993 brass)
-hardened transmission mounts
-reduced shift lever ratio from 4.2:1 to 3.4:1 with solid rod mount and
coupling (no rubber)
-993 Turbo sized rear drive shafts

The running gear of the 993 RS is heavily revised from the standard 993
road car, below the features are outlined from
the standard 993 road car.
-vehicle lowered 30mm in the front and 40mm in the rear.
-revised front wheel carrier to allow for more negative camber and
improved control arm and tie rod angle at lower ride
height.
-revised tie rods for lower ride height and wheel carrier
-harder rubber mounts for front control arms
-front stabilizer bar 23mm with 5 levels of adjustment
-progressive front and rear spring with higher spring rate
-"monoball" type strut mounting front and rear
-revised rear camber arm to allow for great negative camber settings
with harder rubber utilized for rear control arms
-shortened steering ratio with greater driver force for operation to
allow for greater feedback
-20mm rear stabilizer bar with 5 levels of adjustment
-wheels are 8" front and 10" rear with 18" diameter three piece
Speedline light alloy.
-enlarged front brakes 322mm with 32mm thickness, enlarged rear brakes
322mm with 28mm thickness with special
offset to allow for narrow body
-front strut brace under hood

The body of the 993 RS has been stripped of non-essential items (unless
ordered with additional equipment) in order to
save weight. The 993 RS is 280 pounds lighter than the standard road
going 993. The modifications and
parts omitted from standard 993 road car are listed below.
-reduced PCV underseal
-reinforced chassis (partial seam welded)
-no sunroof (not optional)
-no pneumatic front hood struts only aluminum prop rod
-no airbags standard (this vehicle ordered with airbags)
-preparations for fire extinguisher mounting
-no rear seats, sound deadening, rear belts, side panels, or associated
trim parts.
-aluminum front hood
-manual adjustable mirrors
-revised front spoiler for increased down force
-door rocker panel moldings for improved aerodynamics
-fixed rear spoiler for increased down force
-thin glass all around approx. 30% lighter than standard glass
-reduced windshield washer system container down to 1.2 liters
-36 amp hour battery (half the weight of standard 993 70 amp battery)
-no radio, no speakers, or cassette box in center console
-revised extended hub steering wheel three spoke (this car is standard
airbag type as optioned new)
-Recaro speedster type seating (this vehicle ordered with lightweight
sport type seats with no power adjustment)
-body colored seat belts, door pull straps, and "Carrera RS" script on
rear interior carpet
-manual windows (this car ordered with power windows)
-aluminum type curved shifter **** with crest
-simplified door panels with no door pockets, armrest, or pull handle
-manual door locking (no power)
-no dome lighting, interior lighting only in tunnel area
-no knee protector strips (this car is equipped with them as part of
airbag system)
-six point harness mounting consoles welded to chassis
-no alarm system, equipped with Porsche Drive block
-no lights for engine compartment, luggage compartment or ashtray
-no head light washing or beam adjustment
-no rear window defrosting
-no fan belt monitoring system
-no intermittent wiper switch
-no dashboard light dimmer
-revised wire harness for deleted items

The 993 RS gained instant iconic status as the last of the air cooled
"RS" cars. It represented the highest evolution
of the normally aspirated air cooled Porsche. The final 993 RS version
was also the highest evolved from its
standard sibling, even more so than the 1973 Carrera RS or the 1992 964
Carrera RS. Today the 993 RS cars
along with many limited production air cooled Porsches have increased
in market appeal and thus ever increasing value.
Today similar versions of the 993 RS are $160,000 US dollars in Europe
and EPA and DOT legal in the USA
are costing collectors $185,000 for the right to own the last of the air
cooled lightweight factory cars Porsche
produced.
__________________
1996 993 C2

05-22-2009, 12:48 PM
Addict
Rennlist Member
Join Date: Jul 2005
Location: Redondo Beach, CA
Posts: 3,755
Received 0 Likes on 0 Posts

---
I think he's "bicoastal". He keeps a bunch of his cars in a hangar at the Santa Monica Airport which is right across the street. I know that Aurel and Don do a lot of the work on his newer cars that are out here and there's a guy in Torrance who takes care of the older ones.

05-22-2009, 12:57 PM
King of Cool
Rennlist Member

Join Date: May 2001
Location: Miami Beach, FL
Posts: 14,217
Likes: 0
Received 0 Likes on 0 Posts

---
That's so ****ing cool!
(sorry mods but when describing authentic, 3000 mile riviera blue 993 RS, "friggin" or "so" just doesn't do justice.

And yes, why on Earth would it be at that gas station for services?! Did Seinfeld lend it to Kramer or something?!

05-22-2009, 01:21 PM

---
I think frugal George is taking care of it....


05-22-2009, 01:43 PM

---
Originally Posted by
gonzilla
I think he's "bicoastal". He keeps a bunch of his cars in a hangar at the Santa Monica Airport which is right across the street. I know that Aurel and Don do a lot of the work on his newer cars that are out here and there's a guy in Torrance who takes care of the older ones.
As I said, the cars live literally across the street.
Gonz, do you know which hanger? btw, do you go to the Spitfire on Saturdays for the PCALA breakfast meet? There's one this Sat. I've never been...
I remember now the name of Seinfeld's car manager: Sam Cabiglio.