What is your other hobby other than your 993

02-13-2008, 12:47 AM

---
I spend most mornings when I'm not working on my bicycle.....Carrera Estremo with Campag Record. I'm not a racer...just training for life, and taking the long way to the coffee shop. Used to do triathlons but don't run any more due to an injury. Still swim a bit though.
Tucked away in my closets are upwards of 500 kitset model cars....mainly Formula 1 and other racers, but a lot of road cars too. Started off with 1/24 and 1/20 scale, but increasingly now 1/43. I'm starting to worry that I won't live long enough to build them all (let alone have a place big enough to store them when completed)
Scarily I spend way too much time on the internet. Before I got a computer I spent much more time on my hobbies.

02-13-2008, 01:35 AM

02-13-2008, 01:55 AM
GT3 player par excellence
Lifetime Rennlist
Member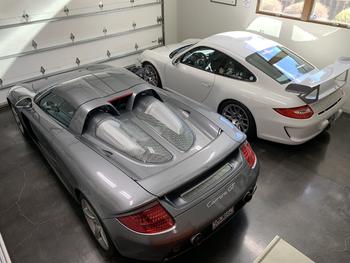 ---
Originally Posted by
ddidit
Here is mine!

Like our cars, nothing ever has sounded as good as vinyl. Unfortunately, you have to buy a $800.00 nitty gritty vacuum to keep them quite and then have a glass of merlot and then, the magic begins with memories of what was considered the best experiences in your life.

Dindo - tube audiophile enthusiast / 993nb perfectionist
magnapen, cary audio and well tempered? can't really tell from pix.
i was addicted with hi end, i quit so i can afford cars.
enya water mark in vinyl, well recorded.
bikes: moots mootaineer, moots smoothie, moots ybb, all XTR
seven duo, seven sola, seven teres, all XTR
ellsworth truth, ellsworth ID, XTR
seven axiom, colnago C50 both with campy

02-13-2008, 02:05 AM

---
My bikes, the Time VXsR (Campy), Blue RC-6 (Campy), Blue CX-6.5 (Shimano) seen below, Fetish Cycles Attack (Track), Blue TC-12 (Shimano) and last but not least BMC Fourstroke 01 (Manitou R7, Shimano)
Also....>
---
Last edited by AtlJimK; 02-13-2008 at

12:54 PM

.

02-13-2008, 08:27 AM

Hobbies
---
Here is our latest addiction, a 75 gallon saltwater setup. It has only been up for a couple of months and we have a long way to go, but its great. We grab some cocktails and pull up a chair and watch for hours...way better than tv.
Here is another hobby of mine, it was much more fun when I lived in NJ and had some waves to launch off of, but the gulf is much warmer.
Adam

02-13-2008, 09:44 AM
Addict
Rennlist Member

Join Date: Oct 2003
Location: NATICK MASS.
Posts: 229

Music and.....
---
I am a music/audiophile guy and I have been for 35 years...Currently listening to
Boulder/basis/shelter/nordost/ etc. All in a custom designed and dedicated music room...I just sold my Wilson Maxx2's..on the hunt for new loudspeakers...For me, the ultimate way to relax after a long day...