Yet another odd driveability issue.....

07-28-2003, 01:11 PM

Yet another odd driveability issue.....
---
OK, I have read through every post I can find on weird idle, throttle response, and general drive-ability problems, and don't know that I have found one exactly like this.

I have a pretty repeatable problem with throttle response.

What seems to occur is that, when heading down a very slight grade, I will momentarily loose throttle response. By that I mean that I will depress the throttle, and get no response. If I floor the throttle, it seems to wake up, and then return to normal.

Now, for additional clarification, the car never stalls, and idle is rock solid. Where I see this most regularly is when I am driving slowly (less than 30 MPH) down a residential street. It is a very slight down grade, and requires virtually no throttle to maintain speed.

If I do need to increase speed slightly, I find that I occasionally must depress the throttle beyond 50% before I get any response. The first 50% or so is completely dead.

I also have found that, if I put the car in neutral, the revs drop precisely to normal idle speed (about 800 RPM or so) and stay there. Blipping the throttle at that point again results in nothing until the pedal is pretty far down.

I have also had this happen when attempting to motor away from a stop sign on this same street. Throttle response is dead for the first 50% to 75% of the pedal range.

This has occurred when the car is fully warmed up, and also relatively cold. It has never occurred when going up hill or when cruising at highway speeds. The outdoor temperature also seems to have no affect on the issue.

I have previously been through various erratic idle issues, and have had new Oxygen and Hall Effect Sensors installed, and also had the airflow meter harness update (there is a TSB on that) carried out. Those problems were corrected at the time.

This issue is something that I have noted for the last couple months, but has been getting increasingly repeatable.

Without any specific knowledge of the system involved, it would seem that there is some sort of issue with the throttle position sensor (assuming that there is one), but I do not think I have ever read any posts about problems with that.

FTR, the car is a '90 USA spec C2, no mods what so ever on the motor or drive train.

Thanks for any tidbits of advice.

Brian

07-28-2003, 01:43 PM
Addict
Lead Rennlist
Technical Advisor
Rennlist
Lifetime Member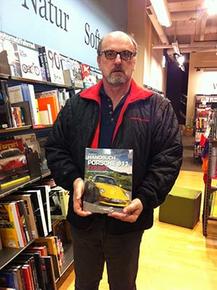 Join Date: May 2001
Location: Parafield Gardens
Posts: 8,027

---
Dear Brian,
There is no throttle position sensor on a manual 964. Only the tiptronic. I suspect your problem is a worn throttle cable, loose throttle cable, throttle actuator out of adjustment. When you hit the pedal you physically move the throttle quadrant which opens the throttle valve. I believe this is a wear issue related to the connections between the pedal and the throttle valve. I had similar issues on my 944 and it was the cable itself. If you have cruise control I would check these connections as well. The cruise control drive unit is on the front left of the engine with a push rod and cable link to the throttle quadrant.
Ciao,
Adrian
964C4

07-28-2003, 08:37 PM
User
Join Date: Feb 2002
Location: Houston, Texas
Posts: 85

---
Brian:
I had the exact same problem a few years ago. Coasting with very light throttle on gentle downgrades (and even occasionally when feathering the throttle approaching a stop light and hoping for a green), it would feel like the bottom dropped out--no engine response until flooring the pedal, if at all. But it never stalled or ran rough.

Among the many things I changed and checked, I still suspect the air flow sensor had something to do with it. It was giving odd signals, and when I opened it up, the arcs the little contact pins wear in the plate seemed to be pitted, right where the contacts would be when the flow vane was just cracked open. Have not had that exact problem since replacing the sensor.

See the July issue of 911 & Porsche World for more info and a photo (under Running Reports).
Bob K
1989 C4

02-18-2004, 10:06 AM
Addict
Rennlist Member
Join Date: Mar 2003
Location: Destin, Nashville, In a 430 Challenge at location near you
Posts: 2,923

---
I have had same issues when my oil seemed to be a bit over full. Kind stall hesitation like coasting down a steep hill. Have not had since my rebuild and since I focus on keeping the oil toward the bottom half of the full line. Don't know if connected. Just an idea.

06-14-2004, 07:49 PM

---
No fix at this time Pat, although I have yet to inspect the areas Adrian suggested..

The route to my daughters preschool has changed, as such, I don't cover the same sort of terrain, and don't experience the problem as often.

I am sorry to say that at present, it happens so infrequently that it fell off the radar.

BGL