pulled the a.c. compressor

05-20-2010, 09:59 AM
User
Join Date: Oct 2009
Posts: 70

---
Originally Posted by
joey bagadonuts
Not hard but, to remove it, you need to lower the motor and remove:

- Cat and primary mufflers
- Rear engine tin
- Engine bracket mount
- Crank pulley and belts

And once you've gone this far, you may as well:

- Install Rennline bracket brace
- Replace the front crank seal
- Modify the a/c bracket to facilitate access to the chain housing, i.e. grind it down so that it clears the pulley
- Install new belts

I did all this over the Winter while replacing the chain housing gaskets and am very pleased with the results. But it's one of those jobs you really want to do once. So, unless you're ready to do the full monty, you may want to hold off until you've got other jobs to address.

$0.02
Great help, thank you
Si

05-20-2010, 10:27 AM
C4 Specialist
Rennlist Member
Join Date: Oct 2003
Posts: 5,531

---
Bosxey, I am surprised your guys cut off one of the main retaining lugs from the console - seems they should have left it on since it provides good support - you can see on mine I left that area intact:
---
Last edited by garrett376; 01-09-2013 at

12:02 PM

.

05-20-2010, 11:53 AM

---

05-20-2010, 12:59 PM

---
I won't disagree that leaving that lug could provide extra support. However, mine was cut to replicate the factory non aircon bracket that only uses four lugs. Here it is on PET: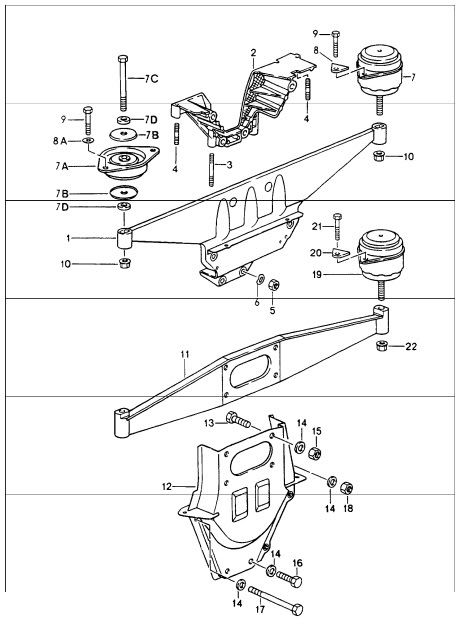 Also, mine had fractured just below the extra lug and had been welded up (in the dim and distant past before my ownership). It would have looked very messy. BTW my aircon was not fitted by the factory...my guess is that it had been fitted either just before or after the car was bought from UK stock. This might have had something to do with the bracket fracturing later. I'm not sure.