How many hours would it take you to assemble a 928 engine?

03-22-2017, 11:08 PM

How many hours would it take you to assemble a 928 engine?
---
Hello !

I'm wondering how long the folks who have experience with the 928 engine typically need to reassemble one...

This would be the starting point:
Machine work completed, all parts clean and ready to go for the block.
Machine work and assembly completed for the heads, ready to go.
Cam towers clean, assembled, ready to go.
Full set of gaskets ready, new studs and nuts ready.
Looking forward to your responses.
Thanks for taking the time to read this.

03-22-2017, 11:16 PM
Addict
Rennlist Member
Join Date: May 2012
Location: Thousand Oaks California
Posts: 3,099

---
I would say at least +10 hours.
You need to make sure all tolerances are perfect before you put final torques are on everything and then recheck the tolerances afterwords to be sure they are still perfect.
You do need to reassemble the block halves in ~5 minutes though, it's the most exiting part, as if you are not panicking thinking you are going too slow you are not going fast enough


03-23-2017, 01:08 AM

---
Regarding the head gaskets, some would like at least an hour or so (maybe more) between re-torque settings so the gaskets would be seated. Right? I think Colin mentioned that he would do them over 2-3 days to get the proper torque settings to be consistent.

03-23-2017, 01:53 AM

---
Depends on how the plastigage and ring gap work goes and how complete is "complete."

I could do it in 4 hours if everything is ready and it's just putting things together and torquing them down.

With careful work, and a few problems, it'd be 10 hours.

03-23-2017, 01:55 PM

---
Slow down guys...it's not a race. There's no reward for seeing how quick you can do it. Who cares how long it takes you? Slow down, do it perfect, do it once.

It's not all new factory pieces with color coded crankshafts, etc. It's used 30 year old pieces that each and every part needs to be looked at, measured, burrs removed, and dealt with.

And even the very best machine shop needs to have its work double checked.

I'm also very aware of each step, am very efficient, have every tiny detail memorized....and have assembled hundreds of these engines.

I'm going to spend a MINIMUM of one entire day dealing with the bottom end, another day getting the heads and cam carriers on correctly, and at least one additional day assembling the rest of the engine (more that that, if its a 4 valve engine). And keep in mind that I've got every single tiny little new piece in inventory....literally a 50 foot walk away from me....

30 hours, minimum, for a 2 valve engine....if everything checks out and goes together without problems.

03-23-2017, 02:34 PM
Petie3rd
Rennlist Member
This Post Sponsored by:
Dow Corning« & DeoxIT«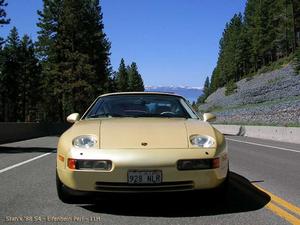 Join Date: May 2004
Location: Philly PA
Posts: 22,208

---
it takes me about 4 to 5 days to go from block on a table to running engine,
the faster you work the longer it takes,
i put the intake on the engine after its installed in the car

03-23-2017, 09:39 PM

---
Thanks for all the answers thus far..
The specific reason why I ask is because I have decided to stick with my 2 basic tenets regarding the ownership of my beloved 928:

1) I refuse to be THE GUY who ruins this car.
2) I am the most dangerous tool in my garage.

So, I'm going to take my awesomely-machined bits and horrifically-expensive replacement parts to a fellow far more versed in engine assembly. In other words, I've chickened out on this task.
This is also as much pragmatism as anything else... I really don't mind the process of taking a week or so to figure out how to refresh my windshield washer system, or the week it took to fiddle with the new horn installation, that's the kind of work I feel comfortable with, and in fact I think I am actually adding some reasonable value and utility back to the car with those types of projects.
But engine innards... sheesh. That's pretty spooky when you've never done it before, you have spent a Chinese Crap Ton of money on p i s t o n r i n g s and what-not, and you realize that it could easily be some false sense of internet expertise that propels me on into something disastrous (i.e.: just because I can read about how you experts do it, doesn't mean I can bake the cake yet..)

03-23-2017, 09:40 PM

---
Like Greg said, it's not a race. I assembled mine taking my time over a few days and when I was ready to put the second valve cover on, I cleaned some gunk on the head of the cam screws and I saw one move which almost gave me a heart attack. I ended up forgetting to torque one entire cam and guess what. I had to remove the first cover to make sure I didn't forget another one.

So take your time.

03-23-2017, 10:02 PM

---
I clicked this thread just after Glen posted his comment, shook my head and just left the thread. I figured I'd wait until Greg posted for a couple of reasons. 1. Am I taking too long. 2. To see if any of the usual suspects said he was ripping people off. Glad to see neither of them have showed up.

For me, when I know I'm assembling an engine, I block out that week to do nothing else but that engine. No oil changes, no odo gears, nothing else. The phone usually goes to voice mail and I'll check it after that days work. I don't want anything to screw up my attention when doing one because it's my reputation on the line if things screw up. Hell, I wake up at night when I'm dealing with a troublesome car, the last thing I want when rebuilding an engine is to wake up in a sweat because I missed one bolt torque and only remembered it when I was dreaming about it.

You guys doing it in 10 hours, I wish you luck and would really like it if you posted VIN numbers so I can say to avoid this one.

03-23-2017, 10:14 PM

---
Guys...

The question was how long to do the assembly. It was not "how long to prep for assembly" or "how many hours to rebuild an engine and heads." Perhaps you do assemble one part and then prep the next. That's still not the question.

03-23-2017, 10:56 PM

---
The question was open ended. I don't do my own head work, I leave that to those that do head work but I spend a few hours looking at my head guys work, prepping, double checking and then deciding if they are good enough to assemble to the rest of the engine.
When you do your next rebuild, please do a webcast, I'll be the first one in line to see you do it in 4 hours. I may learn something.