A/C Vacuum Solenoid Replacements

05-20-2016, 01:16 PM

A/C Vacuum Solenoid Replacements
---
Has anyone found any new replacements for the A/C vacuum solenoids? They are NLA but I would like to get some type of new equivalent replacement. They are kind of 3 way whereas they hold vacuum until activated by the head unit to let vacuum flow to the diaphragm but when deactivated release the vacuum to the diaphragm but continue to hold vacuum at the vacuum source.

05-20-2016, 01:41 PM
Chronic Tool Dropper
Lifetime Rennlist
Member
Join Date: Oct 2001
Location: Bend, Oregon
Posts: 17,265

---
I don't have an answer to your question, but...

Have you had one that's actually failed? I've tested more than a few as part of HVAC troubleshooting, and have never found any that have failed on their own.

05-20-2016, 01:43 PM

---

05-12-2018, 10:45 AM
Super Moderator - Cracklin' Rosie
Lifetime Rennlist
Member

---
I have 7 bad out of 10 I tested.

Figuring nothing to loose, tried fixing a couple with Wurth brake cleaner. Mike Schmidt (Z) successfully fixed a a couple this way many years ago.
With vacuum on one side, sprayed some in & turned on the 12v. Instant success, before a slow open, now instant.
Bad news, few minutes later tested again only to find now it's completely locked up.

As time & age takes a toll, I suspect we'll need to figure out a replacement?? Might run out of good used ones.

05-12-2018, 11:25 AM
Petie3rd
Rennlist Member
This Post Sponsored by:
Dow Corning« & DeoxIT«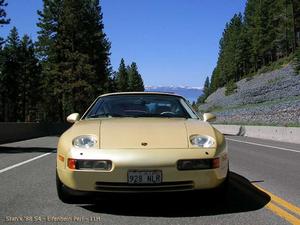 Join Date: May 2004
Location: Philly PA
Posts: 22,226

---
Eric if you have a few bad solenoids why not take one apart to see whats going bad.
That wurth cleaner may be softening the internals and then making the parts inside sticky ,
I would try some silicone spray or WD40

05-12-2018, 12:09 PM
Super Moderator - Cracklin' Rosie
Lifetime Rennlist
Member

---
I went with brake cleaner due to past success by Mike. I have a theory why it didn't work for me and having late night shop regrets.....
3 types of failures I've experienced:
Slow to open. These are just an electromagnet pulling down a piston with a plunger on the tip. With vacuum applied it should be an instant open. Some of these would slowly go down on the vacuum gauge.....that's not going to work.
Doesn't open at all. I tried repeated on/off cycles and reverse polarity. You can hear the "click" but no vacuum change.
They leak. Plug one end, apply vacuum, doesn't hold. About the same rate as #1. I suspect these might still work as they do open "full force" once power is applied.
Why my "cleaning" method might not have worked: I sprayed the sauce in reverse of airflow and possibly knocked off the plunger on top of the piston. I'm not 100% certain of this since two of them I ripped apart the plunger was still attached. Doesn't really explain why the "stuck" or slow ones suddenly worked perfect for a couple of minutes of cycling the piston after spraying in the sauce then suddenly stopped....... I'm a bit baffled since there isn't much going on inside of these.
The magnet function is still working in the disassembled ones. I apply power / ground, insert the piston & I had to use a pliers and a good amount of force to pull it out.
I'm pondering if there isn't some debris in there and when I yank them apart it's too small to catch.
There should be 4 photos, IB seems to have "upgraded" something again, not all loading for me.
-

05-12-2018, 01:42 PM

---

05-16-2018, 05:34 PM

---
I have 1 that either gets stuck or leaks. I have also purchased a used HVAC box to try and use one of them to replace the bad one but they all leak.
Also, how do we contact Porsche Classic to request solenoid production.

05-16-2018, 05:39 PM
Super Moderator - Cracklin' Rosie
Lifetime Rennlist
Member

---
Update on my brake cleaner trick.

48 hours later (might have been sooner, that's how long it was between events" they now work.....

So to re-cap chain of events:

1. Any of the solenoids experiencing one of the three failure modes listed above, I put a vacuum on (both end) and sprayed brake cleaner through.
2. All were instantly fixed
3. 10 minutes later they were stuck, I could hear a "click" but no would move through, pressure or vacuum.

I tried them many hours later that day, no go. Two days later (after destroying a couple) decided to play with them again and PRESTO - they all work now.

However.... I would be careful to only have the cleaner flow against the piston so you don't knock off that little silicone "hat". I think this happened to one of the units I broke open.

YMMV....

05-16-2018, 07:12 PM
Addict
Rennlist Member
Join Date: May 2012
Location: Thousand Oaks California
Posts: 3,101

---