Updated Single Page Central Electric Panel Relay, Fuse & Plug Details (All Years)

03-30-2016, 12:14 AM

---
I just picked up '78 non SR 5-speed at an auction. This is a great resourse Thank you to all that made this happen especially Alan.

Hopefully i can figure out what is buzzing for the first few seconds when I start my car.

03-31-2016, 12:03 AM

---
I wonder if you've documented the few USA cars that require German relays. Mine is a pure USA 88 S4, born in December 1987, but for unknown reason it has the German (ROW?) type of headlight circuitry, and so requires the German headlight relay.

Is this phenomenon known about, documented in any way, do we know how many USA cars are like this and why?

03-31-2016, 10:35 AM

---
Quick doc control clarification request.

Alan, on the first page of this thread you posted the preliminary charts as PDFs in three separate posts. Later you mentioned you intended to replace/supplement those preliminary files as links to point to the current release of each chart.
Just to be completely clear: do the files posted on the first page of the thread represent the latest version?
I apologize if I overlooked a subsequent post with the links as described; I did read through the entire thread trying to discern if these original posts contained the most recent info, but was unable to be completely certain.
Regardless, thanks to you and all who participated in this work. Really very generous.

06-27-2016, 12:13 AM
New User
Join Date: Jun 2016
Posts: 1

---
OMG Thank You!!! I have been up and down all over the internet and found this page!! New owner of a 1984 928S with electrical issues and now I have the full description of what to test.
Another great site is:
http://jenniskens.livedsl.nl/Technic...s/TechTips.htm
The information on this site has been just as helpful as this one. Thank You to all who have contributed.

06-27-2016, 08:06 PM
User
Join Date: Sep 2014
Posts: 59

---
So I didn't check then entire thread to see if he had updated them.
But I have a US spec 1982 Competition, and there were two issues I noticed when I went over it fuse by fuse.

The brake lights are fuse 7, not fuse 10.
And the clock is on fuse 23, not fuse 11.

06-27-2016, 08:30 PM
Addict
Rennlist Member

Rennlist
Site Sponsor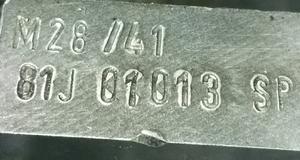 Join Date: Jan 2003
Location: Double Oak, TX
Posts: 15,704

---
The brake lights are fuse 7, not fuse 10.
And the clock is on fuse 23, not fuse 11.

Not on my 82 cars and not as per the owners manual.
Brake lights 10 --- Fuse 7 is not used.
Maybe I need to check again.

Owners manual says clock is on 23 I agree but in reality is it?

Are you checking the cars CE panel or the owners manual?
__________________
Does it have the "Do It Yourself" manual transmission, or the superior "Fully Equipped by Porsche" Automatic Transmission?
George Layton March 2014
928 Owners are ".....a secret sect of quietly assured Porsche pragmatists who in near anonymity appreciate the prodigious, easy going prowess of the 928."

06-27-2016, 10:00 PM
User
Join Date: Sep 2014
Posts: 59

---
In another thread where I mentioned it Landseer told me #7 was correct for me.
My CE board is PN 928.610.105.05 (Manufacture date 16.7.81)
My owner's manual is just an 82 owners manual PDF I downloaded, and it says that 10 is brakes lights
But the 82 Current Flow Diagram PDF I downloaded shows Fuse 7 powering the brake lights.
I can't really work out what it's showing for the clock, but it appears to be showing fuse 11.
I'll go out and check really quickly and edit my post to make sure I wasn't just looking at illumination or something but actual ticking.
Edit: 23 is definitely clock power for me, I pulled the fuse and it ticked for a few more seconds slowly getting quieter and quieter until it quit.
Maybe my car's just an oddball or someone over the last 34 years has been messing with the wires.

04-01-2019, 06:44 PM
User
Join Date: Oct 2002
Posts: 514

---
Bump for those who haven't seen this thread. I used these diagrams in researching some very specific 83-84 model year differences. Great work to all involved!

Alan, if you need any further info at this late date on a USA/California '83 please PM me.