Friday time-killer: 928 Engine-Transmission Production Numbers, 1982-1995

08-02-2013, 08:11 PM
Archive Gatekeeper
Rennlist Member
Join Date: Sep 2002
Location: Irvine, CA
Posts: 13,412

Friday time-killer: 928 Engine-Transmission Production Numbers, 1982-1995
---
The recent kerfuffle about M28.11/12 motors for sale got me to thinking about exactly how uncommon they may be. And I had two hours to kill while all three kids were getting the biannual dental maintenance. Which led to some tedious editing and COUNTIFfing in Excel.
I don't recall seeing this data presented in this manner before, perhaps I missed it. Anyway, it's a list of the production numbers of each engine and transmission type from 1982 to 1995 (AFAIK the data doesn't exist for '78-81) . There are a few glitches in the dataset where there was no engine code info for a given car (or where there was just a 'C' or an 'M'), and a couple of cars with 'automatic' engines mated to a 5-speed, which may be real or is just a typo.
You can see the 9 Clusbport cars (M28.41/G28.55), for instance.
Should be self-explanatory, some combos are US. only, some are ROW-only, some are both.
If anyone really cares, it would be relatively simple to break it out by country of origin for the ROW cars, but I doubt anyone cares.

Anyway, FWIW:
Code:
Engine	Trans	ROW	USA	Auto	5-speed
C		 	8	6	2
M		3	65	65	3
M28.09	G28.05	218	 	 	218
M28.10	A22.01	230	 	230	 
M28.11	G28.05	1498	 	 	1498
M28.12	A22.04	1861	 	1861	 
M28.15	G28.05	 	1057	 	1057
M28.16	A22.01	 	1571	1571	 
M28.19	G28.08	 	1518	 	1518
M28.20	A28.01	 	3573	3573	 
M28.21	G28.07	1728	 	 	1728
M28.22	A28.02 (1984)	1248	 	1248	 
M28.22	A28.03 (1984)	72		72	
M28.22	A28.05 (1985)	558		558	
M28.22	A28.05 or 06 (1985)	93		93	
M28.22	A28.06 (1985)	769		769	
M28.22	A28.08 (1986)	364		364	
M28.22	A28.09 (1986)	637		637	
M28.41	A28.13	4	 	4	 
M28.41	A28.14	1		1	
M28.41	G28.12	1845	200		200
M28.41	G28.13		1015		1015
M28.41	G28.55	9			9
M28.42	A28.12	445	3202	3647	
M28.42	A28.13	2		2	
M28.42	A28.14	2969		2969	
M28.42	A28.16	4599	1429	6028	
M28.42	G28.13	2			2
M28.43	G28.11	 	1424	 	1424
M28.44	A28.04 ('85-'86)	 	2023	 	 
M28.44	A28.07	1470			
M28.45	G28.10	109	 	 	 
M28.46	A28.11	306	 	306	 
M28.47	G28.55	1677	405	 	2082
M28.49	G28.57	482	163	 	645
M28.50	A28.18	2016	243	2259

08-02-2013, 11:15 PM
Addict
Rennlist Member

Rennlist
Site Sponsor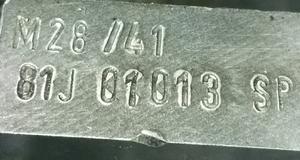 Join Date: Jan 2003
Location: Double Oak, TX
Posts: 15,386

---
You are a sick puppy - but thank you - trust your teeth are OK?
__________________
Does it have the "Do It Yourself" manual transmission, or the superior "Fully Equipped by Porsche" Automatic Transmission?
George Layton March 2014
928 Owners are ".....a secret sect of quietly assured Porsche pragmatists who in near anonymity appreciate the prodigious, easy going prowess of the 928."

05-24-2014, 02:02 PM

---
Hi there,

First I guess I should introduce me as it is my first message. Briefly, I'm a Porsche fan that had a Boxster S, a 997S, a 997 TT and now I 'just' have a 996 C4S and a 993 C2 Cabrio. Clearly I'm moving to classics / youngtimers and that's why I'm looking for a 928.

Well, now the question. In my searching, I wanted a 928GT, and I contacted with a guy that said to have one. In the vehicle specs appears like a S4, however the sticker shows combination engine / gearbox M28.41 / G28.55, that following this post doesn't fit neither S4 or GT. So, could be a CS unit? Somebody knows how can I identify it?

Thank you very much in advance and happy to be in the community!

Ferri

05-24-2014, 02:32 PM
Archive Gatekeeper
Rennlist Member
Join Date: Sep 2002
Location: Irvine, CA
Posts: 13,412

---
Hi Ferri, welcome!


There are only 9 928's with the combination of M28.41 and G28.55. 4 in Germany, 2 in France, 1 from Austria, 1 from Britain and 1 from Spain.

The Spanish car is an '89. What's the VIN of the car you're looking at?

05-24-2014, 02:42 PM

---
Hi Rob,

Thank you so much for your response. Unfortunately I don't have the VIN, because I just took a picture focused on codes, but I can ask for it. It is a chance to find out if is a CS with VIN? I've read in some posts that they are in same series that S4.

Thanks again and best

Ferri

05-24-2014, 03:45 PM

---
Here's the results of a search on the CS engine/trans combo from the new OC web page and Registry coming soon. Thanks to Rob for his help in this.
Probably is or has been a topic for another thread, but when I do a filter for Option Code 637 "Special Version "Club Sport" 88" I get 7 of the 9 CS cars above and an additional 12 cars with G28.12 or G28.13 gearboxes.

05-24-2014, 04:00 PM
Archive Gatekeeper
Rennlist Member
Join Date: Sep 2002
Location: Irvine, CA
Posts: 13,412

---
Yes, somewhere in an older thread Erkka makes a comment about some CSs having G28.1X gearboxes. Not sure whether that's based on seeing the cars in person or on VIN searches.

05-24-2014, 04:27 PM

---
WP0ZZZ92ZKS840364:
1989 C00 = Germany , M28.41 G28.12
I018 Sport steering wheel with elevated hub
I139 Seat Heating - Left
I298 Prepared for unleaded fuel, manual transmission
I326 Radio, Blaupunkt Berlin IQR 88 with ARI
I383 Sport seat - left
I387 Sport seat - right
M650 Sunroof