tree sap !!!

06-01-2013, 05:56 PM
Addict
Rennlist Member
Join Date: Aug 2006
Location: lawrence,kansas
Posts: 2,126
Likes: 0
Received 0 Likes on 0 Posts

tree sap !!!
---
wow , never got tree sap on paint before but now ....I know to watch out...
cleaned it with goof off then griiots garage buffer and polish....switched to finesseII then filler on top with sealant ....man that stuff is not only hard to get off but the grit stuck in the sap makes it like sand paper....my mistake!!!!
Zaino is the the sealant....but I was an idiot to scrub with goof off . the dust in the sap really scratched the paint....
too embarressed to show pics....ughh!!


06-01-2013, 07:51 PM
User

---
I hate tree sap, it ruins paint. Just use a paint safe solvent like All Sol, we use Car Brite products at our dealership and they work great. No issues. Hell even acetone might work, never used acetone on paint before though, pretty sure it softens paint but might work since it's so volatile that it flashes off instantly.

06-01-2013, 08:01 PM
User
Join Date: Sep 2003
Location: Wine Country, CA
Posts: 1,150
Likes: 0
Received 0 Likes on 0 Posts

---
Had my cars parked near what I think are a variatal of the sycamore tree.

Unbeknownst to me the trees were dripping sap - which then sat in the sun for a couple of days and turned into something like amber. Had to use a razor blade to get it off.

06-01-2013, 11:17 PM
Super User
Join Date: Oct 2006
Location: Orange, Cal
Posts: 8,550
Likes: 0

---
We have no choice on wife's Lincoln, all the parking on our street has overhanging pine trees that get trimmed twice a year and ooze non stop and leave clear blobs that aren't the easy to see that dry into yellow rock. I use a plastic scraper followed with Turtle Wax bug/tar/sap remover. Griots makes a sap remover IIRC, but I like to wait until I have a batch of stuff to order at the same time, so never get around to it. Whatever you do or use I think needs to be focused on each blob, not the area, and go for maximum removal prior to smushing it around.

Not sure what caused it, but all the cars in the area go hit with tiny specks of what looks a little like sap, but much harder to remove on the windshields. None of the usual goop treatments even bothered it, so I had to razor blade the whole windshield, but that ended up working fine.

06-02-2013, 12:39 AM
Petie3rd
Rennlist Member
This Post Sponsored by:
Dow Corning« & DeoxIT«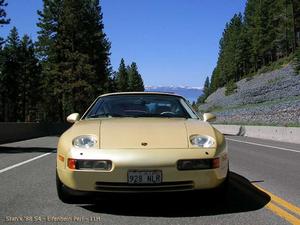 Join Date: May 2004
Location: Philly PA
Posts: 22,679
Likes: 0
Received 0 Likes on 0 Posts

---
you may also have aphids that are living on the undersides of the leaves,
they will have droppings that resemble sap, still a pain to remove,

keep the finish waxed to prevent further damage

06-02-2013, 12:46 PM
Addict
Rennlist Member
Join Date: Dec 2011
Location: NW Indiana
Posts: 807
Likes: 0
Received 0 Likes on 0 Posts

---
I have quite a few pine trees on my property including one near a parking area off my driveway. Even with keeping the branches well trimmed, my company Ford E350 gets covered, especially after high winds.

I've found only two things that work. Plain old rubbing alcohol or OFF Mosquito repellent. Doesn't matter if it's fresh or dried up like hard plastic, it dissolves with little effort. Commercial products designed for tar/sap removal, acetone, polishes, WD40 etc. never made a dent. Although WD40 is my first and only choice for tar removal.

Never had sap damage my paint. I've had spots dry up for months and once removed had no discoloration or etching. Although it is a modern clear coat paint.

06-02-2013, 01:11 PM
Super User
Join Date: Jul 2009
Location: Cleveland, MN
Posts: 2,369
Likes: 0
Received 0 Likes on 0 Posts

---

06-02-2013, 01:45 PM
Addict
Rennlist Member

---
With all the hot weather in the northeast, the trees are dripping sap and I just noticed globs on my wife's BMW. Used Tarminator bug/tar/sap remover and a micro fiber cloth and after three shots and wipe inbetween, all came off.

I told her not to park under the tree anymore!!!

Bob