Every time I see a Mercedes SLK 350...

10-19-2011, 12:49 AM
Cottage Industry Sponsor
Lifetime Rennlist
Member

Every time I see a Mercedes SLK 350...
---
...I wonder, if I should sell my 928 and get something more modern. I had the chance to drive a few SLKs in the past (280, 350, AMG 55), and fell in love with the 350.

Major downside: No hatch, tiny trunk, little flexibility. Oh, and that it's not made in my home town.

Anybody have an SLK? How is owning one, compared to the 928?

10-19-2011, 02:43 AM
Super User
Join Date: Oct 2009
Location: Alberta, Canada
Posts: 2,637
Likes: 0
Received 0 Likes on 0 Posts

---
You know Nicole, I have only been a 928 owner for two years.
In that time a strange thing has happened, I have gone from a north american (canadian) hot rodder to an avid 928 Porsche enthusiast.
I think part of it is belonging to two awesome groups (928OC & Rennlist) and learning to care for and love the car as others do and have.

Don't get me wrong Nicole I love the AMG but have never had the pleasure of even standing next to one.
I would own both if I could, then again if I could I would have Jay Leno's garage.

It would be the same as selling any classic, be it a 67-69 Camaro, 57 chev, 928, or whatever.
Unless it is a finical burden (which you wouldn't need a AMG) to sell is always a loss. IMHO

Brad

10-19-2011, 09:46 AM
Super User
Join Date: Jun 2003
Location: southern new england
Posts: 2,738
Likes: 0
Received 0 Likes on 0 Posts

---
The SLK is like the mini-me of the SLR and both have that melting nose look of the front grille. Ugly car. I am a great fan of AM in general, but the V8V is nothing compared to a good 928. The body does not come close especially at night, the sound not as good as mine, and the performance lacking for the price.

If you can't do a Virage, V12V, or DBS forget AM, it's all about the 12.


And when you say "modern" what do you mean? Are you missing some function?


You will not improve on these looks
---
Last edited by tv; 10-22-2011 at

11:29 AM

.

10-19-2011, 11:05 AM
Official Bay Area Patriot
Fuse 24 Assassin
Rennlist Member

---
My Mom just bought an SLK. Fun little car, but no where near as fun as the roar of a V8, unless you get an SLK55 AMG. Like you, I actually want to downsize too, but to a 16-valve car. Less things to worry about on something that just sits collecting dust under a car cover at the moment.


10-19-2011, 02:40 PM
Addict
Rennlist Member
Join Date: Jun 2000
Location: Insane Diego, California
Posts: 40,147
Likes: 0

10-19-2011, 06:02 PM
Addict
Rennlist Member
Join Date: Apr 2010
Location: The Netherlands
Posts: 685
Received 0 Likes on 0 Posts

---
Well, my father has had 3 SLK's so far, a 230 Kompressor, a 32 AMG and he now has a 55 AMG.

I have driven them all and especially the 55 AMG is a really great car.
In terms of handling and raw performance I am sure it will beat almost any 928.

However it is not nearly as practical as the Porsche. The SLK really has minimal interior space, and the trunk space is acceptable with the roof up. Roof down is enough for taking a toothbrush and some underwear, not miuch more :-)

I really like the SLK though, it is one of the few 'CC' cars that does not look ridiculous (checkout renault megane CC of peugeot CC models), and it offers a great range of engines.

Cheers
Michel

10-19-2011, 07:00 PM
Addict
Rennlist Member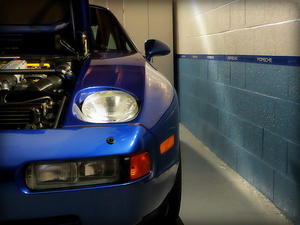 ---
Nice car but would never trade the first one for the second one!

By the way, my friend had to put over 8k$ in his transmission this summer! Outch!
... And it is a 2006!


10-19-2011, 07:02 PM
Super Moderator - Cracklin' Rosie
Lifetime Rennlist
Member