928 Weissach rolls into my 911 house

05-01-2011, 02:12 AM
Addict
Rennlist Member
Join Date: Jan 2003
Location: Honolulu and sometimes L.A.
Posts: 2,640

---
My '79 feels light and my '82 and my S4 feel the same, heavier. I recently updated the the almost the whole suspension on my '79 and it still feels light. My current theory is that the difference is the front sway bar, which is about the only part I did not update.

05-01-2011, 02:34 AM
Addict
Lifetime Rennlist
Member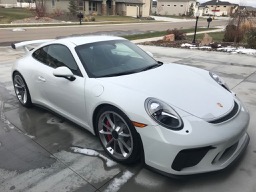 Join Date: Jun 2003
Location: Southwest Idaho
Posts: 10,456

---
Rog,
the 911 wasnt designed by VW. It was designed by the Porsche company. Where there cues used from the 356? yea, but there are no VW parts on any early 911s. They had Porsches first 6 cylinder design for a motor and there were no bug parts used in 911s. There were trades from early 356 design from VW but those didnt follow onto the 911. The 914 has some VW linage as does the 924. But youre mistaken that VW had any input in to the early 911, only Dr Porsche and his team designed it.

The only thing the 928 had is was the first Porsche car to have a clean sheet when it started.
By the time the 911 came around the 356 and the 550 had such a successful racing history there was NO way that the new Porsche Model 901 was going to NOT take cues from those designs. And as history shows us the 911 carried on that great racing heritage all the way through to todays racing history in LeMans and the American LeMans series as well as Grand AM.

Only NOW does VW for the FIRST time have some input into 911 development since they now own the company.

05-01-2011, 02:39 AM
Addict
Lifetime Rennlist
Member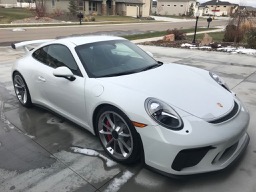 Join Date: Jun 2003
Location: Southwest Idaho
Posts: 10,456

---
Roger
thanks for the pictures that clears up alot.

Karl remember when I say HEAVY I am comparing it to the newest 911, AND the car has sat for three years. I believe if I take it out and get some miles on it, it may loosen up and feel less heavy.

I just look forward to working on it and driving it. To me it looks havent aged much.

Seems as though Porsche can do that, ageless designs?

05-01-2011, 03:04 AM

---

05-01-2011, 03:06 AM

---


And mark SHARKTOBERFEST on your calendar!

05-01-2011, 07:26 AM

---
For the rear spoiler, window rubbers, vinyl interior bits, etc. I use 303 Aerospace Protectant -
http://www.303products.com/
- it works just fine on the S4 rubberised wing.
It has no silicone, and provides UV protection too.
I spent a while looking for silicone-free UV resistant treatments for plastics and rubbers - the shortlist I had is these products (303 was the easiest to find locally).
Lexol Vinylex
Harley Polyguard
Meguairs #40
303 Aerospace

05-01-2011, 09:17 AM

---
Originally Posted by
bronto
Nice event! Looks like your fine OB is in good company. Need a Weissach there too, no doubt!


05-01-2011, 09:38 AM

---
Don't form all your 928 opinions on a Weissach edition, add 100 hp and some better condition and then you will start to see what driving a 928 can be. Some of us have driven 997's. Enjoy the experience.

05-01-2011, 11:04 AM

---
i really enjoy special edition cars and am not properly educated on the Weissach edition but would like to be. what was special about the Weissach edition as compared to the standard 928 (i know they seem to have special paint, anodized wheels, and luggage)? what was the reason for producing this special model? how many were produced and were they all a standard package or could they be individually optioned?

05-01-2011, 12:45 PM
Addict
Rennlist Member

Rennlist
Site Sponsor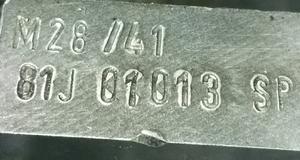 Join Date: Jan 2003
Location: Double Oak, TX
Posts: 15,622

---
The "Weissach" package was an appearance package only. It was a $5940 option and included special paint, two tone leather interior, special wheels and luggage set. First car in the US with standard front and rear spoilers – only available as part of the competition package until that time.
In theory only 205 were made available to the USA market only. We know that more were made than the 205. One of mine is #210 and I have seen #218. The "Jubilee" edition was made available to the ROW market with a run of 140 cars.
__________________
Does it have the "Do It Yourself" manual transmission, or the superior "Fully Equipped by Porsche" Automatic Transmission?
George Layton March 2014
928 Owners are ".....a secret sect of quietly assured Porsche pragmatists who in near anonymity appreciate the prodigious, easy going prowess of the 928."

05-01-2011, 05:57 PM
Cottage Industry Sponsor
Lifetime Rennlist
Member
Join Date: Oct 2001
Location: Silly Valley, CA
Posts: 25,223

---
Originally Posted by
bronto
I was there two weeks ago. They had a variety of interesting cars from a Ford Model A to a Mercedes SLS. Many historic Ferraris, but few Porsches.

05-01-2011, 06:47 PM
Addict
Lifetime Rennlist
Member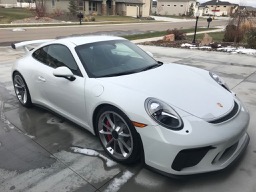 Join Date: Jun 2003
Location: Southwest Idaho
Posts: 10,456

---
I am just glad to be in your group. I have to admit, there is a soul in groups like this, thats missing in newer Porsche groups. Guys buy 997s with no interest in the history of the company, or understanding what this car is all about and by that I mean all Porsches.
As far as Santa Barbara goes I would love to, I would love to take both, the 928 and my 911. Maybe this is a time to bond with my 21 year old and let him drive the 911 over and I will follow him in the 928.
Lots of love and fun to come!!!