MM Replacement question

10-23-2007, 12:09 PM

MM Replacement question
---
I'm ready to replace MM, first set of Anchor were hydraulic and settled only after one year and 5000 miles. I now have solid MM, thanks to ROGER.

My question: do I need washers for spacers ?

10-23-2007, 06:13 PM

---
No oil pan gasket replacement, bottom is bone dry.
Roger didn't include washers but I have several from previous MM changeout, that were not used. I'm wondering if washers could have helped.

10-23-2007, 06:18 PM

---
Michael,

I can't see how the washers would help from keeping the mounts from collapsing but it might have given you little more time from the engine touching the crossmemeber.

Did you change the oil pan gasket duirnghte last MM job? If not, even if its' dry at the momnet, I would consider replacing it with the urathane(sp?) one.

10-23-2007, 07:54 PM

10-23-2007, 11:54 PM

---
Michael:

Watch out that the Anchor MM's have longer bolts than stock. the bolt may hit/touch the power steering line banjo bolt at the steering rack. Mine did and I think this has occured before with others. I used a Dremel to cut off about 3/8" of the MM bolt. Good luck.

10-24-2007, 06:21 AM
Addict
Rennlist Member

Rennlist
Site Sponsor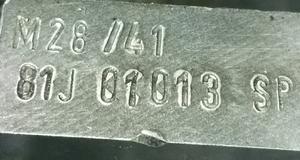 Join Date: Jan 2003
Location: Double Oak, TX
Posts: 15,663

---
The MM's I supply are solid and not Anchor.
The studs are shorter than the Anchor and do not seem to hit the steering rack allthough they are close.
I am considering cutting 2 or 3mm from the bottom stud and yo may want to do the same as it is easier to do with the MM in a vice than in the car.
I do not use any spacers at all as I see no reason for them.
If you want your engine to sit 1mm higher than use a 1mm spacer.
Roger
__________________
Does it have the "Do It Yourself" manual transmission, or the superior "Fully Equipped by Porsche" Automatic Transmission?
George Layton March 2014
928 Owners are ".....a secret sect of quietly assured Porsche pragmatists who in near anonymity appreciate the prodigious, easy going prowess of the 928."

10-29-2007, 11:46 AM

---
Had my vehicle on a hoist this weekend to look at my failing MM. Can somebody show me the correct orientation of MM. Is it possible to install them upside down? I've decided to include spacers to insure correct motor height, where show the spacers go?

10-29-2007, 01:14 PM

---
The metal (brassy looking) underside of the motor mounts have a small protrusion that has to fit into the hole in the retaining clamp. This helps with the proper orientation of the mount.

I'm not sure how it could be done upside down.

BTW, how are you lifting the engine? It doesn't need to be raised more than a couple of inches, as I recall. Nevertheless, be careful to detach the ground strap on the passenger's side of the engine.

10-29-2007, 02:34 PM

---
Yes it is possible to put them in upside down. But you have to work at it. Do a search on MMs and there should be a thread "Over my Head...." or something lke that. I used the Pirtle write up and mine went in without too much trouble. Working with the crossmember is more a matter of finese than brute force. I used ROG's MMs and no spacers.
Good luck

Jerome

11-25-2007, 06:20 PM

---
It's essentially impossible to get them in upside down, although I tried for many hours...

I bought mounts from Carl, and had to dremel a few mm off the bottom stud to get them through the mounting holes in the crossmember, but once they're lined up it'll all go together.
Here's my thread of idiocy, for posterity's sake:
https://rennlist.com/forums/showthre...t=over+my+head