Cam belt idler pulleys S4

06-17-2007, 05:42 PM
Addict
Rennlist Member
Join Date: Aug 2005
Location: South Africa
Posts: 105

Cam belt idler pulleys S4
---
Two questions,

1. What are the 2 small idler pulleys for, below the crank pulley ?

The outer surface of the one on the right is shiny, so has been in contact with the belt. The left one is covered in crud so seems to have no purpose.

It is strange to see these so close to the crank pulley, where there should be no movement of the cam belt.

The bearings are rough on the right idler, I removed the circlip but cannot get the idler wheel off.

2. How does one remove the crank cam gear ? Mine seems stuck on the crank & there is nowhere to get a puller onto it.

I want to change the crank oil seal & need to remove that gear.

06-17-2007, 06:31 PM

---
You have mild wear on the crank and oil pump sprockets (and probably the cam sprockets too), you should consider replacing them or drastically reducing your cam belt change interval (FWIW I have done the latter).

Removing the crank gear takes patience, I think it took me a couple of hours the first time.

06-17-2007, 06:52 PM
Addict
Rennlist Member
Join Date: Aug 2005
Location: South Africa
Posts: 105

---
Thanks Paul, how did you get the crank sprocket off ? Just pulling by finger power ? It would be much easier if the plastic shroud could be removed first.

The wear on the sprockets is on the outer flat surfaces, I was surprised to see this as the car has done 80k miles only, not high for a 928. I may just replace the crank sprocket if I can get it off. Cams are not bad at all.

06-17-2007, 07:10 PM
Addict
Rennlist Member
Join Date: Aug 2005
Location: South Africa
Posts: 105

---
Further to this, after looking at parts on the internet, I see that from 90 models on, the right lower roller is not used.

Does that mean that it can be safely removed ? What has changed on these cars that no longer require it ?

06-17-2007, 08:45 PM

---
Paul - I'm half way through with my TB R&R (waiting excitedly and patiently on my PorKensioner bracket) and have the front of the engine apart of course. My 85 doesn't have the right idler either.

That being said...... there's no telling how many times and who has been in there.

06-17-2007, 11:52 PM

---
All my gears were stuck too.
Spray some WD-40 on the shaft and let it sit for a while.
Then you could take an arm from a wheel puller and hook one end on the back of the gear behind the thrust washer (the washers will need to be replaced as it will bend) then tap the other end of arm with a small hammer. Tap it back and forth spraying WD as you go.
I replaced both thrust washers, main drive, oil pump gear (new one is steel) and cams.
Once the coating on the gears starts to go, I was told it goes quickly, and then the gears wear even faster.
You will feel better knowing they are all new, I did.
It has been 850 miles and all is well and running strong!


06-18-2007, 02:40 PM

---
My '88 has the double roller set up and was also a little stubborn to remove at first. The two pins it rides on get a bit corroded, so soak it good with PB Blaster, WD-40 or what have you and let it sit. Then try wiggling it back and forth to get it moving, prying lightly here and there as needed... it will come off.

My bearings were shot, so I pressed in new ones... An economical alternative to buying the whole new assy. Do a search and you will find lots of info on this.

Re: the crank gear... again, spray and soak that as well. Try wiggling it and tapping lightly with a mallet or what have you to get it freed up and moving. If it is stubborn it may need a little persuasion to get it going. A lightweight two jaw puller can be employed to get it moving, but don't crank on it or you will bend/booger up the inside pulley flange. It should come off without using a lot of force.

Regards,
Bill

06-18-2007, 06:38 PM
Addict
Rennlist Member
Join Date: Aug 2005
Location: South Africa
Posts: 105

---
Thanks for the help, I got the lower idler rollers off today & have ordered new bearings for them, luckily its a common size.

It is worth noting that the rubber seals on the bearings have really hardened with age, so I think it would be worth replacing even if they spin freely.

I have sprayed the crank pulley/sprocket with WD40 & will let it sit a few days.

The most wear on the pullies/sprockets is the crank and the oil pump, but as I said it's weird that most of the wear is on the outer raised blocks, not in the round grooves.

The cam sprockets have very mild pitting on the same outer surfaces.

06-18-2007, 07:29 PM

---
bang the crank sprocket gently with a hammer working around the sprocket until you can feel some very slight movement when you pull on it with your hands. Then get your hands on it and rock it from side to side also pulling & it will come off - eventually

Marton

06-19-2007, 02:38 PM

---
Dear Miles.
I had to remove my small idlers with hydraulic press, they were so tight. Had to turn several special tools not to destroy outer rings.
The bearings are standard SKF bearings, got two for under 10euros.
My cam pulley was stucked.... I used Dremel to cut a groove into the nose of the pulley and then used bearing remover tool to take it off. (heated slightly before tried to remove)
Like this:

06-20-2007, 06:14 PM
Addict
Rennlist Member
Join Date: Aug 2005
Location: South Africa
Posts: 105

---
Thanks Tommi, I finally got it all apart today.

The crank sprocket actually came off fairly easily once I got it moving by finger power only, then had to lever against rear retainer, I had it soaked in WD40 for a few days & applied a bit of heat.

The bottom idlers also came apart with a bit of persuasion, tapping the shaft through with a large punch & pressing out the bearings.

I am concerned about corrosion on the idlers so am going to have them zinc plated tomorrow, as it seems they don't always run on the belt.

Cam sprockets don't look too bad, so I will probably leave them alone.

06-20-2007, 08:49 PM
Petie3rd
Rennlist Member
This Post Sponsored by:
Dow Corning« & DeoxIT«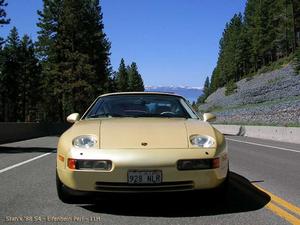 Join Date: May 2004
Location: Philly PA
Posts: 22,609

---
the zinc coating will not really help here as it will make it harder and possibly deform the outer part of the idler when you press in the new bearings, plus once the belt starts running on it the coating will wear off , , I would recommend that you clean things up, and put it back together and if you dont already have try installing the belly pan this will keep the motor and associated parts a lot cleaner and thus they will last longer, Stan

06-20-2007, 08:56 PM

---
scot and I left off the idler rollers. both of his were in very bad shape, mostly because the belt never touches them, and all the crud they accumulate. it was a Bxxtch to get off, even on an engine stand. with the new engine, the posts were pretty bad, so we just left it off.
mk