Fat Bully's thread

12-17-2004, 12:58 PM

---
I was thing of doint that Heinrich, but a setup like that will be too heavy, thick fibreblass and lots of bracing to make it rigid enough to lift without cracking the gell coat. Weight is bad... lol... So i opted for seperate thinner and lighter panels.

12-17-2004, 03:47 PM
Official Bay Area Patriot
Fuse 24 Assassin
Rennlist Member

---
you know, I REALLY like that front end!!!
I can't wait to see what she looks like finished. BTW, have you considered a patent on your design yet????

12-17-2004, 04:12 PM

---
What about making the air intake "mouth" wider, and the brake ducts smaller?

In one respect, I see the way the lines of the edges of the fog light housings, and the lines of the inatke line up...
But I also think that sometimes having it all line up like that makes it look too tall.
The wider you make the mouth look, the wider it makes the car look.
A really long, wide, exagerated opening, will emphasize the width of the car.
The small mouth makes it look less imposing.

But all those considerations are purely aesthetic.

I'm sure that if you race the car, the intake will be adequate,
and the increased brake cooling will be an enjoyable benefit.

12-22-2004, 02:12 PM

---
Thanks for the compliments and advice fellas...
As you can see from the pics below, we managed to get quite a bit of work done since thursday last week, the nose job in particular..
Today was the last day we worked on the car for this year, so we decided to spray some primer to get a "feel" for the look. We're by no means ready to pull molds yet and some areas still need a lot of work, but we're slowly but surely making progress.
As always... your comments and questions are welcome...
(Work on Fat Bully will resume again during the first week of January 2005.)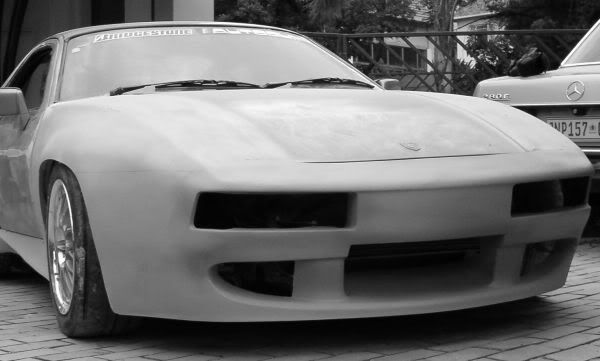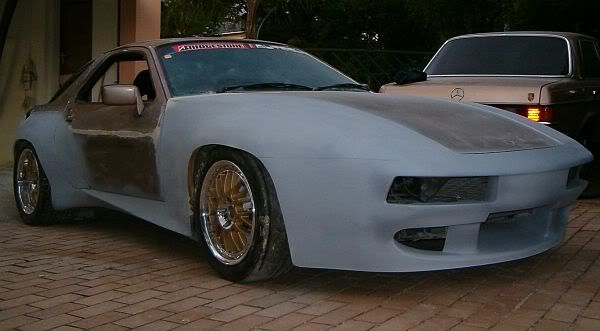 12-22-2004, 02:20 PM

---
It sounds as if you plan to market this body kit in the future. If so, will it be available in the U.S. and again if so, what kind on preliminary dollar figures are you looking at? (U.S. dollars) The look is very impressive and differnet from the same old styles out there. Any weight savings/gain for the finished product? Good Job!

12-22-2004, 11:36 PM

---
Pierre I owned and loved the sister to your 123 Benz. Aunbelievable cars, built to highest standards. Not bad for battering your way through a mob or carjacking either. I love the 928's lines, personally would smooth the front skirts closer to stock as the rest of the car oozes its lines together....

12-23-2004, 01:51 AM
Super User
Join Date: Sep 2004
Location: Not close enough to VIR.
Posts: 9,429

---
I love that last picture! It looks great. I think you should make more of a wing/spoiler shape out of the bottom of the front. I also think you should consider Heinrich's 1-piece idea. With Kevlar or carbon fiber it would be lighter and stronger than what you're building with regular fiberglass.

How are you going to do the door panels?

01-18-2005, 12:39 PM

---
Okay I took these pics today. We're busy with finishing touches (before molding) on the righthand side of the car. If you wanna do this right it's 20 percent shaping and 80 percent detailing. Fit & Finish is important to me cause i want the thing to look nice.
We are 2 months behind schedule and still far away (hoping to have it finished End February) from the finished product though. This is only the front, righthand side and back of the car. We haven't even made molds yet and the lefthand side needs to be perfectly symetrical (sp?). The car has to look like the finished product before we start pulling molds and strip everything down again.
You can see i decided to keep the sharp line on the rocker panel, but we have changed the line little to flow better. I think it will fit in nice once the whole car is painted (black) and the front splitter and rear diffuser is in place.
Anyway here are the pics. Keep in mind the cars sits 20mm higher in these pics. Its been jacked up a few times and the suspension must still settle...