GTS Door Sill Upgrade

09-10-2004, 12:55 AM
User
Join Date: Sep 2002
Location: Bucharest, Romania
Posts: 1,683
Received 0 Likes on 0 Posts

GTS Door Sill Upgrade
---
Hi Gang,
Just wanted to share my experience with my easy to install GTS upgrade. The complete procedure for both sides took about 2 hours and looks (I think) pretty cool.
I noticed at the Wichita KS convention that some owners painted the background of the clear plastic in the door sill. The idea is pretty good but I wanted to "personalize" my car a little bit beyond paint.
I found the lumi-line homepage and ordered 2 EL 12 Volt light strips (40 cm long by 3 cm wide) in blue/green color. Total cost $25 incl. shipping.
1. These are the 2 EL light strips with their AC converters
2. Door sill removed, I actually shortened the light strip about 1 inch to make it fit between the 2 front clips nearby the clear plastic "GTS" letters. Mazke sure that you seal the end that you cut to prevent moisture from entering the light strip! After I was sure that the area behind the GTS letters was completely covered, I glued it into position (comes with self-adhesive tape on the back).
3. Routed the really thin wires and installed the door sill again (after cleaning).
That's how it looks without being connected to the interior lights.
4. Routed the wires inside the car and connected them to the light that sits below the glove box. It uses very little energy and I think it is a really cool and stylish upgrade to the otherwise (I think) plastic door sills. Lumi-line sells the light strips in differnet colors and I'm NOTHING to do with the company. Just wanted to share my experience!
Sorry the picture is slightly out of focus but I was to lazy to get the tripod out!
---
Last edited by Schocki; 08-09-2009 at

11:55 AM

. Reason: Picture update

09-10-2004, 02:09 AM
Addict
Rennlist Member

Join Date: Mar 2003
Location: County Wellington, Ontario, Canada
Posts: 1,270
Likes: 0
Received 0 Likes on 0 Posts

---
Wow Schocki,

Looks cool, and a very original idea. Mods like this are fun because they are inexpensive, non destructive, and you can just turn it off if you wish.

My clear 928 sill plates are pretty scratched up. If I can get a new set, I will give your idea a shot.

Thanks for sharing,
Mike

09-10-2004, 11:40 AM
The Lady's Man
Rennlist Member
Join Date: Sep 2003
Location: south O.C. california
Posts: 10,444
Likes: 0
Received 0 Likes on 0 Posts

---
We had been tossing around the idea of upgrading this on Socal and someone mentioned lights but no one knew of these babies. That is the way it should have been done in the first place. Did you hook electric into the door plunger? Could you do some electrical detailing for us guys who dont know how to do electrical?

09-10-2004, 12:28 PM
Addict
Rennlist Member

Rennlist
Site Sponsor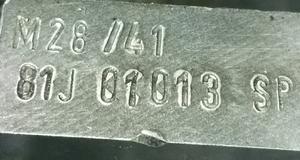 Join Date: Jan 2003
Location: Double Oak, TX
Posts: 15,720
Likes: 0

---
Nice one Michael!
Your the man!
Got to do mine in red.
Best,
Roger
__________________
Does it have the "Do It Yourself" manual transmission, or the superior "Fully Equipped by Porsche" Automatic Transmission?
George Layton March 2014
928 Owners are ".....a secret sect of quietly assured Porsche pragmatists who in near anonymity appreciate the prodigious, easy going prowess of the 928."