Just saying hello -- '88 S4 Auto

04-10-2019, 06:45 PM
Addict
Rennlist Member
Join Date: Apr 2018
Location: Charlestown, IN
Posts: 3

Just saying hello -- '88 S4 Auto
---
I've been lurking for about a year, and just became a paid member today. I figured I should introduce myself and my car.
I wasn't a Porsche guy until I came across an '88 S4 for sale in my hometown. It's a driver for sure, but it's relatively unmolested from it's stock condition. The driver's side, rear bumper and both doors have been resprayed, and none too well. The picture was taken shortly after I bought the car.
The skinny:
1988 928S 4
Automatic
Guards Red
Linen/Black interior
Only option of note is the absence of rub strips
Odometer is non-operational and shows just shy of 74,000 miles
Outside of immediately replacing the water pump and timing belt, and then replacing the fuel pump shortly thereafter, I haven't done much to the car in the year I've had it.
I've just recently purchased PorKen's lift bars and will be getting to work this summer. Torque tube is noisy, and everything needs a refresh. Should be a lot of fun.
Ryan Ingram

04-10-2019, 08:49 PM

---
Welcome.

Check out the Super Bearings from Black Sea. Top of the line replacements for the TT.

Not cheap (big surprise on this car), but much, much better than the originals.

Odo is likely the gear. Dwayne has a really good write up on it. Roger has the gear.

Since it's an auto, I hope you've checked the flex plate and crank end play.
Having the TT out for bearing replacement is a good time to add one of the clamps to prevent shaft migration, flex plate loading and thrust bearing failure (destroying the engine).

If you've been lurking and reading, none of this should be new or a surprise, but better to tell you stuff you already know than have you miss something serious.

04-11-2019, 12:30 AM

---
Congrats. Nice. I'm a newbie since I got my 88 more 1.5 months ago. You will learn so much on here (a wealth of knowledge) that will save you a lot of money as a DIYer.
I can't wait when you ask yourself "who is Roger?" How much for wires? Please let me be in tolerance for the flex plate, Fuel line replacement. ..just to name a few.

04-11-2019, 05:23 PM
Addict
Rennlist Member
Join Date: Apr 2018
Location: Charlestown, IN
Posts: 3

---
Thanks for the welcome, fellas. This forum and the community that keeps it thriving are the reasons I had no doubts about undertaking the project.

Flex plate loading was checked before the water pump and belt were serviced. I had the work done at an independent Porsche shop in Louisville, KY.
I inquired with Constantine at Black Sea this past fall about sourcing the Super Clamp and parts to rebuild the torque tube, but he told me to wait until I was able to verify my driveshaft type. I may let him do the rebuild because his work looks spectacular and everyone here raves about his products.
I'll probably start with replacing the odometer gear. All of Dwayne's write-ups are fantastic, and it'll be something easy enough for me to get my feet wet before I get under the hood.

04-11-2019, 07:58 PM
Petie3rd
Rennlist Member
This Post Sponsored by:
Dow Corning« & DeoxIT«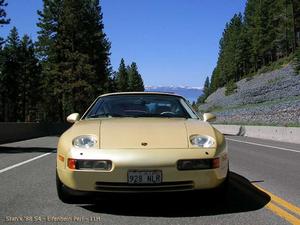 Join Date: May 2004
Location: Philly PA
Posts: 22,613

---
Welcome to the shark tank,
The only thing i can add is to Disconnect the battery before you take apart the pod
---
Last edited by Mrmerlin; 04-11-2019 at

11:16 PM

.