M061 Headlight dimmer

01-13-2019, 07:32 AM
User
Join Date: May 2015
Location: Belgium
Posts: 84

M061 Headlight dimmer
---
Hi there,
Attached jpg is part of the '89 schematics.
In column H one can see a module named "(M061) Headlight dimmer".
What is that module actually doing?
M061 is option code for UK cars.
So when not a UK car, how are the pins bridged together?
Or are they all five just "open", connected to nothing.
Wiring goes to a 5 pin socket but noting is plugged in that socket, is that it?
Thanks for your inputs!
Regards

01-13-2019, 12:17 PM
Addict
Rennlist Member

Rennlist
Site Sponsor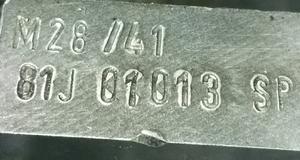 Join Date: Jan 2003
Location: Double Oak, TX
Posts: 15,501

---
IIRC the UK cars had a "required" dim/dip feature. Headlights up but a smaller bulb used for low light situations. Need to go look at my 88 UK car.
__________________
Does it have the "Do It Yourself" manual transmission, or the superior "Fully Equipped by Porsche" Automatic Transmission?
George Layton March 2014
928 Owners are ".....a secret sect of quietly assured Porsche pragmatists who in near anonymity appreciate the prodigious, easy going prowess of the 928."

01-13-2019, 12:23 PM
User
Join Date: May 2015
Location: Belgium
Posts: 84

---
Thanks Roger!

May I add a second question?
Where is relay XXII "Backup lights" powered from in automatic cars?
When I follow terminal 86 of this relay I end up at the instrument cluster connector 1 pin 4.
Is that pin really powering relay XXII… … …

Current flow diagram used 97-311 & 97-317, '89 car.