Interior lights shorting out

11-30-2018, 09:00 PM

---
I've pulled out the interior panel in the hatch looking for trapped wires and all OK. Change the fuse and put the light fixture back in place it will work for a few times then short out. I took out the fixture and tapped up the connectors hoping to isolate the issue. Now the rest will flicker and short out as well.

12-01-2018, 02:10 PM
Petie3rd
Rennlist Member
This Post Sponsored by:
Dow Corning« & DeoxIT«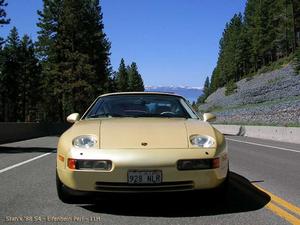 Join Date: May 2004
Location: Philly PA
Posts: 22,570

---
dont keep testing this as your getting closer to a meltdown,
the lights are not fused where they need to be, so you can smoke the harness from the CE panel to the lamp location,
then it requires rear quarter removal to replace the harness as well as the hatch and the roof.

best thing to do is remove the light power plug from the CE panel ,
and then test the power wire to ground with a multi meter set to continuity,
Test all of the lamps.
NOTE all of the lamps on this string must be unplugged, before you perform this test, as well as the light over the mirror.
wiggle the wire harness till you hear it beep,
thats where the power wire is shorting,
might be in the door harness bundle so a few door openings might find this, or the roof or the hatch
NOTE its a great idea to replace every one of these lamps as they are long past the duty cycle
The VW lampos are a nice upgrade and the only one that cant be replaced by the VW is the rear edge of the hatch

12-05-2018, 03:08 AM
Addict
Rennlist Member
Join Date: May 2012
Location: Thousand Oaks California
Posts: 3,205

---
I replaced mine with the VW unit and never looked back. Just be sure to get them with the pigtails from the car.

These old lamps love to short out to the roof and cause mayhem, the newer VW units are sealed and cannot short directly to the car even if they wanted to.