89 FUEL PUMP RELAY QUESTION

11-24-2018, 03:11 PM

89 FUEL PUMP RELAY QUESTION
---
89 will drive fine, then a no start intermittently.
Fuel pump not getting power.
Fuse and relay changed.
Will start with jumper wire in the panel, no relay.
I do not see the tac moving when cranking.
Can a faulty CPS cause no power to the fuel pump relay?-can car run with faulty CPS, and fuel pump jumped?

Do all 89's have factory alarm system?
Is that a different unit from earlier models?
Location under radio?- wanted to bypass it, to eliminate that possibility.



11-24-2018, 08:47 PM

---
intake refresh did not happen yet-
car was running well.
biggest improvement came from relay bypass for exhaust manifold temperature system,

I drove it all day yesterday-stopping and starting-all good-
today I moved it out of my driveway, later I when went to move it back-no start.

the other day I drove it to work no problem, then no start at the end of day.
the next morning it started.

11-25-2018, 12:59 AM

---
This is *exactly* what it does. Except that what it does is not tell the LH to turn-on the fuel pump relay.
It also results in the EZK not initiating spark.
-can car run with faulty CPS, and fuel pump jumped?
No.
You bypassed the system (IMS) meant to prevent unburned fuel in vast quantities being passed out the exhaust.
In my experience, an IMS issue 4 times out of 5 is telling you there's something wrong with the motor and is not a result of the EGTs or IMS relay. (Full disclosure: 5 times is, IIRC, the number of times I've had an IMS issue with a 928 but I work on way more '89+ than I do '87-88.)
When it doesn't start do you have spark and no fuel? Or just no spark? (Since it isn't possible to have fuel along with injector pulses and no spark.)
Last, I agree totally with Stan: it's time for the intake refresh. Post pictures if you have any doubt that this isn't true.

11-25-2018, 08:47 AM
Petie3rd
Rennlist Member
This Post Sponsored by:
Dow Corning« & DeoxIT«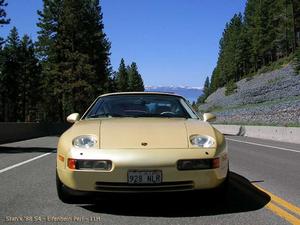 Join Date: May 2004
Location: Philly PA
Posts: 22,616

---
NOTE your picture will tell part of the story of the engine bays condition and this will also be indicative of the rest of the machines condition.
NOTE at this time an intake refresh can and should include having the LH computer rebuilt as well as a fresh MAF and new O2 sensor If these parts are original.

Plus all of the other electrical systems under the intake replaced.

As others have said in diagnosing issues,
once a machine starts not working as it should then jumpers are being installed to keep it working,
this is your machine telling you its time for major repair to happen,
This so that the engine will continue to operate at top levels of performance.

11-25-2018, 10:35 AM
Addict
Rennlist Member
Join Date: May 2002
Location: Roswell, GA
Posts: 5,090

---
You may have more than one issue. As for the non start the suggestions above should be followed. Greg Brown may differ, but your symptoms lead me to a failing LH computer. If possible find another 87+ 928 and place your LH in it and see if the failure follows the LH.

As for the IMS exhaust manifold temperature system bypass, the first place to look for issues are the spark plug leads. Old leads can contribute to misfires and unburnt fuel entering the exhaust system. Check every lead as it exits the distributor for broken insulation or separation for the distributor connector. Pull every plug and note their condition. A spark plug that is dark or black of smells of fuel suggests it is not firing all the time.

Good luck.

11-25-2018, 11:22 AM

12-05-2018, 07:53 PM

---
89 S4 intermittent no start-update
I would drive apx 12 miles to work, stop for coffee, then go down the block to office.(7-11)
Car would start fine both times.
Coming out of the office several times, and once after putting the car in the street for a few hours, the car would crank but not start.
I mistakenly thought the fuel pump was not energizing.
This lead me on a path that included relays, fuses, removing an old aftermarket alarm system and bypassing the factory alarm.
After I thought I solved the issue, it happened again.
I then realized that the cranking and no start was because the car was flooded.
I removed the fuel pump fuse, cranked, and it eventually started.
After it died because of the lack of fuel pump, I put the fuse back in and all good.
A more experienced 928 mechanic suggested a leaking injector could be putting fuel in the cylinder after it is shut, causing the flooding at the next start.

I

12-06-2018, 02:46 PM

---
if this is your main transportation then:

take to a good 928 mechanic and get it fixed...

if this is an occaisional vehicle then swap out the lh and continue trouble shooting...it is fun I know !!!!