another Idle question

02-11-2018, 09:38 AM

another Idle question
---
I have searched and read all threads i could find, but honestly the more i read the more confused my feeble mind became.

So its time to get back on the 928 projects, i am fixing the hvc fan, new amp, abs wiring, etc....

The single biggest issue i have been having is a bouncing IDLE. it started two years ago and has gotten worse. I am hoping for guidance as to what you guys think is going on.

when i start the car and its cold it idles perfectly. once it warms it usually, bit not always starts surging idle, the idle will go up, then down. the surges get bigger to the point where when the idle drops it cuts off.

This wil also happen when i stopping/sitting at a light or stop sign.

It has become dangerous as it will happen when slowing and the car has dies while slowing. when this happens i loose power brakes and steering...

I thought that it was the O2 as it only happened when warm, but i got one from roger and swapped it out with NO difference.

ISV, MAF or LH?

02-11-2018, 09:42 AM
Petie3rd
Rennlist Member
This Post Sponsored by:
Dow Corning® & DeoxIT®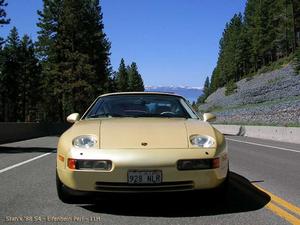 Join Date: May 2004
Location: Philly PA
Posts: 21,734

---
has the intake refresh ever been done? if so did you replace the ICV and rebuild the MAF

02-11-2018, 10:34 AM

02-12-2018, 07:59 AM

---
refresh was done about 8 years ago. isv was replaced. according to paperwork,
ill try the wd40 and see if it helps.

dont think maf was ever done.

also i have porken chip if it matters, but it was doing the same beforehand

02-12-2018, 09:44 AM

---
Scan your LH . Had same symptoms. In my case had 2 codes 12 and 22 if I remember correctly(ISV)
Turned out to be faulty LH

02-13-2018, 05:58 PM

---
how did you scan yours? The 87 had a diagnostic plug, but no way to use it.

02-13-2018, 07:55 PM

---
idle switch

When was the last time you tested it?

02-13-2018, 08:26 PM
Supercharged
Rennlist Member
Join Date: May 2002
Location: Back in Michigan - Full time!
Posts: 18,854

---
Smart money is on ISV, or some kind of leak that the ISV is fighting - hence the bouncing idle. But the idle switch is stupid easy to check/test, so do that first, but my experience is that it just doesn't want to idle vs. hunting - but worth checking. My guess is bad/sticky ISV. Unfortunately, it's a PITA to get at. Good luck.

02-14-2018, 09:48 AM

---
idle switch is clicking, checked that a few times. have not tested the electrical function of it, just the audible click.

So just for discussion sake, if there were an air leak the isv were fighting, would that not affect it at cold idle? the surging does not start until it idles for a little while first.

I'm swamped at work so i cant mess with the ISV until sunday... Saturday will working on my wifes CayenneS trying to troubleshoot a p0431 code.....

will follow up with my findings.

02-14-2018, 11:48 AM

---
You can test function of the ISV from the LH's pins (along with the idle switch, temp-II etc.)

Directions are in my inspection guide; link in my signature.


02-14-2018, 04:30 PM

---
wow what a great guide..... someone put a lot of work into that.

02-14-2018, 06:29 PM