+15mm Spacer Hardware?

11-25-2010, 07:42 PM

+15mm Spacer Hardware?
---
I just bought a used set of TechArt 15mm spacers (fig. 1) and can't seem to figure out what i need or where i can find the required hardware to make these work on my 996 with my HRE wheels (fig. 2). Where can i find bolts to hold the spacers to the hubs and mount flush so the wheels will mount flush with the spacer? Thanks!
fig. 1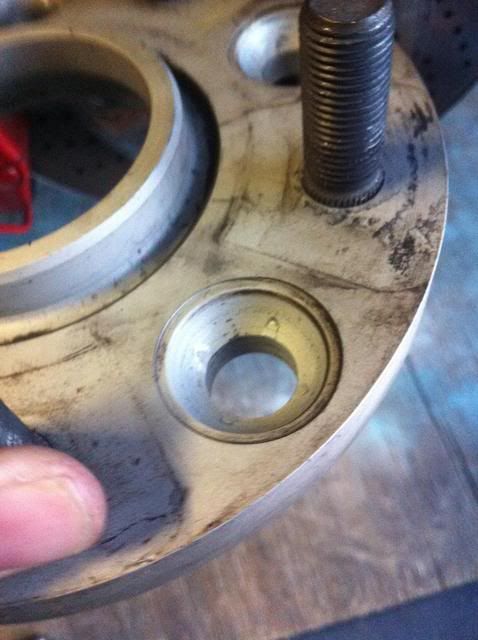 fig. 2

11-26-2010, 03:32 AM
Addict
Rennlist Member
Join Date: Jan 2006
Location: Newbury Park, CA
Posts: 940

---
Many wheels actually a cut out between the lug areas that would allow the nut holding the bolt on spacer to sit. Since your wheel does not have that area, you need a 15mm spacer that just slides over the studs. On a spacer that large you have to put longer studs in. If you use a 4 - 6 mm slide on spacer you can get away with the factory length stud. Jim

11-26-2010, 06:17 PM

---
Nothing to do with wheels you are missing the spacers kit short bolts that mount the spacers flash on the hubs and also missing the nuts that hold the wheels on the spacers studs.


With the money needed to buy them buy a new spacer kit.

11-26-2010, 09:02 PM
User
Join Date: Sep 2009
Location: Lakeland, Florida
Posts: 76

---
Quote: "I think my best option is to do a wheel bolt to extended stud conversion, and buy some new spacers that do not have built in studs".

If you are interested in selling these spacers, let me know. I might be able to use them on my 951 which uses studs. Thanks.

Pablo

11-29-2010, 12:13 PM

---
If it's just 15mm, take the studs pressed into the spacers out and buy longer bolts. That way the longer bolts just go through all of it and screw in. You have one point of connection instead of two. I have the longer bolts for $6 each if you need them.