2.5 plug on manual transmission?

05-30-2019, 07:28 AM
Addict
Rennlist Member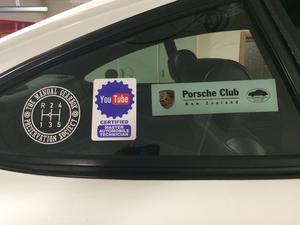 2.5 plug on manual transmission?
---
Just doing my first transmission oil change on my new to me '99 2.5 manual.

First question. I mistakenly thought this torx headed bolt was the fill plug. I now know it's not. However what is this plug for?

Second question. I see a few posts about a special oil for the 2.5 5 speed. Bentley just has Hypojd gear oil SAE 75w90 in its description. What is the special oil?

05-30-2019, 04:00 PM
Addict
Rennlist Member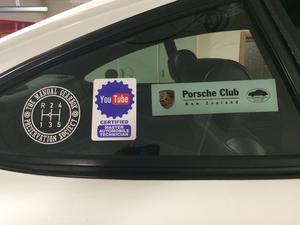 ---
Originally Posted by Quadcammer
I believe thats a shift fork/selector shaft retaining bolt.

I've used both Mobil Delvac 75w-90 and the Porsche OE gear oil with similar results
Thanks for the response. The various books and DIY threads don't cover that detail. I became suspicious when I realised I was looking for a 17mm Hex bolt, which this wasn't and it looked impossible to fill the transmission through this one

Hopefully no harm done as it has no room to adjust anything and I haven't selected gears etc.

05-31-2019, 07:50 AM
Addict
Rennlist Member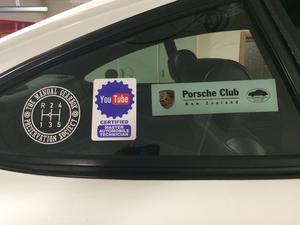 ---
I refitted that bolt, found the correct fill bolt/plug (driver side on LHD cars) and put 2.25 litres of 75w/90 gear oil in. I used a bent paper clip to measure the oil level. All good.

06-01-2019, 02:45 PM
Addict
Rennlist Member
Join Date: Dec 2004
Location: Stow, MA, USA
Posts: 1,020
Likes: 0

---
Well done. Porsche did originally spec an unusual oil for the five-speed G86, but has since superseded that recommendation to the same 75W90 that they recommend for most if not all transmissions. Your five-speed has the same VW 012 series synchros as used in the 968 and a bunch of Audi gearboxes, so nothing particularly special in that department that would motivate something different.

I assume you were able to remove the 16 mm XZN tamper-proof drain plug without difficulty. It can be replaced with the same 24 mm taper plug, not tamper proof, as used in the fill bore to simplify life in the future. Cheers,

06-01-2019, 03:55 PM
Addict
Rennlist Member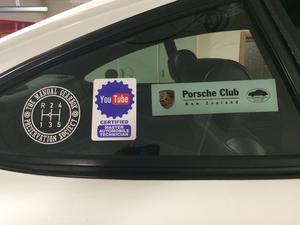 ---
I bought the special tool so didn't feel ready to make that redundant

the drain plug didn't give me any issues although I sweated with the fill plug as I had drained the oil first after undoing the wrong one. It was on a lot tighter than spec. Not much in the oil so it must have been done sometime in the last 20 years.
The test drive was uneventful. It's a really nice shifting box. Next up is the power steering pump pulley. That area was very hot at my last track day.

06-27-2019, 03:12 AM
User
Join Date: Sep 2004
Location: NorCal
Posts: 389
Likes: 0

---
I usually wrap one end of the paperclip around a washer with a larger diameter than the fill plug hole just in case it slips out of my hand it won't be able to fall into the gearbox.

06-27-2019, 08:40 AM
User
Join Date: Sep 2018
Posts: 62
Likes: 0
Received 0 Likes on 0 Posts