AUTO-BLiP - Blips e-Throttle on DOWNSHIFT!

07-01-2018, 08:58 PM
Basic Sponsor
Rennlist
Site Sponsor


AUTO-BLiP - Blips e-Throttle on DOWNSHIFT!
---
Did you guys see this?
https://rennlist.com/forums/parts-ma...downshift.html
AUTO-BLiP
At what point did Porsche switch from cable to e-Throttle by wire on the Boxster accelerator?
__________________
Dave
Rennkit
[email protected]
http://rennkit.com/
eRam Kit™ for 996/997 Turbo & Carrera GT - No More Hydraulics!™
Bluetooth Retrofit Kit™ for pre-2003 Radios
987 Cayman Wing Extender
AUTO-BLiP
Function F1RST – Shift-Right Kit and Shift *****
Girodisc - 2-pc Rotors
OS Giken - LSD
Phenix Engineering – RWD Conversion Kit
Zunsport - Grills
Clima-Repair - Switches

07-05-2019, 01:49 PM

---
Sorry to pop up this old post but I thought it was better than restart another.
My car is gt3 mk2 3.9 liter, race clutch, close ratio gearbox and plenty of other mods, have it for a month (mods are not from me)
Just received autoblip today :-))))
On my car the clutch switch is not there ?! Instead i believe i can only see the one part of the switch hanging out.
How is this possible ? I have no issue on my car, so what does this switch do ?
Is it possible to get the other part at my Porsche Dealer ?
Attached picture show it best

07-06-2019, 12:18 PM
User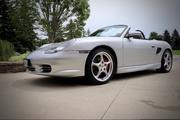 Join Date: Oct 2014
Location: Winnipeg, Manitoba, Canada
Posts: 193
Likes: 0
Received 0 Likes on 0 Posts

---
Depending on whether you have cruise control there are 2 switches on the clutch. One is the cruise disengage switch, the other is the ignition interlock so the car can't be started without depressing the clutch pedal. The ignition interlock sometimes fails and the car won't start. This happened to me and I simply jumped the leads going to the switch rather than contort myself and try replacing the switch. This does allow the car to start without depressing the clutch but in no way affects anything else. I may attempt to replace one day if my 65 year old body is up to it. Perhaps this is what was done on this car. Can you start the car without depressing the clutch (make sure you are in neutral!) BTW, I don't think the European cars have the ignition interlock switch though I may be wrong.

One question....... why add the 'auto blip'? Part of my joy of driving is actually 'heel toeing' to rev match when down shifting. I drove a friends 370Z that has auto blip and I found myself doing the blip manually as well. I just could't stop myself! Can't teach an old dog new tricks I guess.

07-06-2019, 12:54 PM

---
Thank you very much it is a lot clearer now.
If the cruise control is on the steering wheel it's why some previous owner did this because it's a race style one (i think cup car).
I am going to buy the part.
About heel and toe, I knew it will come to this 😂😂.
I can say i am not a bad driver
- very decent lap time with my other prototype car, 450kg, bike engine
- no problem trail braking and others driving techniques (steer against,...)
I practise in my daily car and have some average to good result.
I wish I was able to do it correctly on track or on sport street drive with the GT3 but too hard and too fast for me.
I am very very tall so it's alreday a tight fit in the gt3 to be confortable to do it and I lack flexibility in my whole body (don't ask me to touch my feet without bending my knees &#128517

therefore in my ankle too.
Finally I brake hard and late, can't do it so good if I have to heel and toe (not good enough to do both perfectly)
I made myself a resaon, unfortunately this is not for me.
Sorry if my english is bad