Future Value 997.1 GT3 RS vs 991 GT2 RS

07-12-2019, 05:14 PM
User
Join Date: Jul 2019
Posts: 5
Likes: 0
Received 0 Likes on 0 Posts

---
Been a fan of P cars since a young kid.. It's sad to see all of the appreciation/depreciation talk keeping cars garaged.
I'm specifically looking for a 997.1 GT3 since the prices have gotten so low, so now they're attainable for my budget.

This new crop of IG Porsche fanatics could care less about "Last of Mezger" engines.. They probably have no clue who he was or his significance to GT cars.
They purely want the latest and greatest for likes and doing donuts on ACH every weekend, for youtube content.

I do however think the GT2RS car with extremely low miles will fetch a pretty penny in the future. Kind of hard to gauge because I live in LA and I see them driven around normally so the "Allure" of it has kind of wore off IMHO.

I've seen (1) McLaren F1 in my lifetime in LA and I've seen (2) GT2RS cars within a week..

07-14-2019, 01:03 PM
User
Join Date: Mar 2017
Location: The Dump
Posts: 89
Likes: 0

---
Originally Posted by
mooty
the term "depreciation" is thrown around randomly like IRR.
most ppl simply do not understand it.
depreciation is never linear, constant; thus it's linked to "time"
you didn't now discuss your time horizon, your used of the car (mileage matters)...
are u holding it for 10, 15, 35 years?
will u b around to enjoy the appreciation or suffer from the depreciation?
I know, right?! It's really sad man.
-buy 997rs
- drive it for 20 years/100k miles - pure joy - value: 90k
-garage it for 20 years/5k miles - die anyways - value: ****ty step kids split the Barrett Jackson profits of 250k cuz ur ****ing dead

07-15-2019, 10:49 PM
GT3 player par excellence
Lifetime Rennlist
Member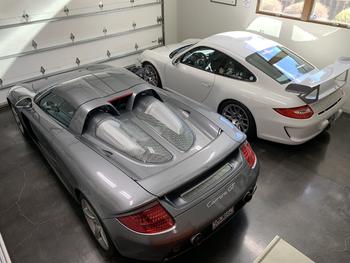 Join Date: Apr 2002
Location: san francisco
Posts: 38,782
Likes: 0

---
bc 997 is not a car to drive. it's a toy to play with.
and many ppl are too lazy to play with toy, they just want a car that is COOL for now.
I love my 991RS/GT3 as well. but 997 is under the skin kind of love
you are grimmer than i
but yes, that's the point

07-19-2019, 01:25 AM
New User
Join Date: Jul 2019
Posts: 2
Likes: 0
Received 0 Likes on 0 Posts

---


There is a clean white 2007 with almost 50k miles local to me. It's stock and seller is second owner. No overrevs.

Thoughts of a reasonable target purchase price?

Thanks