with the money, which one would you buy a nissan gtr or 997.2?

10-15-2013, 03:19 PM
Super User

---
i laughed like crazy read this brother.

... i can imagine all the new GTR commercials....



10-15-2013, 04:49 PM
Super User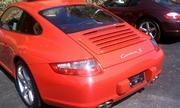 Join Date: Feb 2011
Location: Austin, TX
Posts: 3,024
Likes: 0
Received 0 Likes on 0 Posts

---
Hmmm "super car" like maintenance cost for a Nissan... Not to mention AWD and a slush box. I'd have to go for the 997.2 C2S or better yet a GT3/GTS. Plus my wife would likely find herself another date if I tried to take her out on the town in a "Nissan" even if it's a GTR.

10-15-2013, 05:41 PM

---
Originally Posted by
fskof
I have looked at and driven the gtr. Here is my opinion:

If you want a fast car that drives you... get the gtr
If you like cheap plastic interior's get the gtr
If you love to play video games get the gtr
If you like to impress 15 year old boys get the gtr
BUT
If you want to "Drive" the car get the 911
If you like quality interior's get the 911
If you want "feedback" from what the car is doing get the 911
If you enjoy these 3 senses, The SMELL of the leather as you enter the vehicle, the SOUND of the engine as you start it or accelerate, the FEEL of the steering wheel in your hands and the feel of the brake pedal on your foot as you drive, or the feel of the weight transfer get the 911
If you want a sport car but still would like to take a classy woman out for a nice dinner get the 911
If you want a car with the most comfortable seats of any car where you can drive for hrs get the 911
If you like to join a club and meet some of the nicest people buy a 911 and join the Porsche club in your region!
Nail on the head! The GTR is a good car. I personally liked it because it made me look like a much better driver than I really am. That being said the car drives you. all you do is mash the pedal and point in the desired direction.
The GTR sucked a$$ in terms of interior space. At 6'5" it was absolutely cramped. Oh and plastic. Lots and lots of plastic combined with a playstation feel. My overall impression is that its to gimmicky.
Sitting in a 997 is quite simply a different feel. Everything about it just feels so right. You feel the road in your feet and your hands. I will always have a porsche in my stable. Its a real drivers car. The reliability is a huge plus. And its comfortable.
IMHO if you have a 911 already then adding a GTR makes a lot of sense. But otherwise NO WAY!

10-15-2013, 05:58 PM
Super User

---
Obviously, very strong opinions all around... and mostly in favor of Porsche and that's no surprise. I am on the Porsche camp too... BUT, honestly, the only way to tell is for yourself to go and drive one! See how YOU like it, maybe the tech gizmos appeal to you, or maybe you do like how technologically advanced the car is, or the looks, etc...

Only you could answer this. I gotto admit, it has a very high performance per dollar spent value... and that might be the bottom line for some.

10-15-2013, 07:27 PM
Addict
Rennlist Member
Join Date: Apr 2010
Posts: 2,151
Likes: 0
Received 0 Likes on 0 Posts

---
Alex, your absolutely right on your advice. But we all know why we are in a porsche forum and finding out how our brothers think of the gtr, which we can admit is a worthy adversary, always helps in reinforcing why we made our decision.

10-15-2013, 07:34 PM
Super User

---

10-15-2013, 10:38 PM
Addict
Rennlist Member
Join Date: Apr 2009
Location: The Arctic Cold
Posts: 5,721
Likes: 0
Received 0 Likes on 0 Posts

---
forgot about interior space, GTR is insanely cramped and back seat more useless than porsche.

but it makes you a race car driver.. I could literally go ***** to the wall in the rain and never had one incident.. it just grabs like no other with all the computer stuff going on...

10-16-2013, 12:17 AM

10-18-2013, 02:04 PM
User
Join Date: Nov 2012
Location: Boston, MA
Posts: 254
Likes: 0

---
The November issue of the UK magazine "Car" has a head-to-head between the latest Nissan GT-R and 911 Turbo S. If you have an iPad you can buy a copy from the Newstand app - search for "car magazine app", the app you want should the first hit, publisher "Bauer Media". The August edition has a really nice "911 at 50" special too.

Here are some quotes from the article:

The Good:

911:

"It's instantly clear that Porsche's additional ú64K delivers a superior interior. There are buttons from the Boxster, but leather lines every surface, the 911's seats are more comfortable than the Nissan's tight Recaros (which perch you higher than a pool lifeguard) and like all the latest 991-generation 911s, road and engine roar is much better suppressed."

"...it's one of the few turbo engines in the world that manages a final, hard, urgent rush towards its redline. And when you lift, despite the blanket of turbo roar, there's now the thick, theatrical backbeat of exhaust splutter."

GT-R:

"....from the first tickle of the throttle, the first twist of the steering wheel, the GT-R feels lithe and alive. The steering is heavier and meatier than the Porsche's, and there's more feedback too."

"The GT-R's gearbox is better than the Porsche's too. The leather-wrapped magnesium paddles are firm and precise, making the Turbo's shifter feel flimsy and floppy, and the gearchanges themselves are more emotive. Same goes for the V6 engine, which snarls harder and louder than the flat-six, and although it no longer has the performance advantage over the Porsche, it feels quicker. It's 911 Turbo fast for 911 Carrera money"

"You'll remember every drive in the GT-R, whereas for all its speed the 911 Turbo is strangely forgettable."

The Bad:

911:

referring to handling: "...perhaps the system will shine on British roads if it can showcase suppleness and stiffness, but although ultimate pace has always been the goal of the Turbo, this new one feels less and less like a 911."

GT-R:

"But the GT-R sounds like they forgot to put any oil in it. It wakes with a hoarse, dry cough, and the diffs and other mechanical parts clonk and chanter and generally do their best to be disruptive and uncouth at low speeds. You immediately set the dampers to Comfort and the twin-clutch transmission to its fuel-saving setting, but despite that the GT-R still rides stiffly, thumping into cat's eyes and skipping over lateral bumps, the gearbox clunking when you lift off."

"The GT-R feels huge too, like a big cruiser rather than an autobahn crusher, like and antiquated muscle car rather than a tool to take on the 911 Turbo. It doesn't feel like it'll worry a Bugatti Veyron to 62mph either, or nearly hit 200mph"

My perspective:

Overall, I thought this was pretty objective comparison of the two cars, but ultimately it comes down to personal preference. If I had the money, I'd get both. I love the fanatical application of technology in the GT-R, but appreciate how well the 911 resolves performance, handling and long distance ability into one carefully balanced package. The GT-R feels more like a one trick pony, but oh my how well it delivers it.

10-18-2013, 02:17 PM
Super User
Join Date: Mar 2004
Location: great white north
Posts: 8,155
Likes: 0

---
If the questions were, GTR over the M3/4/5 or Audi RS variants I'd choose the GTR but when it comes to a 997.2. There is no question. The 911 even though it's slower.

10-20-2013, 12:57 PM

---
I had this same dilemma a few months back. I am now the proud owner of a 997.2 C2S Cab w/ PDK. I test drove a few of each and thought about how I planned on using them. I ended up with the 911 because I felt it was the better daily driver. I wanted something I can enjoy driving daily and can take my kids with me (5&3) if I wanted. I also wanted the ability to put the top down and enjoy the weather whens its nice out (FL Car). Plus it gets much better fuel economy. I have had a few Nissans in the past (Altima, Maxima, and an Armada, my previous daily driver) and have always enjoyed them, but a Porsche is something completely different. The 911 handles like a dream, and the way it look grabs a lot of attention. If I were going to track it the GTR would have been the better option, but I just want to cruise and let the wind blow.

11-02-2013, 06:56 PM
Addict
Rennlist Member
Join Date: Oct 2013
Location: Vaughan, ON.
Posts: 315
Likes: 0
Received 0 Likes on 0 Posts

---
While performance is of utmost importance when choosing a super sports car, aesthetic appeal still plays a significant role. While beauty is in the eye of the beholder, I find the GTR appearance extremely unappealing. It reminds me of a suped up Chevy Cobalt on steroids. Crude lines that are too angular with a complete absence of fluidity and purpose. As much as I value performance I could never own a car that looks like the GTR.

11-04-2013, 09:05 PM
User
Join Date: Aug 2013
Posts: 40
Likes: 0
Received 0 Likes on 0 Posts

---
In fairness the Gtr is an amazing car for what it was designed for.
The car can easily be used for a daily driver depending on ur tolerance for a rough ride. The tt and Gtr are equally rough and loud. If u want fast and comfy these two r not the ones. Agreed that long drives in the Gtr is tiring but I bet the tt is No better. Both cars have really no useable back seat but the Gtr has a very usable trunk. The paddle shifting of both cars take away the feeling that one is part of the car whereas the manual makes for a more engaging drive.
W regard to people saying the Gtr looks like a hopped up cobalt,Evo,etc is no different same people saying a 911 is a squashed Volkswagen bug.
Both cars are wonderful and no matter which u get w time u will want to drive something different which is what keeps the car biz going(nothing wrong w that). As people have said u should drive both and in the end of the day which on makes u smile is the one u should buy. Good luck w ur purchase.