Solution for peeling fan/temp switches!

05-24-2012, 09:06 PM

Solution for peeling fan/temp switches!
---
I, like many others, bought a 997.1 that has peeling fan/temp switches. I found this
DYI on planet-9 for removing the switches
and decided to give it a go. However, rather than refinishing them myself, I sent them off to Robbie at
www.stickynomore.com
after reading about his site on
another thread here
. All-in-all, well worth the effort. Robbie did a great job and had a really fast turn-around; he got them on Tuesday and I had them back today (Thursday)! Here's a little before and after:
I added my notes to the planet-9 thread from my experiences with the removal. There were a few things that the OP didn't mention but overall the write-up was great. I'd also add that you can pop the switches back in without having to remove the entire unit again!
Share and enjoy!
Jason
PS - Cost to refinish the switches was $80.
PPS - I also changed out the PCM ***** as they too were in rough shape. $30 from Suncoast:
http://www.suncoastparts.com/product...M9971KNOB.html
---
Last edited by jfoxny; 05-24-2012 at

09:59 PM

.

05-24-2012, 10:04 PM

---
They are decals. So, yes, that's my only question mark on the whole process: how durable will they be over time?
My thinking is that for $80 and a tiny bit of elbow grease, if it works, great, if not, I have the option of paying $550 for a new unit from Suncoast:
http://www.suncoastparts.com/product...997ELECTRONICS
Either way, I couldn't live with the peeling switches. This seems to be the best solution out there short of replacing the unit as you cannot order just the switches.

05-24-2012, 10:20 PM

---
I was thinking of doing the same and send them to stickynomore but, if what they do is refinish them and put stickers, I may refinish them myself and not put any stickers at all. It would be easy for me to know which is which, as the Temp button is on the side that reads the temperature at which the unit is set, and the right side button would be for the fan speed. JMHO.

Robbie had quoted me $80 to refinish if I disassemble the unit myself and send the buttons only or $140 if I send the entire panel, as they would disassemble and reassemble it themselves for that price. Not sure which way I'll go yet, though. If I get paranoid about messing the unit up, it might get sent to him after all. It's not a bad price and I dislike spending $550 on a new unit that is, otherwise, in perfect working order.

05-24-2012, 10:58 PM
Addict
Rennlist Member
Join Date: Feb 2008
Location: Boonton Township, NJ
Posts: 345
Likes: 0
Received 0 Likes on 0 Posts

---
Those stickers look terrible! With some time and attention to detail you could cut a template out of thin plastic or foam like a milk bottle or the craft foam sheets that kids play with. Then do a couple of light coats of white spray paint. If you screw up too bad, just repaint the switch again.

You could even customize the template, like "ejector" and "rockets. Whatever your pleasure.

05-24-2012, 11:29 PM

---
Fan sticker isn't even aligned properly.

My 08 997.1 buttons still look new but every time I adjust one of the controls I think about images of thrashed buttons like the ones pictured above. I wonder if there is anything we should do to prevent such wear. Wonder if cleaning solvent softened the coating???

05-25-2012, 12:08 AM

---

05-25-2012, 12:13 AM

---

05-25-2012, 12:30 AM

---

05-25-2012, 07:30 AM
Newbies Hospitality Director
Lifetime Rennlist
Member
Join Date: Apr 2005
Location: Winston-Salem, NC
Posts: 18,088
Likes: 0
Received 0 Likes on 0 Posts

---
jfoxny,

Big improvement in your switches. Thanks for sharing the links.

I am glad that my 2010 C2S TEMP/FAN switches are not "rubberized" like the 997.1 switches. The only "rubberized" switches/buttons/***** I have in my car are the two radio *****, which can be purchased for $30 at Suncoast Porsche.

05-25-2012, 12:20 PM
User
Join Date: Dec 2006
Location: Treasure Island, Florida - Home of the Wide Beach
Posts: 254
Likes: 0
Received 0 Likes on 0 Posts

---

05-25-2012, 01:19 PM
Super User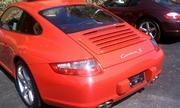 Join Date: Feb 2011
Location: Austin, TX
Posts: 3,024
Likes: 0
Received 0 Likes on 0 Posts

---

05-25-2012, 02:44 PM

---
If Stickynomore would just find a way to create a template for the temp and fan icon, that solution would be golden. As it is, I've been aware of that option for awhile and was turned off by the sticker/decal. With that in mind, I had a go at it myself and chose to carefully mask off the temp and fan icon while repainting the rest with Rustoleum Flat Black (fine textured). This brand and color combo is a great OEM match, and came about after extensive "field testing." That translates to me testing several black paint colors and textures on a piece of plastic I brought into multiple stores.

I made a post about this a few weeks ago, and tried to include a "after" pic, but I can't get my digital camera to take a decent shot. Perhaps I'll try again over the long weekend.

05-25-2012, 02:54 PM
User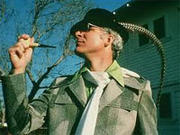 Join Date: Feb 2012
Location: Raleigh, North Carolina
Posts: 1,928
Likes: 0

---
You will know those are stickers when they start to shred and peel in a couple weeks.

I think no markings would be better than that, although I like fnckr's idea. Maybe have "Passenger Eject" on the right side one.