Brought home a 996 this afternoon

04-11-2009, 01:55 AM

Brought home a 996 this afternoon
---
Some of you may remember
this thread
. The car stopped me dead in my tracks. Initially I was on the prowl for a Cayman S. But after talking with Andy (AudiOn19s) and Chad and doing heaps of research I decided to make the move on this car. That only left one thing to do: Fly to Colorado and drive it home. Thankfully my father seemed as excited about the acquisition as I was (he used to own a couple of 928s) so it went without question that he would join me for the road trip. After some hellish weather, 19 hours, and 1271 miles later we arrived at my house. And wouldn't you know it, the engine didn't even let go

What can I say, the car is amazing! But I know I don't have to tell you guys that. Even though I-70 is quite possibly the most boring stretch of tarmac known to man it was a nice way to get a feel for the car. Shame, then, that a storm system seemed to know our every move. For about 16 hours of the 19 hour drive we encountered every form precipitation short of sleet and hail. I felt bad driving such a cherry car through such bad weather but, then again, I bought it to drive so what can you do?
Anyway, I know you guys like pics so here they come. I had big plans for the pictures on this trip. But the weather and the fact that we did most of the drive under cover of the night meant the pictures frankly suck.
Here's my old man pulling the car out of Chad's garage: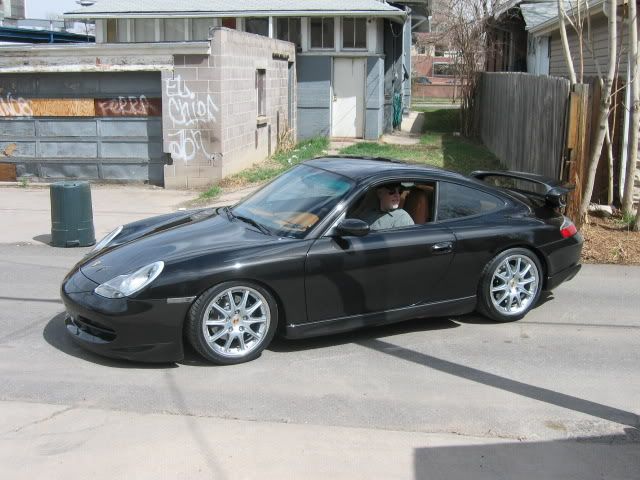 First fuel stop: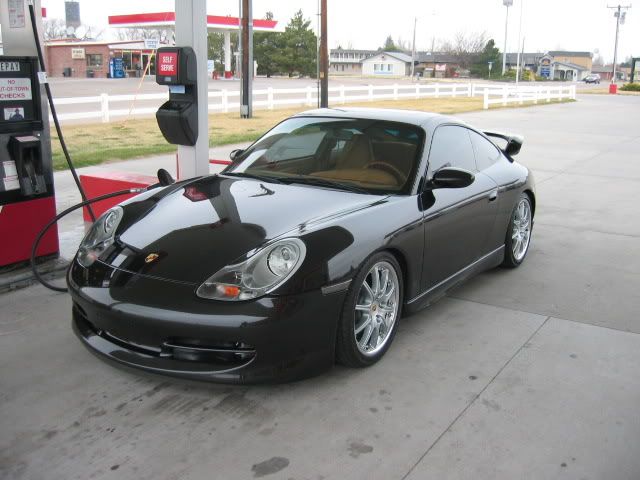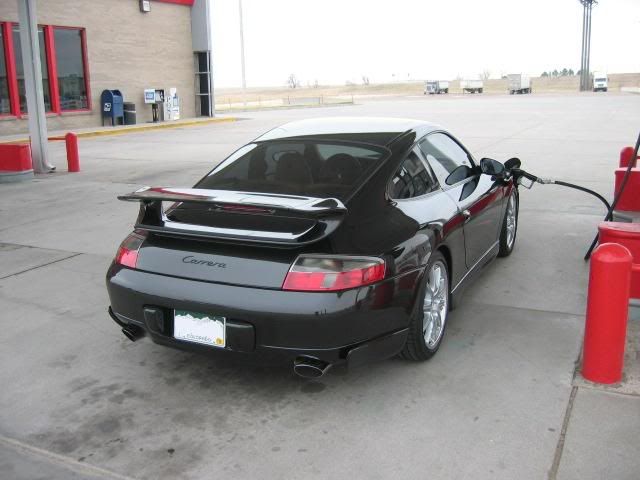 Another fuel stop. The weather officially got bad in Kansas:
Somehwere in Illinois we hit 11,111 miles. In hindsight it would have been neat to get a picture of the entire cluster showing 111mph, 1,111 miles on the trip odometer, and set the clock to read 11:11. Oh well: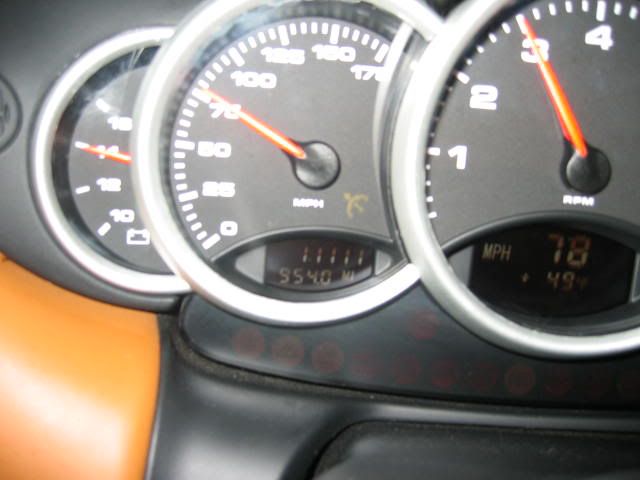 Finally, here is the car upon our return. It's filthy: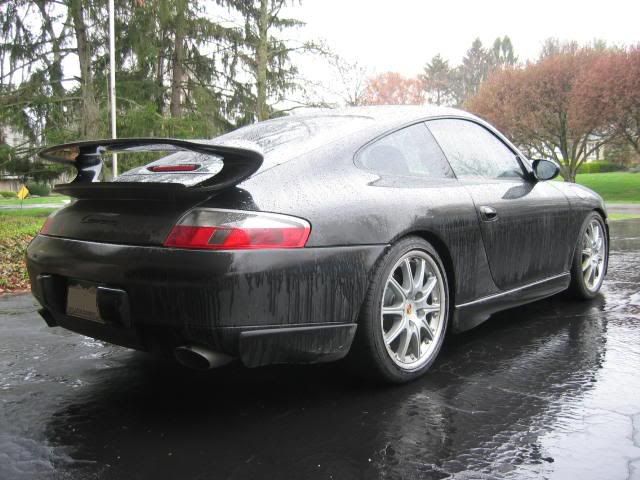 Like I said the pictures are (obviously) terrible. I wanted to get shots at every border, shots of us driving, etc., but it didn't work out. Now it's time give the thing a much needed bath and continue driving it.
Huge thanks go out to Chad for this. He was very patient, answered all of my many questions and accomodated us in every way. The Rennlist community should be proud to have a guy like him.
I also want to thank Andy. Over the past few months I have asked him many questions and he always helped me out as best he could. Another great Rennlister for sure. And even though I don't think my dad reads this site, I have to thank him for helping my drive the car back.
Finally, does anyone know where these trim pieces go?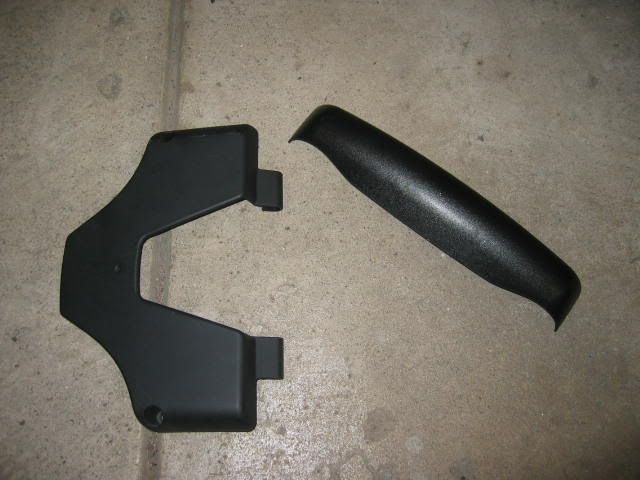 Thanks,
Jordan

04-11-2009, 02:15 AM

---
Congratulations!! What a beauty of a car you have there. I need to do to my car what has already been done to yours.

11,100 miles. Amazing. For my car that's six moths of driving. I've got 84,000 trouble free miles on mine.

04-11-2009, 02:20 AM
User
Join Date: Mar 2009
Location: South East Texas
Posts: 40

---
What a nice car...beautiful.
The part on the left is a manual holder that fits under the drivers side of the dash. Mine is missing so I just put my manual in the front boot. the other part????

04-11-2009, 03:03 AM

---
Congrats Jordan, and way to go Dad!

The car looks great, even has the rear strakes.
Don't recognize that other piece either....

04-11-2009, 03:06 AM

---
Wow! Very nice! Congratulations on your new ride.

Rudy

04-11-2009, 03:22 AM

---
Wow - Excellent car!! Congrats - that's a great road trip in deed!!

04-11-2009, 03:23 AM

---
Looking forward to hearing more about the car details!!!

04-11-2009, 05:27 AM

---
Thanks a lot for all of the compliments. I must admit to feeling a bit like an imposter. It definitely has not sunk in yet the car is mine and sitting in the garage as I type this.

450 - I had to laugh as the miles piled on because in 19 hours I put on the kind of mileage Phil must cover every two years or so!

cars - Thank you very much. I thought the manual was supposed to go there. Wonder what the other piece is? Nothing looks out of place.

Meister - I really dig the rear strakes. My wife had me laughing, though, when saw them. She said (picture an upturned nose), "What are those things, it looks broken?!" There really is no accounting for taste.

Rudy - Thanks a lot!

Sky - I just saw your thread, congrats on your recent purchase as well. Here are the details:

PSS9s, cold air intake, Tequipment exhaust tips, wheel spacers, aluminum pedals, clear bra, alcantara headliner, full leather interior, etc. Chad was also nice enough to include an interior Silverguard cover fitted for an aero body and a trickle charger as well.

Here are the options:

XRL 18" SPORT DESIGN TWO PIECE WHEELS
X54 Oval Chrome Exhaust Pipes
X72 GEAR LEVER IN LIGHT BURR WALNUT WITH ALUMINIUM INLAY, LEATHER
X91 HAND BRAKE LEVER IN LIGHT BURR WALNUT WITH ALUMINIUM INLAY, LEATHER
X99 Natural Leather
236 18ö tires
288 Headlight washers
424 CD COMPARTMENT
436 3-SPOKE AIRBAG STEERING WHEEL
437 COMFORT SEAT LEFT, ELECTRICALLY ADJUSTABLE
438 COMFORT SEAT RIGHT, ELECTRICALLY ADJUSTABLE
446 CONCAVE HUB CAP WITH COLOURED ESCUTCHEON
476 PORSCHE STABILITY MANAGEMENT (PSM)
490 -MJ 01 SOUND SYSTEM MJ 02- SOUND SYSTEM HARMANN ANALOG
537 SEATING POSITION CONTROL FOR CONFORT SEAT, LEFT
601 HEADLAMP LITRONIC
659 Onboard computer
696 CD-RADIO "PORSCHE CDR 220"
936 SEAT COVERS REAR, LEATHER
981 LEATHER EQUIPMENT WITHOUT SEAT COVERS
983 Leather seats front and rear
999 PASSENGER COMPARTMENT MONITORING SENSOR FOR LEATHER COLOUR OF CHOICE
09991 Manufacture from the exclusive program

04-11-2009, 05:28 AM

---
Great P-car! Getting her dirty will just let you get to know her better as you detail later...
...and it's black, God help you keepin' her clean.

04-11-2009, 06:59 AM

---
Beautiful. Looks like a new car! When I drove mine back from New Jersey, I had the same weather and collected the same dirt - I remember thinking that it was a grand christening from the daily driver gods..........

04-11-2009, 07:16 AM

---
jugger - Thank you. My first car was black and I had a helluva time keeping up with it. But when it's clean, I think you're hard pressed to find a better looking color (save for maybe seal grey).

Steve - Thanks a lot. It feels like a new car; nice, tight and fresh. Though with only 11.4k miles I guess it should feel that way. I agree about the dirt being a christening of sorts.

04-11-2009, 08:27 AM

---
Gorgeous Mk I Aero. The first drive home is quite fun isn't it? I drove mine back from North Carolina and loved every minute of it. So much so that my co driver never got behind the wheel. LOL

Enjoy it in good health and welcome to the 996 forums,

04-11-2009, 08:29 AM

---
Beautiful car. Sounds like you had a great trip. Just remember, it's meant to be driven. Mine is no sitting filthy in my garage - you've got to enjoy it!

04-11-2009, 09:20 AM

---
congrats!

The part on the left is the owner's manual bracket that goes in front of the driver's knees... I don't know about the other part.

04-11-2009, 09:27 AM
Newbies Hospitality Director
Lifetime Rennlist
Member
Join Date: Apr 2005
Location: Winston-Salem, NC
Posts: 18,097

---
Jordan,
Congrats on picking up a sweet looking car.

I think the plastic part on the right may attach to the front of the driver's seat just above the carpet to hide/protect the wiring and electronics. Since I no longer have my 996, I can't go out to the garage and to verify this.

Can someone else verify this for Jordan (and me)?
Thread
Thread Starter
Forum
Replies
Last Post

Posting Rules
You may not post new threads
You may not post replies
You may not post attachments
You may not edit your posts
---
HTML code is Off
---